Aimée Newlander, founder of the Slow Weddings Network, on collaborating with like-minded vendors to produce an intimate wedding with a sustainable focus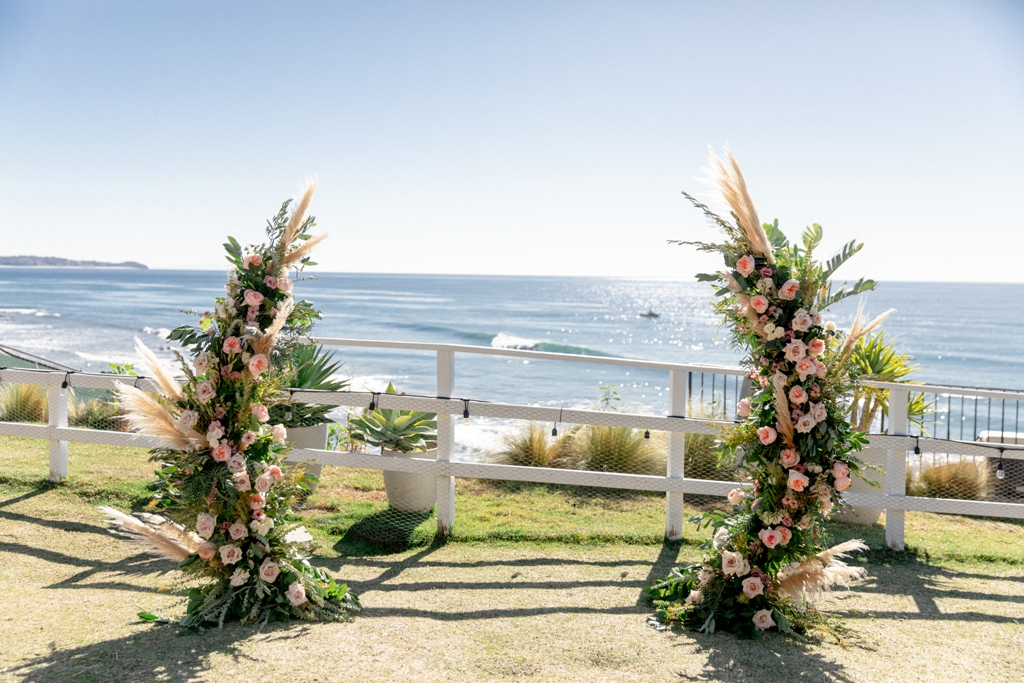 Aimée Newlander of Weddings by Aimée is a bespoke wedding planner known for intentional ceremonies and gatherings. She has been a Slow Flowers proponent for years, guiding her clients and couples to work with floral designers who are both sustainable in their practices and source domestic and local ingredients whenever possible.
The planner's values permeate recommendations to couples as she helps them make decisions about venue, rentals, officiant, catering, music, flowers and other special touches. Based on the California coast, Aimée has planned weddings around the globe, but she's especially fluent in California's special destinations for nuptials, from wineries and farms to private estates and beaches.
In late 2019, two medical doctors from Hawaii tapped Weddings by Aimée to plan their intimate ceremony and reception on January 21, 2021. Pamela and Michael chose the Pacific to make travel easier for guests and family from the East Coast. They also thought carefully about making the wedding day a personal reflection of their values, Aimée explains. "We planned the wedding with a top priority of mindfulness, personal touches, and earth friendly choices."
Pamela and Michael loved the idea of a "slow wedding" and a "low- to no-waste" event, making them dream clients for Weddings by Aimée and many of the other vendors. "The whole component about supporting local farms and local growers, and knowing that all the materials were going to be repurposed and reused so nothing would sit in the landfill appealed to them," Aimée says. "They wanted a mindful wedding to reflect who they are as individuals and to tell their story woven through their vendor choices."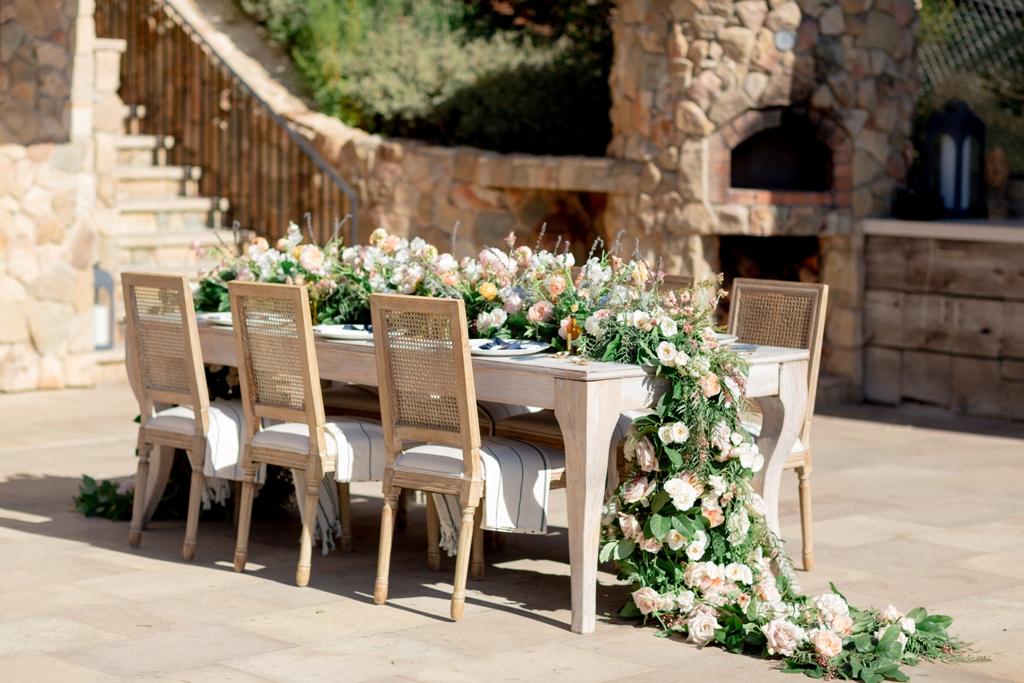 Even though the couple originally considered a Northern California destination like Carmel or Big Sur, they were inspired when Aimée introduced them to Casa di Pietra, a private beachside estate in Malibu. With views of the ocean as the backdrop to their ceremony, the couple were drawn to the site for their perfect date. Ultimately, COVID concerns led to a small guest list of six close family and friends. Yet most of the original plans were achieved with some careful alterations, Aimée explains. In consultation with Pamela and Michael, a videographer captured the story of the day to share with their parents and other guests who were unable to attend. They also ordered special food for their parents to enjoy on the wedding day and mailed gift boxes to commemorate the day.
"They wanted a mindful wedding to reflect who they are as individuals and to tell their story woven through their vendor choices."
The wedding's theme evolved as "elegant and modern, with raw, natural materials." The dinner party following the ceremony evoked an al fresco meal in the Italian countryside. The design pulled from a palette of ocean blues, deep-sea kelp greens, peaches and yellows. Brush gold and natural stone accents provided the contrasting design elements.
Creative contributions from each of the primary vendors led to an incredibly special occasion for couple and their guests. The story caught the attention of Martha Stewart Weddings, which posted an online piece about how to pull off an intimate wedding in the age of COVID. When Aimée shared the images with Slow Flowers Journal and gave us permission to publish a story about Pamela and Michael's wedding with Larissa Cleveland's beautiful photography, we wanted to dive deeper into the soulfulness and sustainable choices. "It was important Pamela that we hired a team of vendors who are women of color and/or women small business owners. Our food, beverages and most of the florals were locally-sourced and all the florals were repurposed and distributed after the ceremony."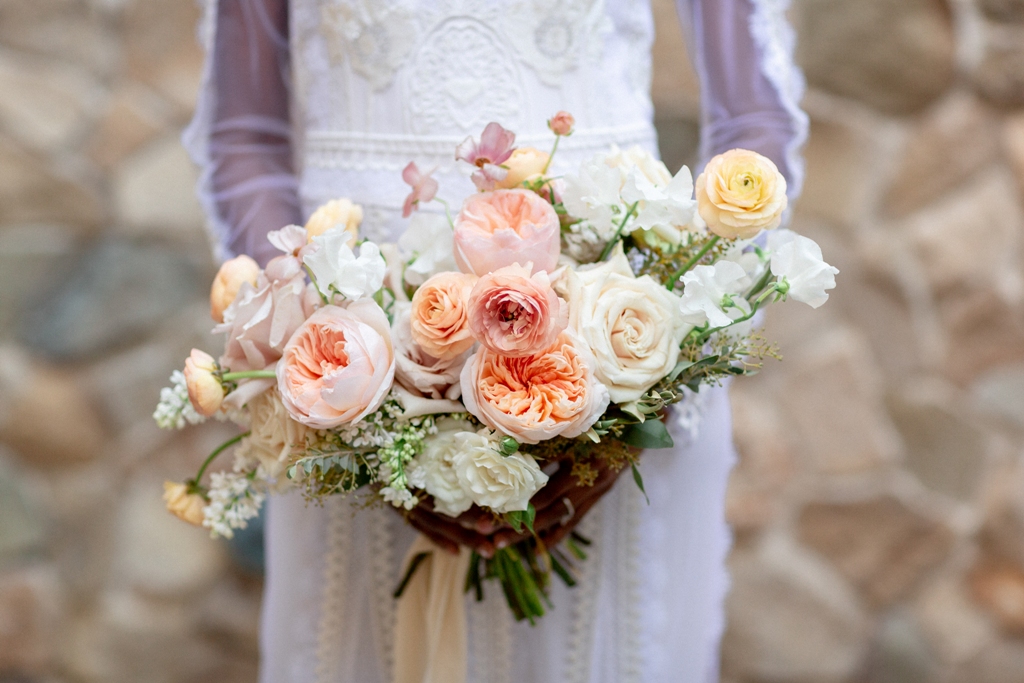 FLOWERS
Aimée recommended Davida Buggs, a floral and event designer and owner of Los Angeles-based Flowers by Lady Buggs. "One thing that really stood out about Davida was learning that a past client requested she only use native California greenery and flowers," she says. "I knew she's be a really good fit for Pamela."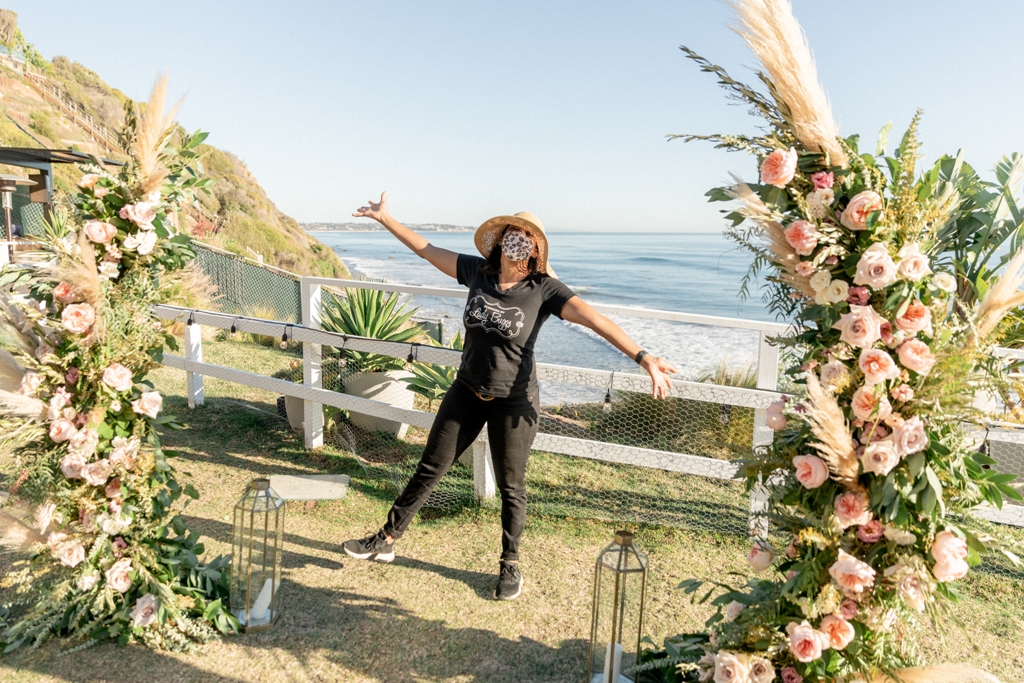 When Aimee and Davida met with the bride, things just clicked. "Pamela flew in from Hawaii and we made a day of it," Davida says. "We sat and talked for two hours, and she shared her desires and hopes for the flowers, and what she wanted to have. Pamela was so easygoing. She told us she wanted a Mediterranean vibe and a beachy palette that included blushes, pale pinks and peaches. That really spoke to the location and the venue itself. What stood out most was her trust in us to make her day beautiful."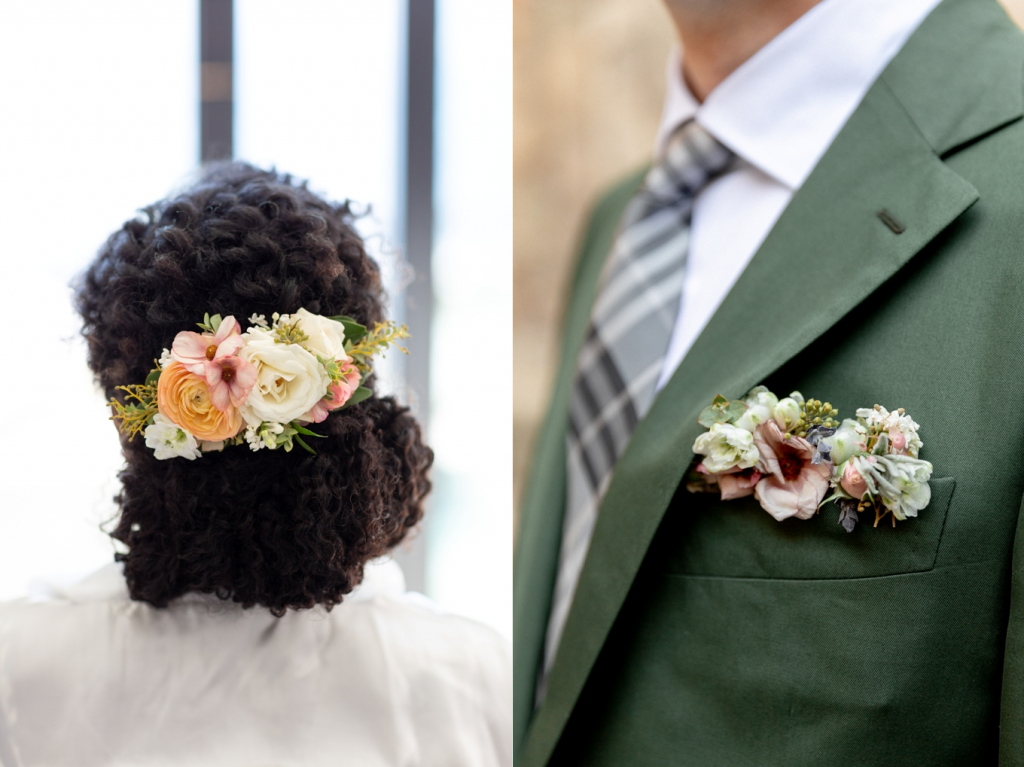 Because the wedding took place in January when the domestic supply of roses was limited, Davida created a hybrid floral palette. She sourced mostly California-grown flowers and foliages, except for the roses, which were imported. The floral decor included an asymmetrical arch finished with California bay leaf, olive leaf, acacia, Salal and pepperberry foliage, along with locally-grown lisianthus and butterfly ranunculus. Similarly, the tablescape included many of these botanicals, along with pink ranunculus, green geranium foliage, blush white lilac, sweet peas and several hues of delphinium.

"We didn't want to use any foam, so we use trays fitted with chicken wire for the tablescape mechanics," Davida explains. Flowers were also hydrated with water tubes that were later saved for future event work.
Local ranunculus, sweet peas, lilacs, butterfly ranunculus, seeded eucalyptus and acacia foliage comprise Pamela's personal flowers, a beautiful, loose, hand-tied bouquet also featuring Juliet, Quicksand and Majolica spray roses. Davida pulled from this palette for Pamela's floral hairpiece, Michael's floral pocket square and the officiant's boutonniere.
MENU/CATERING
Sisters Tracy Marcellino Aubert and Tiffany Hendryx of Blood, Sweat + Butter prepared an elaborate meal, sourcing ingredients from local farms and farmers' markets.
BEVERAGES/MIXOLOGIST
Marsha Meyer of The Natural Mixologist specializes in locally-sourced, all organic, naturally crafted and health-conscious beverages. All drinks were offered "boozy" or "non-boozy." Guests were treated to an infusion station and a smoked tequila station. She designed signature drinks for the day: 'Married in Malibu' welcome drink; paired for dining were 'Forever' and 'Garden of Love'.
INVITATION/PAPER GOODS/PERSONAL ACCENTS
Kelly Zeller of Look Good on Paper embossed the invitations with images of the Casa di Pietra and the Malibu coastline. Hand-painted agate stones were personalized with the names of each guest as a keepsake and small bottles of organic olive oil from a local supplier were placed plateside as a gift.
In the same way that the Slow Flowers movement has gradually taken hold as a viable facet of the floral marketplace, Slow Weddings as popularized in the wedding community by Aimée is increasingly relevant. Having a background in health and wellness has greatly influenced her approach (you can read more about Aimée Newlander and the Slow Weddings Network in our 2017 profile for Florists' Review). "I saw something that was a little odd about the wedding industry," Aimée points out. "So many people don't remember their wedding day because they accepted what they were told to do. They chose from a list of vendors and found themselves having a ceremony far different from their original vision."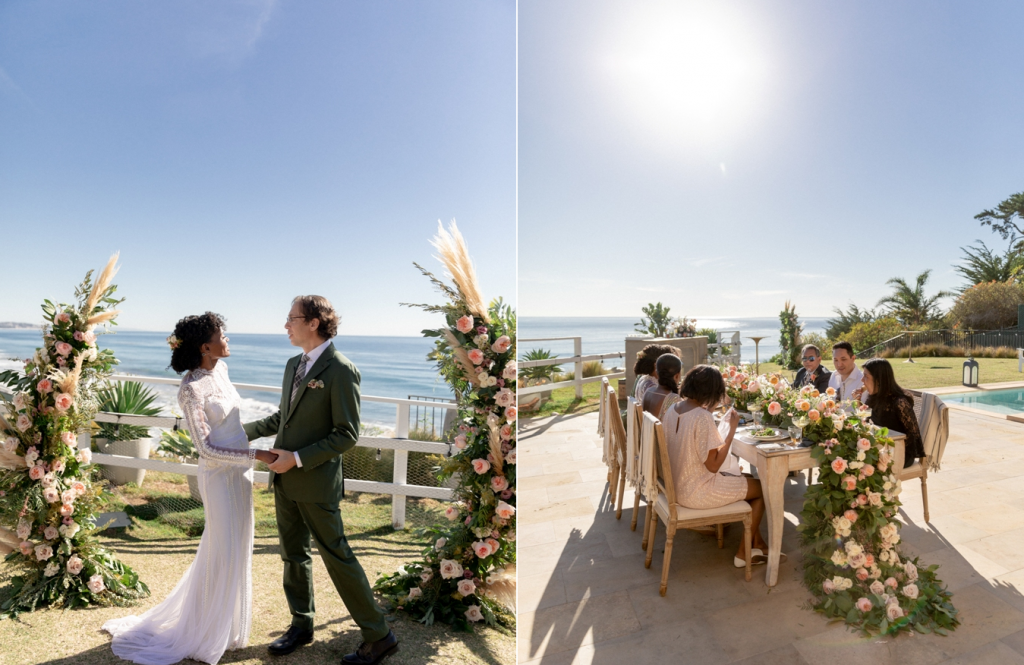 Clearly, that was not the case with this dreamy Malibu wedding, with each detail planned and executed around values of sustainability, seasonality and supporting female entrepreneurs and the local economy.