Spring in Bloom!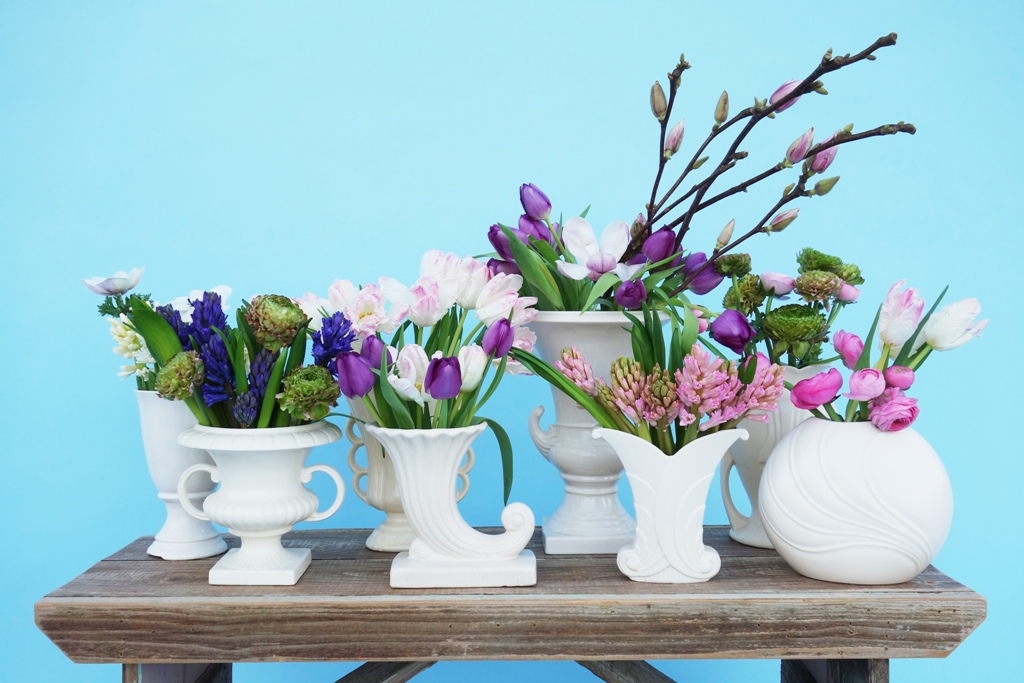 My dear friend Nancy Finnerty recently gifted me her collection of creamware vessels. The carefully-wrapped box arrived just in time for me to unwrap 8 special vases and display their beautiful forms and silhouettes with a seasonal array of flowering branches and bulbs.
Nancy, a fashion designer, and I raised our children together in Seattle and we spent many memorable moments sharing tea or a glass of wine in the living room of her Madison Park cottage. The massive fireplace mantle stood at the center of the room, defining the space. The beautiful arrangement of creamware vases graced that ledge.
I always admired the vases. Nancy frequently visited her sister in Iowa, and that's where she hunted for great finds at antique stores and vintage shops. It seemed as if at least one gracious cream vase followed her home after each excursion.
Nancy moved to New York City a few years ago and she decided her cozy studio on the West Side didn't have display space for her beloved vases. So she shipped them to me, a precious gift that will be put to very good use here at the Slow Flowers Cutting garden!
Thank you, Nancy! I have always loved your eye for fashion and style — and now I will enjoy your design influence and aethetic in my home.