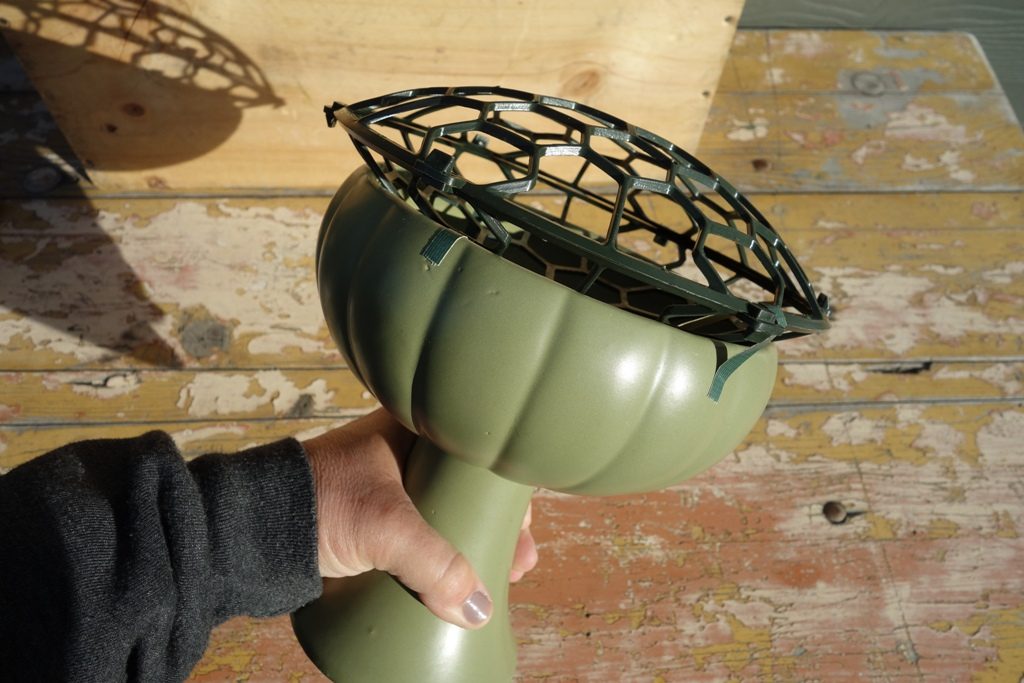 Those of us who detest designing with floral foam (and you know I and so many others have been harping on the many harmful properties of this product for years — that's harmful to humans and to the environment), may also know that chicken wire and flower frogs are the only realistic alternatives for floral design mechanics.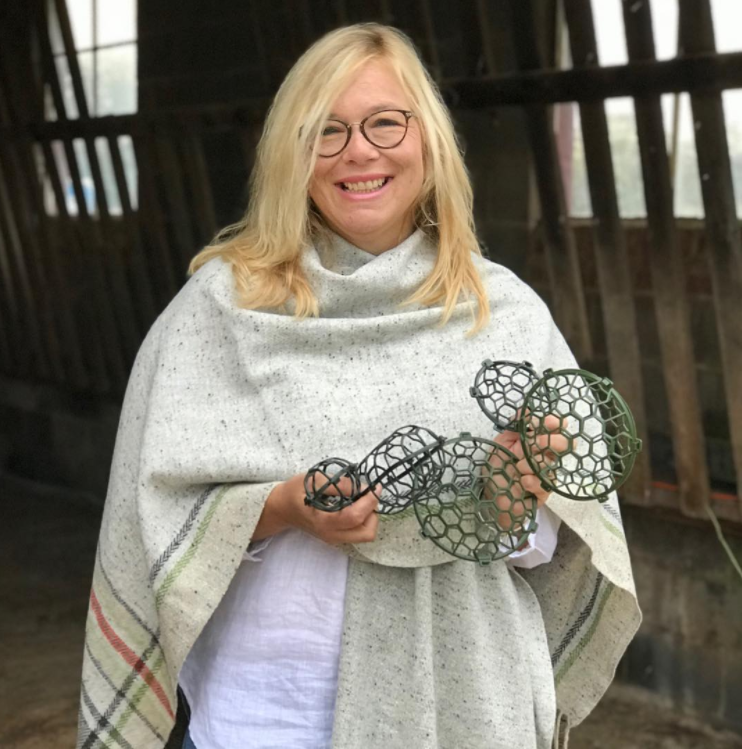 So I was very excited to see both types of mechanics used at Flowerstock, held October 9 & 10 at Hope Flower Farm in Waterford, Virginia. Produced by Holly Heider Chapple, who owns Hope Farm with her husband Evan, Flowerstock has emerged to be a festival for creatives that involves design inspiration, floral celebrities, good food, great company and – yes – awesome music.
I was there to teach a few sessions on floral memoir sriting and floral storytelling, part of my Slow Flowers Creative Workshop series that I've developed. Teaching to so many talented designers was a wonderful experience and I will be sharing more about my students' writing work in the coming weeks.
But I was also there to drink in the inventiveness of the instructors — Holly Chapple, Ariella Chezar, Robbie Honey, the mom-daughter team of Southern Blooms: Sherry Spencer and Pat Roberts, and James Lutke. What an unforgettable experience!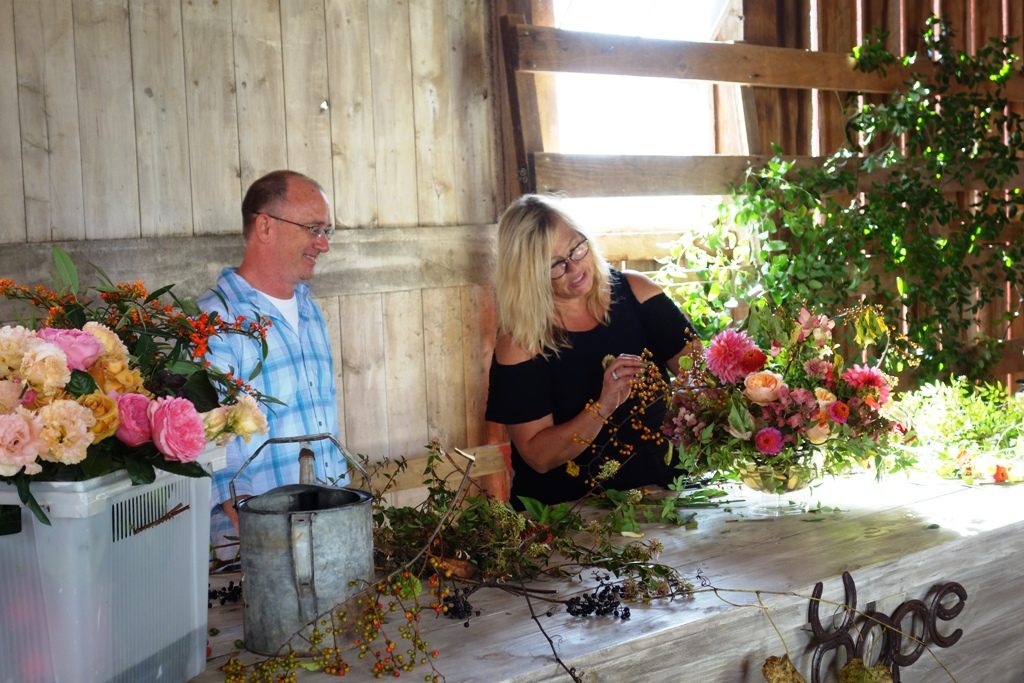 A total bonus was the "big reveal," the prototypes and unveiling of the new Holly Heider Chapple floral mechanics and vase collection for Syndicate Sales. I have been following some of the creative ways that Holly and her Chapel Designers have been manipulating chicken wire to make large-scale arrangements and graceful, loose bouquets — and while people have been using chicken wire for years (Constance Spry comes to mind), what I learned from Holly was unlike anything I've seen before.
Basically, her "egg" concept allows you to insert flower stems at all angles and keep them in a horizontal fan-shaped or asymmetrical array without the flowers popping to a vertical position when the stem handle is tied. Holly began teaching this technique a few years ago and earlier this year she released an in-depth how-to video showing the method.
She also teaches how to use what she calls a chicken wire "pillow" that rests on top of the vase rim, rather than (like I have done forever) shove the ball of chicken wire down into the vase. The difference in using this method is notable. It allows the designer to have stems that are nearly horizontal but still hydrated in water; it even allows you to have downward-facing stems that spill from the container.
The design freedom that comes with using these egg and pillow shapes is quite freeing, and frankly, guilt-free, because the chicken wire can be used over and over again or recycled — rather than just going into a land-fill and leeching formaldehyde into the earth, as it the case with foam. By the time the bouquet or centerpiece is finished, the wire is completely obscured from view, hidden inside where it does all the necessary work that a mechanic should do.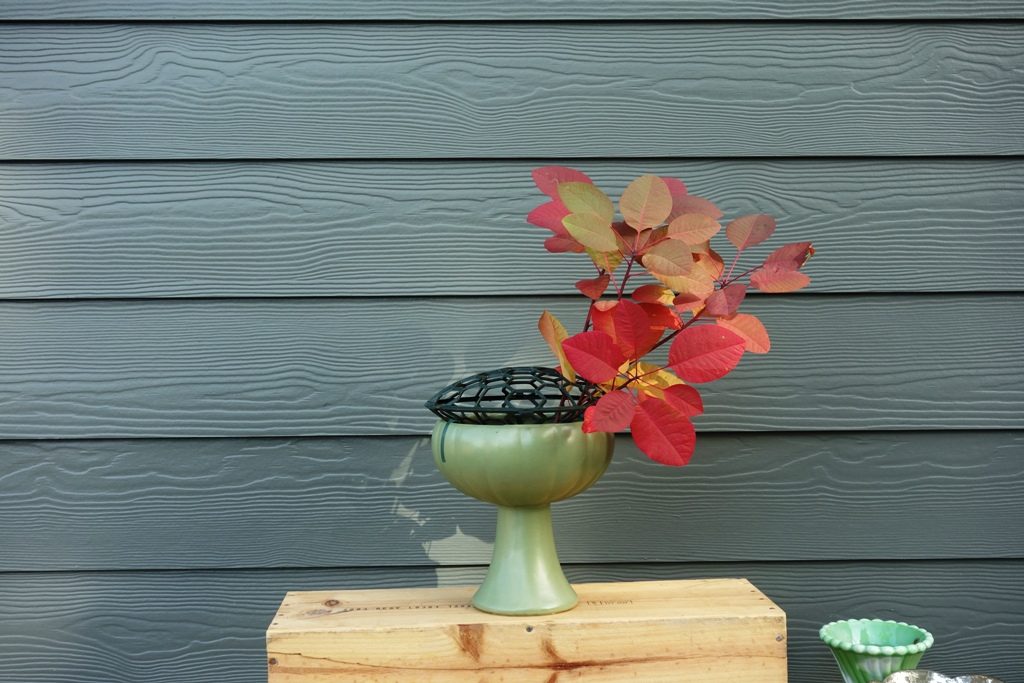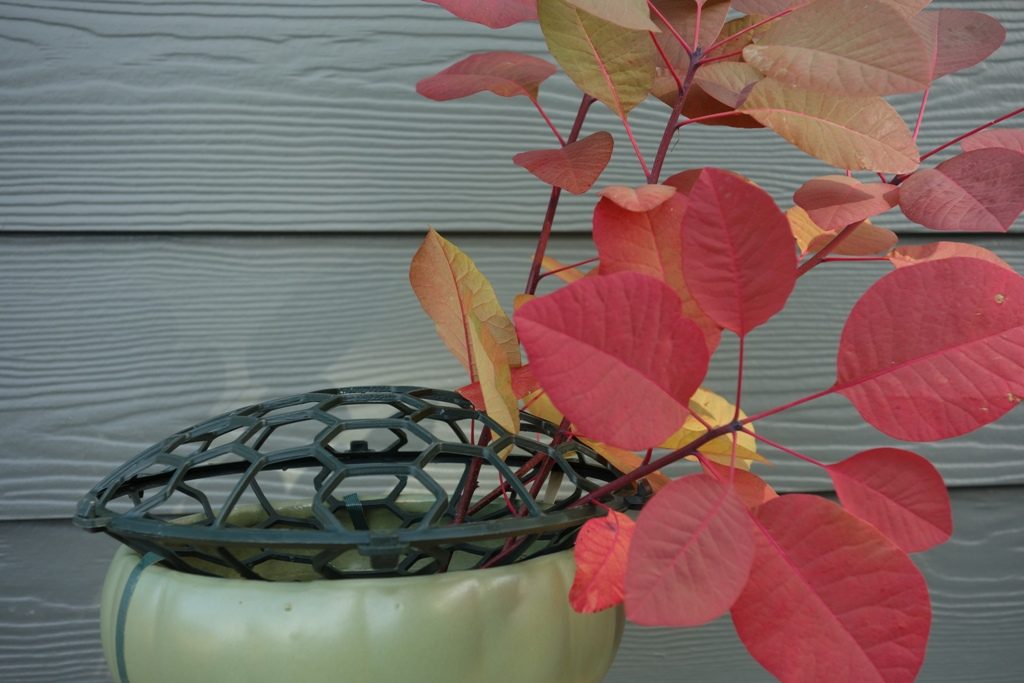 All this embrace of chicken wire (everything old is new again, with Holly's added twist) is great, but then you run into the fact that chicken wire is a hassle to work with; it can scratch your hands or the interior of the vase; it can collapse on itself and gets misshapened; and it is anything but uniform and consistent. That's the down side of trying to go "green" with chicken wire.
Then . . . Holly shared her ideas with the folks at Syndicate Sales, manufacturers of all sorts of essential accessories for floral designers, including many American-made items (did you know that Syndicate invented the floral water tube back in the day?). And she asked: is there a way to turn these wire shapes into a lightweight product?
I'm so excited to say that the answer is YES! With the leadership of Laura Shinall, president of Syndicate Sales, and Trent Harshman, director of product development, not to mention the enthusiasm of Syndicate's marketing team, including director of consumer marketing Melanie Spilbeler and conusultant Anne Graves, Syndicate Sales has created several new plastic-based products that emulate the best features of Holly's chicken wire "egg" and "pillow," as well as coordinating compotes for the pillows.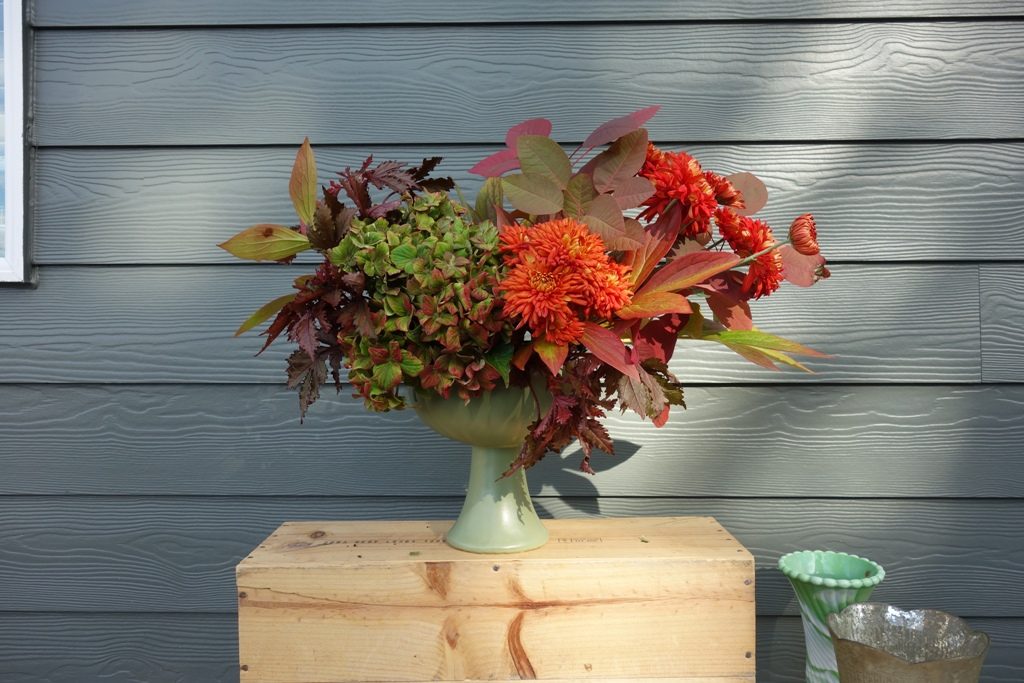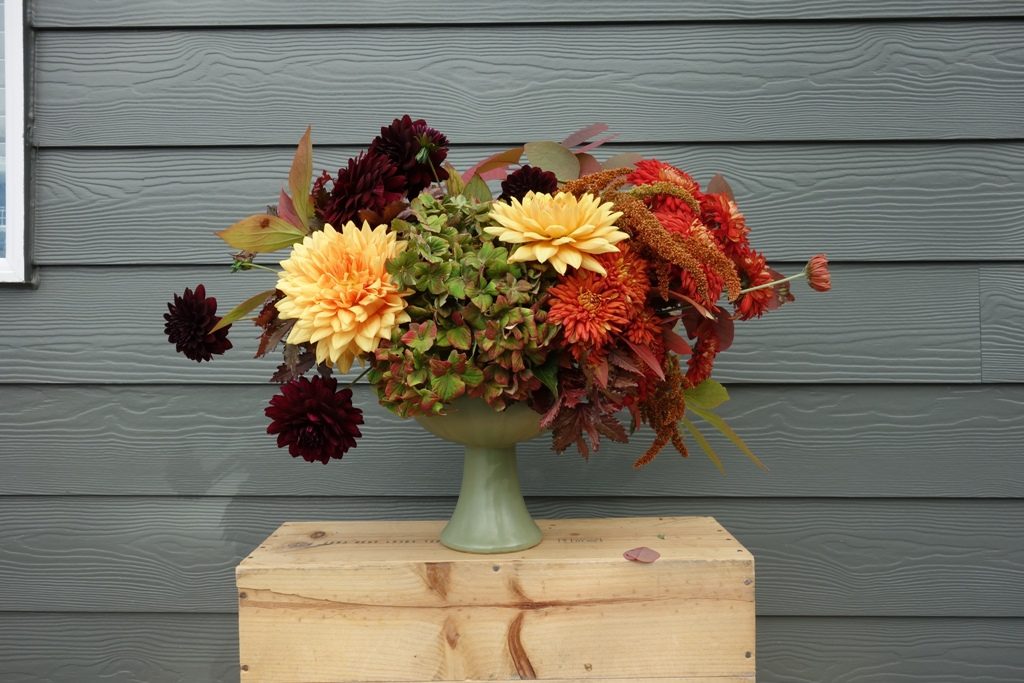 We were all treated to design demonstrations with these fantastic new products and I have Holly's and Syndicate's permission to share these photos here. The new line has 2 sizes of "egg" cages and 3 sizes of the "pillow" cages, along with clear, black and white plastic compotes that look pretty and are considerably less costly than cut glass pieces.
According to both Syndicate and Holly, these will be available for purchase in January. You can sign up for updates and ordering information here.
And I'm particularly excited to know that Syndicate's long-term goal is to manufacture these items in the U.S. The prototypes and samples we played with were made in Asia, but once they debut in the floral marketplace, Laura Shinall hopes to be able to justify the tooling cost to bring the production back to Kokomo, Indiana! I was so excited to learn this.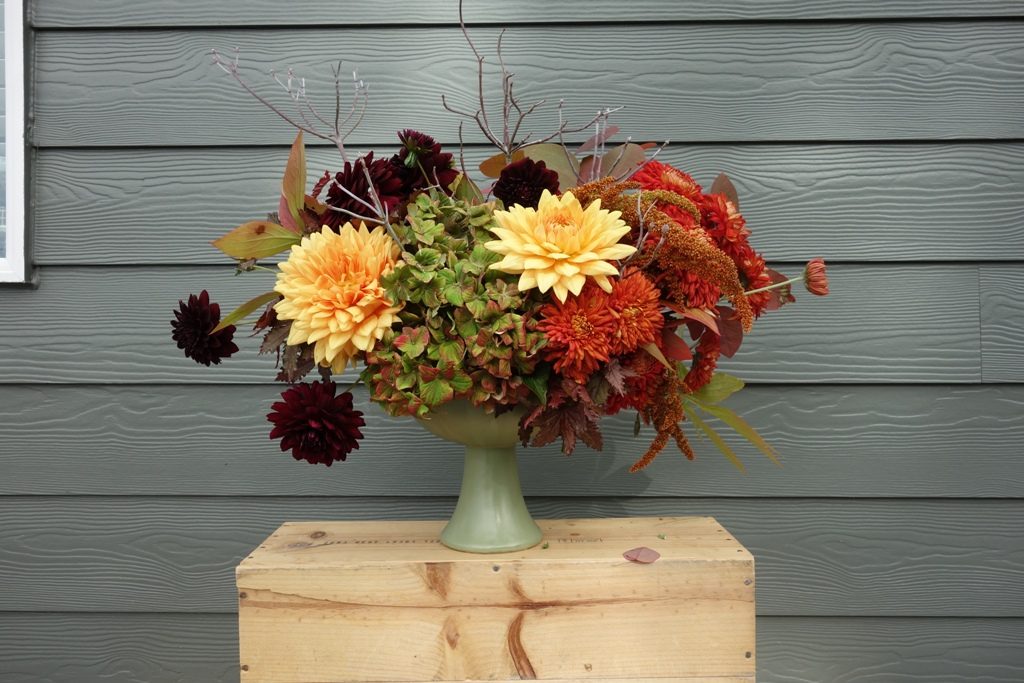 I asked for and was given permission to bring the medium pillow and compote home to play with. Holly has designed the pillow cages to rest inside or on top of a vessel without being taped. I watched her work without tape and I totally understand her logic — as you cross branches and stems through the pillow cage, opposite stems begin to counterbalance each other and stabilize the arrangement. Her logic is that this makes it easier for transportation and break-down after a wedding or event is over.
But true confession: I taped the pillow sample to my vintage footed vase because I didn't have confidence in my design working that way. The vase's bowl is pretty shallow — maybe this isn't even meant for flowers, but it's possibly a candy dish!
I will continue to experiement with the techniques, but for now, you can see how nicely it works. This is a new day for floral design mechanics and I'm excited to share it here first!
Congratulations to Holly and Syndicate!