I'm so excited to share the contents of our October "Slow Flowers Journal" section that appeared in last month's print edition of Florists' Review.
For the third consecutive month, we've provided a unique point of view with uncommonly beautiful images and inspiring stories for the readers of Florists' Review magazine.
I'm excited to share the lineup of stories and articles that you can download as PDFs to read on your computer, tablet or smart phone. For obvious reasons (i.e., to encourage more readers to subscribe to the magazine), we can't post live links to digital stories.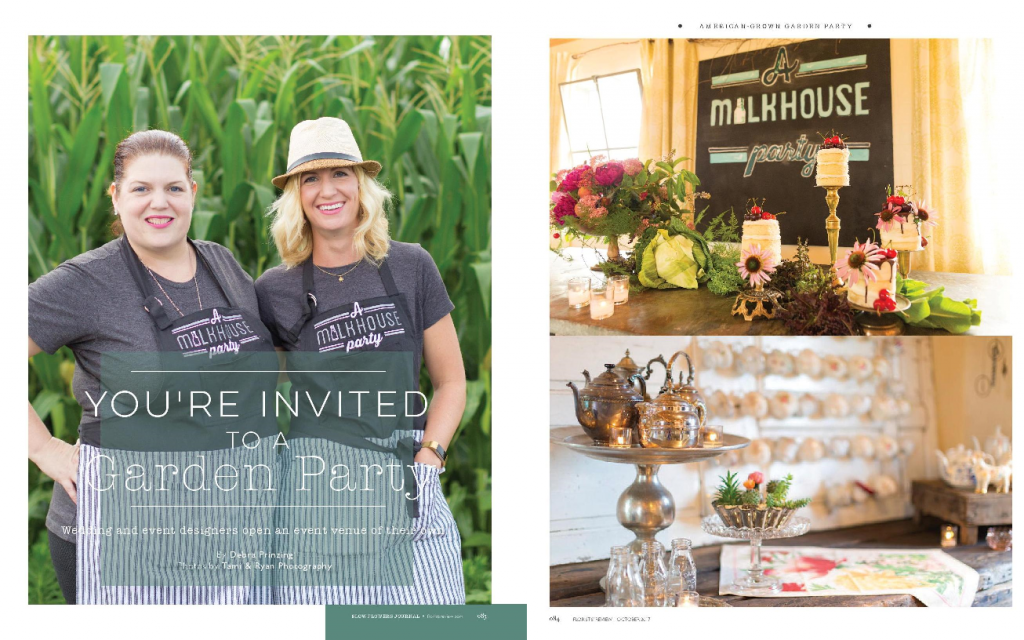 Our FEATURE STORY: You're Invited to a Garden Party, introduces the dynamic sister duo, Dawn Clark (left) and Mary Coombs (right), and highlights the creative ways they've extended their brand to host workshops, dinners and private events inside a historic "Milkhouse" on their late grandfather's dairy farm in New Jersey. Slowflowers.com mebers, the women discuss the many benefits of diversification into events and workshops. Download the article here: You're Invited_A_Garden_Party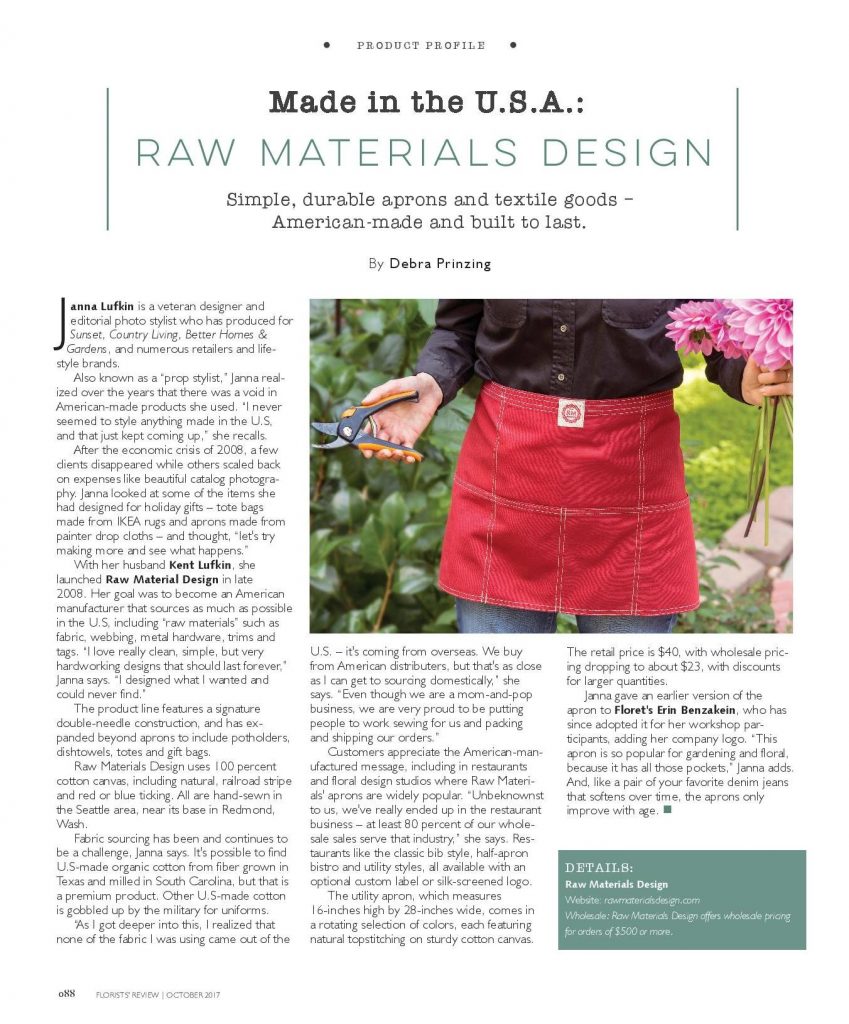 Our MADE in the U.S.A. recurring section highlights Raw Materials Design, a classic and stylish producer of American-made textiles, including bib and bistro-style work aprons.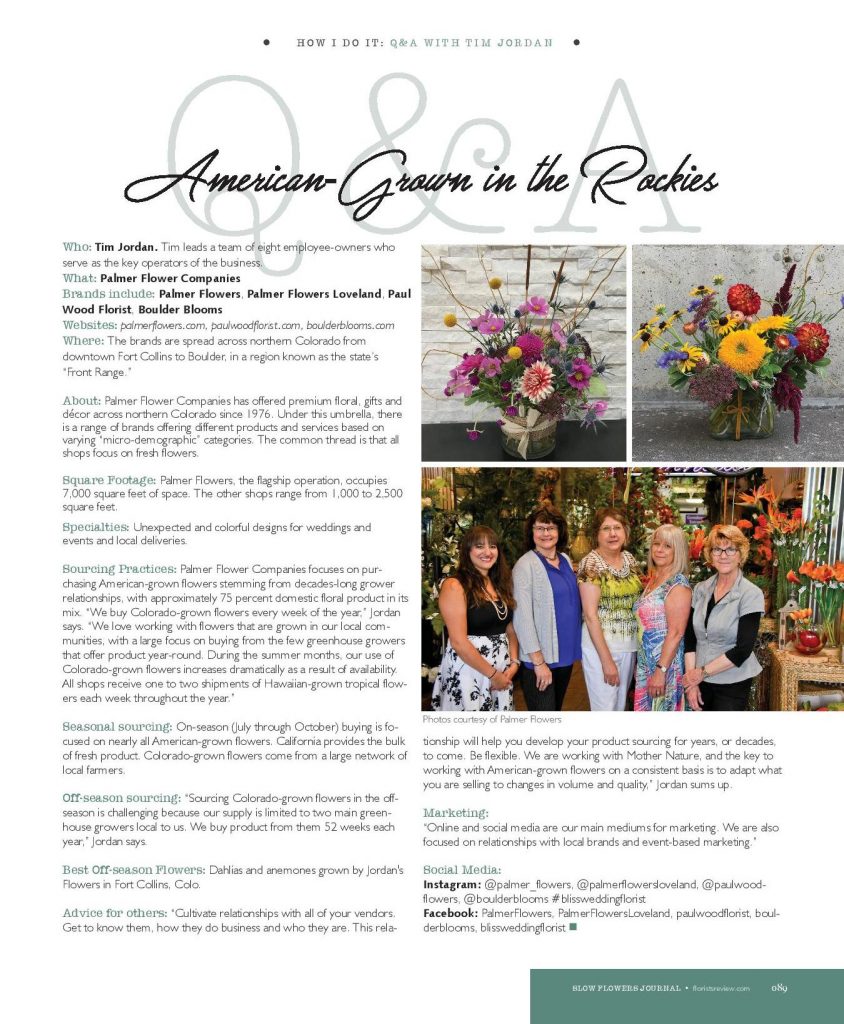 Another awesome retail florist appears in our Q&A series, "How I Do It." The goal is to introduce florists whose shops are in areas of the country where local and seasonal flowers are NOT available all year long, like Tim Jordan and his partners in Palmer Flower Companies. With four locations spread across northern Colorado from downtown Fort Collins to Boulder, this gift and floral retailer cultivates local and Americn-grown floral sources in the Rocky Mountains.
October's American Grown Heroes feature is all about the love affair between florist Kelly Shore of Petals by the Shore and the incomparable beauty of Alaska-grown peonies from Homer-based Scenic Place Peonies, owned by Beth Van Sandt and Kurt Weichhand. Kelly spent one week at Scenic Place last summer, designing, teaching and creating with these lovelies — and the photos she shares with Slow Flowers Journal are dreamy and evocative. Download entire story PDF here: AmericanGrownHeroes
And we wrap up the section with "The Gardener-Florist," Alicia Schwede of Flirty Fleurs whose passion for growing cut flowers led her into a creative partnership with bulb and plant supplier Longfield Gardens. Alicia describes how she has trialed spring tulips and narcissus from Longfield's catalog, curating several romantic collections for other flower lovers shopping for inspiration. Check out her designs and consider planting these beautiful flowering bulbs in your own garden! Download entire article here: TheGardener-Florist
Want to see what it's all about?
Subscribe to Florists' Review and read our bonus Slow Flowers Journal content at the special rate of $21 for 12 issues — 62 percent off the cover price! Click here to subscribe online or call 1-800-367-4708.