Locally-grown blooms to pair with stems from the Slow Flowers Cutting Garden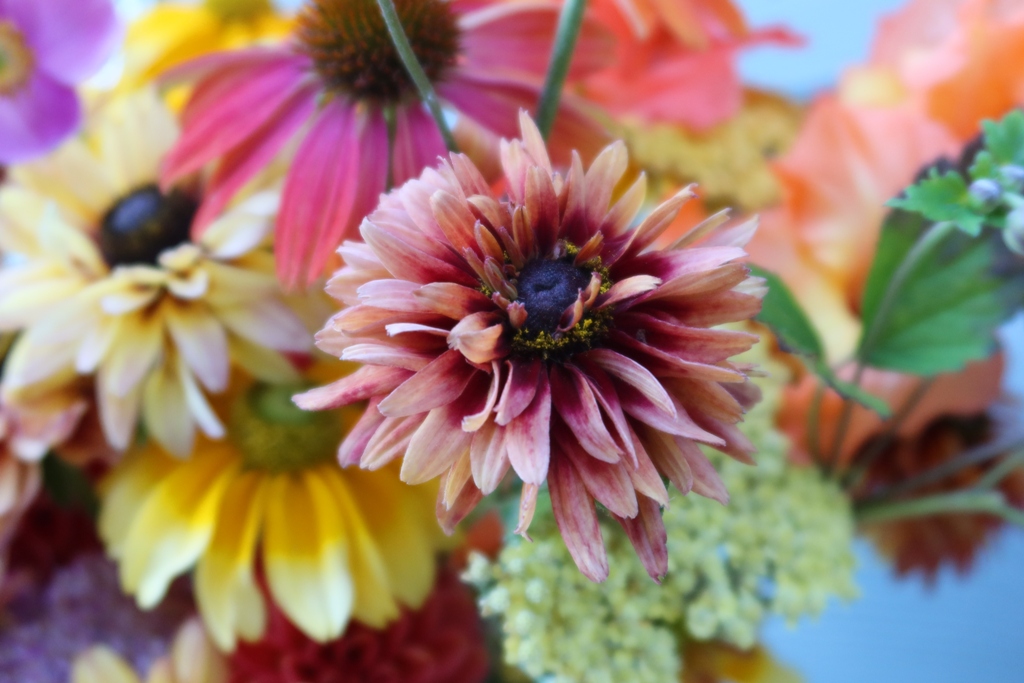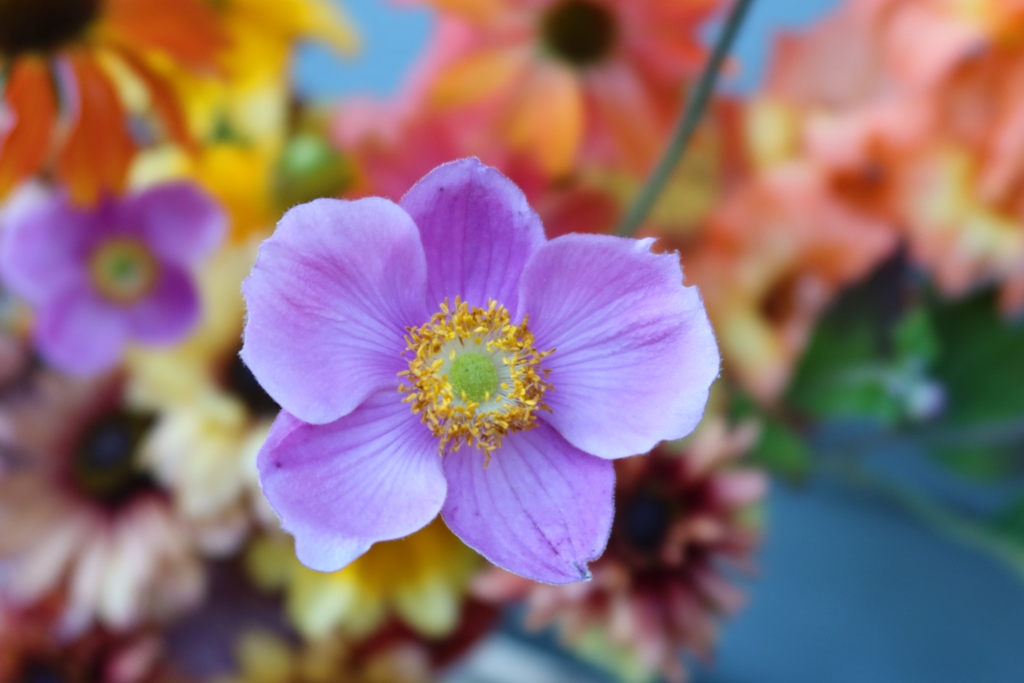 This past Thursday, my mom Anita joined me on a fun flower outing to Snohomish, Washington, a quaint historic town located about 40 minutes north of Seattle. The occasion: The opening of SnoCo. Flower Collective, a new flower hub for Snohomish and adjacent counties. "We're a group of passionate flower farmers that are on a mission to make local flowers accessible to the North Puget Sound area. We've come together to bring our community a 10-week, open to the public market that is solely dedicated to local flowers."
Why do we need another flower hub? is a question I tried to answer for a few friends who shop at and love the Seattle Wholesale Growers Market.
The traffic in Seattle is getting worse and worse, and for some flower farmers (not to mention florists) in the counties north of the city, the logistics of travel, delivery, and shopping isn't always smooth. It can be a barrier to running a small, solo floral business. I firmly believe that the presence of a seasonal, specialty flower hub in Snohomish is not going to take business away from the dynamic center created at SWGMC. In fact, some of the florists and flower farmers who I ran into at SnoCo. on Thursday are also regular patrons of the OG market on South Orcas Street in Seattle's Georgetown neighborhood.
But . . . how cool is it to incubate and nurture a new group of flower farmers? Two women made this hub happen: first Tracy Yang of JARN Co., a flower farmer and Slow Flowers member, who farms in Monroe with her partner Nick Songsangcharntara. Monroe is literally next door to Snohomish, and while Tracy and Nick sell their flowers through SWGMC and at area farmers' and pop-up markets, I suspect they needed another outlet to sell direct to florists.
Enter Alicia Schwede, a longtime Slow Flowers member, creator of the Flirty Fleurs blog (one of the first, if not the first blog for florists), and newish founder of Fleurs Creatif, a tiny but adorable design studio in downtown Snohomish.
It all seemed to come together when Tracy and Alicia connected and cooked up this pilot project for Fleurs Creatif Studio to host the flower farmers every Thursday morning starting July 27th through September 28th (7:00AM to 11:00AM), 105 Avenue A, Historic Downtown Snohomish, Washington.
There are 22 growers listed on the SnoCo. website and when mom and I visited, we met about one dozen growers who displayed their gorgeous blooms, sold in bunches, bouquets, and single stems. Each vendor is set up at a different table with their own product and shoppers make individual transactions for their purchases with each — like a flower farmers' market.
We selected some gorgeous dahlilas for my mom to display in her living room — thank you to Patty Northman of Soaring Heart Dahlias (Arlington, Washington) for the amazing selection from which to choose! Mom especially loves the bicolored options and she was drawn to a bunch of 'Crème de Cassis' blooms.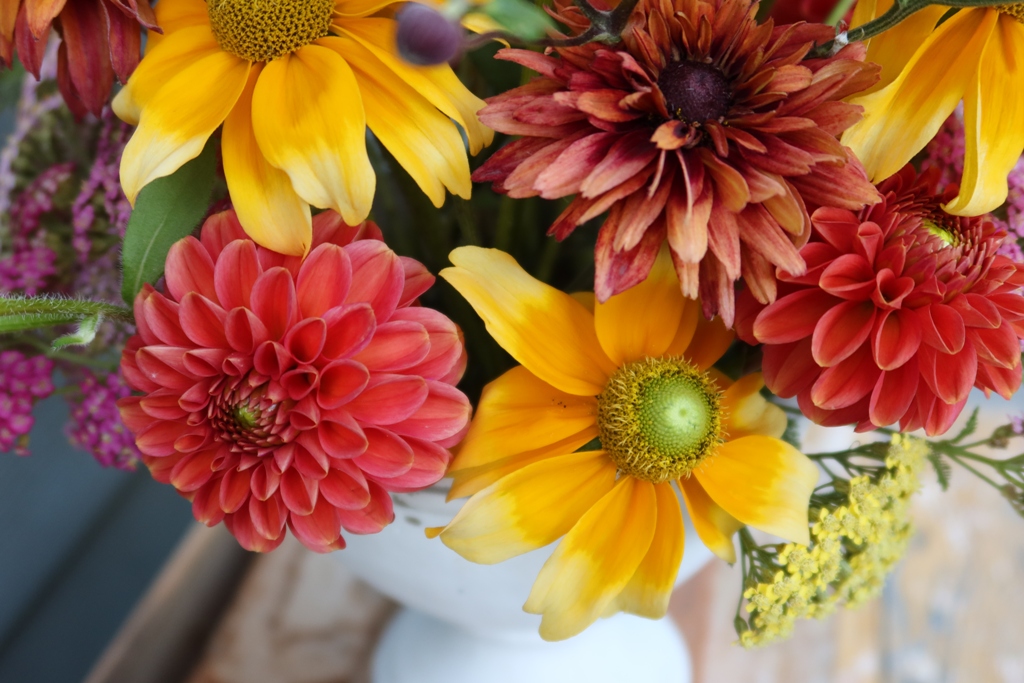 I also purchased two bunches of gorgeous rudbeckia from Heidi Skievaski (Sublime Gardens), a Snohomish-based grower who I've met in the past through the Northwest Flower & Garden Festival where one of her display gardens was featured. Heidi is now growing both nursery plants and cut flowers, and wow, did I love what she brought to the SnoCo. market! Of course, I shop for what I don't have in my own garden, so there were several types of rudbeckia, including a mix of all the sultry brownish options that Heidi custom bundled for me.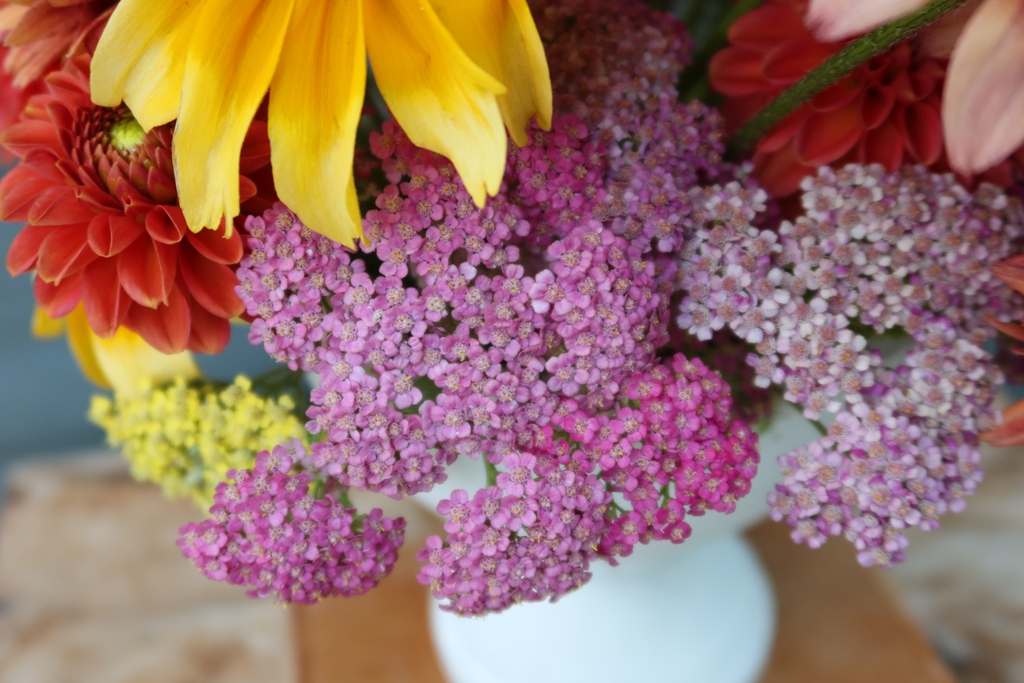 I also loved the sweet mix of pastel to brighter toned pink yarrow, purchased from Brynn Hower of Blush & Honey in Woodinville.
All of these goodies came home with me and I "shopped" from the cutting garden here in my backyard to find companion blooms for an arrangement. I used some burnt orange ball dahlias, mustard yellow yarrow, melon and coral gladiolas, bright orange-pink echinacea, and yummy pink Japanese anemones.
Together, these fruity-tropical flowers explode into a polychromatic display for summer.