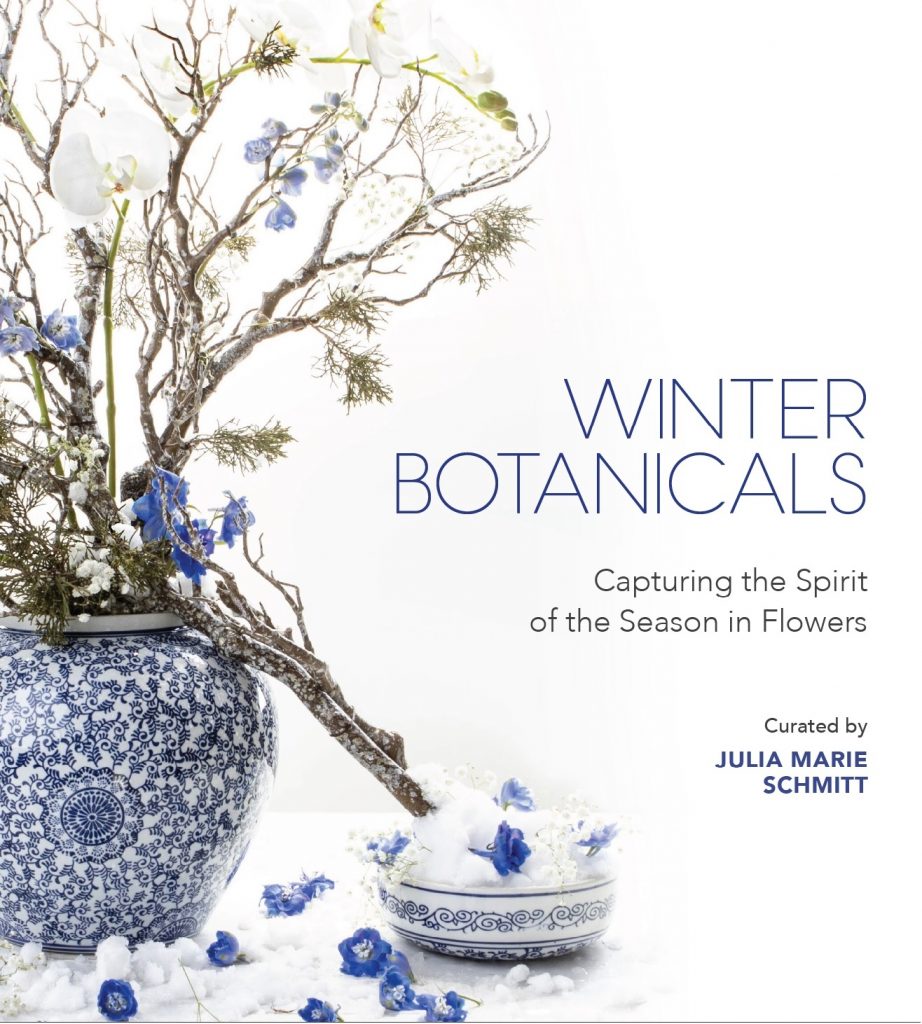 Just in time for the quiet season of home, harvest, hearth and holiday celebrations, Julia Marie Schmitt brings us Winter Botanicals: Capturing the Spirit of the Season with Flowers.
She beckons us to enter this magical world, writing in her introduction: "I invite you to take a stroll through the pages of Winter Botanicals, as 19 international floral designers share their traditions, childhood memories, holidays and wintertime inspirations through instructional floral designs. These step-by-step designs will equip you with the tools and techniques to create your own seasonal-inspired expressions."
Julia previously curated two books with Wildflower Media and served as contributor to Florists' Review magazine. She recently branched out to produce her own publications and floral art workshops, forming Flowers by Julia Marie Studio in Marceline, Missouri.
Winter Botanicals is her first solo project, just released in time for the season. Julia designed three of the 24 featured projects, and like most, the book is filled with creations from accredited professionals.
Yet, each feels accessible and achievable for any DIY floral designer who's willing to try out new tools, mechanics and materials.
I asked Julia to chat with me and share a few highlights from the pages of Winter Botanicals.
SFJ: Why winter?
JMS: For one thing, the winter season is definitely a time of wonderful holidays. I wanted this book to be international, so it's not focused only on Christmas traditions. The season begins when the leaves start turning and continues through the Christmas season, all the way until February. We have designs from the desert of Arizona up to the snow-covered mountains of the great Colorado Rockies. We have designs from New England, Europe and Israel. Winter Botanicals features a broad spectrum nature's influence on the holidays and how people celebrate the season in many different ways. I wanted to be inclusive of traditions, ethnicities and countries.
SFJ: Is winter the hardest season for florists to express themselves?
JMS: As a creative in the floral industry, it doesn't matter if you're a retail flower shop owner, a studio designer or an artist. There is never shortage of inspiration, especially when you're drawing from nature! The winter season is definitely unique and I wanted this book to showcase how to pull elements from nature this time of year. Pine cones, evergreens and other botanicals give us winter's aesthetic.
SFJ: How do you differentiate the season with floral sourcing?
JMS: Historically, many plants don't grow in winter, but with our markets the way they are, if you use wholesalers or distributors from other parts of the world, you can get any flower at any time. If you're going locally-grown, I know that for a lot of my designs, I harvest from my parents' yard because they have an abundance of evergreen trees.
SFJ: I love how you've organized the book by themes: Into the Woods; Fire + Ice; Evergreen; Buds + Blossoms; and Luminaries.
JMS: It takes a village to really accomplish a project like this. I had a very good team, including Robin Avni, content editor, Andrea Leksen, graphic designer and David Coake, copy editor. I have to credit Robin, who looked at all that I gathered and created the section categories and titles.
SFJ: Why was it important to include step-by-step instructions for each design?
JMS: Fundamentally, I believe from the bottom of my floral soul that the most important thing is to share information with each other. With this book and with whatever I'm involved in for the future, I want to use my projects for education.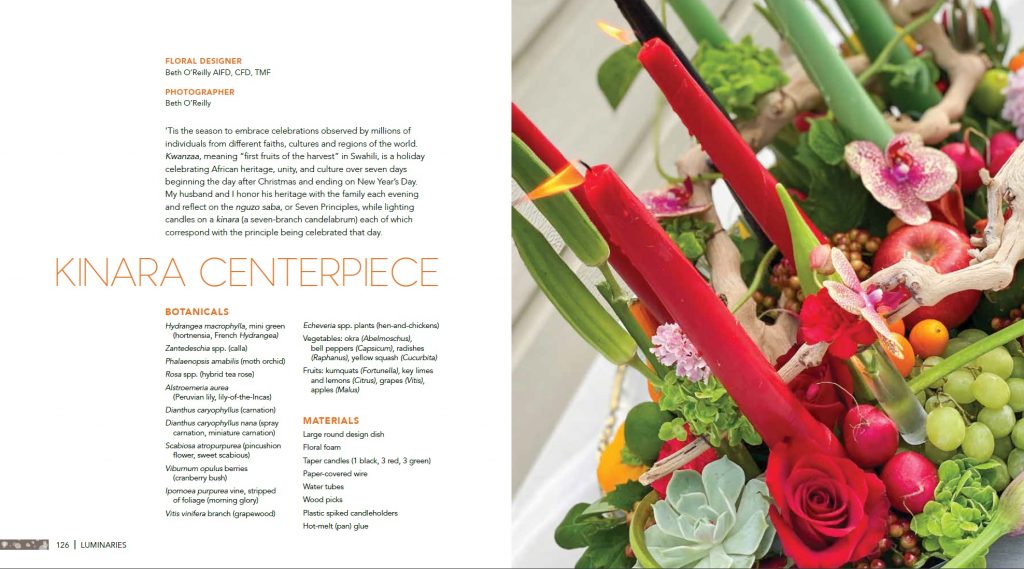 SFJ: Each of the 24 winter botanical designs is truly unique to the individual who imagined and executed it — congratulations!
JMS: In addition to sharing techniques and information, I wanted the designers to share the story of their piece, because everything needs to be personalized. I love to have a story involved with everything I do. In fact, the hashtag I use is #tellyourstorywithflowers.
Order Winter Botanicals
Regular price $29.95
Size: 9 x 10 inches
Soft cover, 144 pages
About Julia Marie Schmitt, AIFD, CFD, PFCI, ICPF
Julia began her floral career in 2008 when she started designing at her mother's "retirement hobby flower shop." It did not take long for flowers to become her passion and her life. Shortly after, she became partner owner of Busy Bee Inspirationals – Home of Flowers by Julia Marie in rural Marceline, MO.
As a self-taught florist, Julia quickly understood the importance of floral education. With a strong desire to challenge herself to always "live outside the box", she became an Illinois State Certified Professional Florist (ICPF) in 2013 and in 2014 received her European Master's Certificate (EMC). In 2016, she was recognized as an American Certified Floral Designer (CFD) and was inducted into the American Institute of Floral Designers (AIFD) in 2017. In 2019, she received her accreditation as a Professional Floral Communicators – International (PFCI).
She travels to Canada, Europe and The United States as a floral presenter and educator at events such as Fleuramour at Alden Biesen Castle, IMP-ESSEN in Germany and AIFD Symposium. She has been a member of the EMC Team as the Education Coordinator, Public Relations Liaison, Project Manager and Teaching Assistant. She is a teaching instructor for the Illinois State Florist Association Bootcamp Series. She is a board member of South Central AIFD Regional Chapter and is the Chair of the Social Media Committee and Vice Chair of the National AIFD Career Development Committee.
She has recently started Flowers by Julia Marie Studio in Marceline, MO where she conducts floral art workshops for all educational levels.