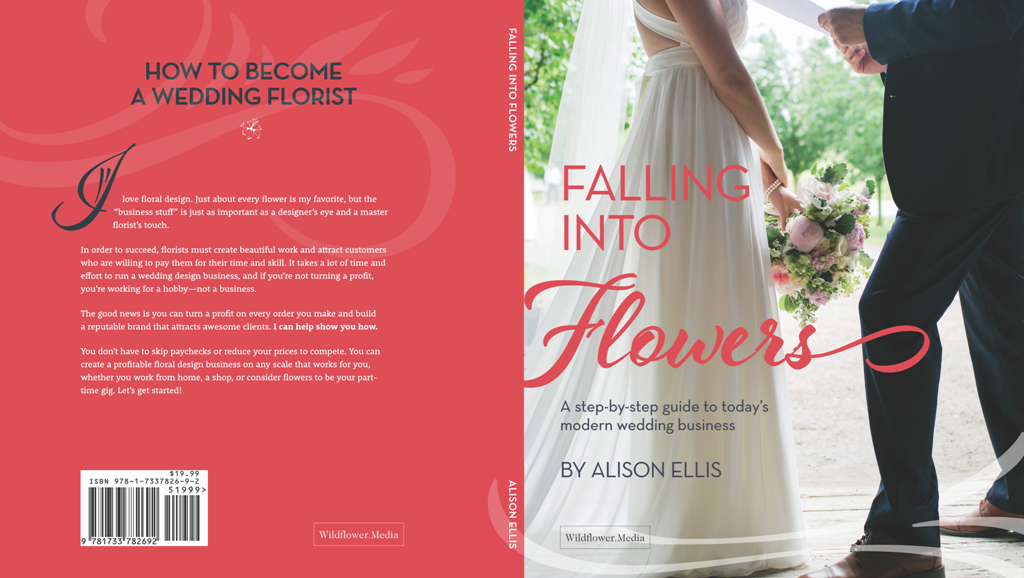 Alison Ellis, a Vermont-based florist and owner of Floral Artistry, has just written Falling into Flowers, A step-by-step guide to today's modern wedding business, published by Wildflower Media.
She's a Slow Flowers member and past guest of the Slow Flowers Podcast. We've served as fellow contributors to Florists' Review for a few years, and I've loved reading Alison's direct, forthcoming and passionate message that encourages fellow professionals to run their floral enterprise as a profitable business. These are the same principles she teaches in online coaching and courses through her educational programs at Real Flower Business.
This easy-to-read, engaging new book isn't filled with floral recipes and lavish photography. Instead, Alison shares useful, straight-up advice about creating a profitable floral business to serve the wedding market.
I recently interviewed Alison to share our Q&A with you. Falling into Flowers walks readers through her approach to building and sustaining a successful floral business. From Chapter 1 – How to Become a Wedding Florist, to Chapter 7 – The Long Game, each chapter offers at least one valuable takeaway to anyone interested in further professionalizing their wedding business.
You can learn much more about Alison Ellis at Floral Artistry or at Real Flower Business, where you can order signed copies of Falling into Flowers, direct from the author. Enjoy our Q&A:
SFJ: How did you come up with the sweet title: Falling into Flowers?
AE: I must give my editor Robin Avni, complete credit for it! I'm so logical. I would have just called the book "How to be a Wedding Florist," but Robin pulled the phrase from one of the lines in the book where I'd written about "falling into flowers." She showed me the true value of having someone else read and curate your words.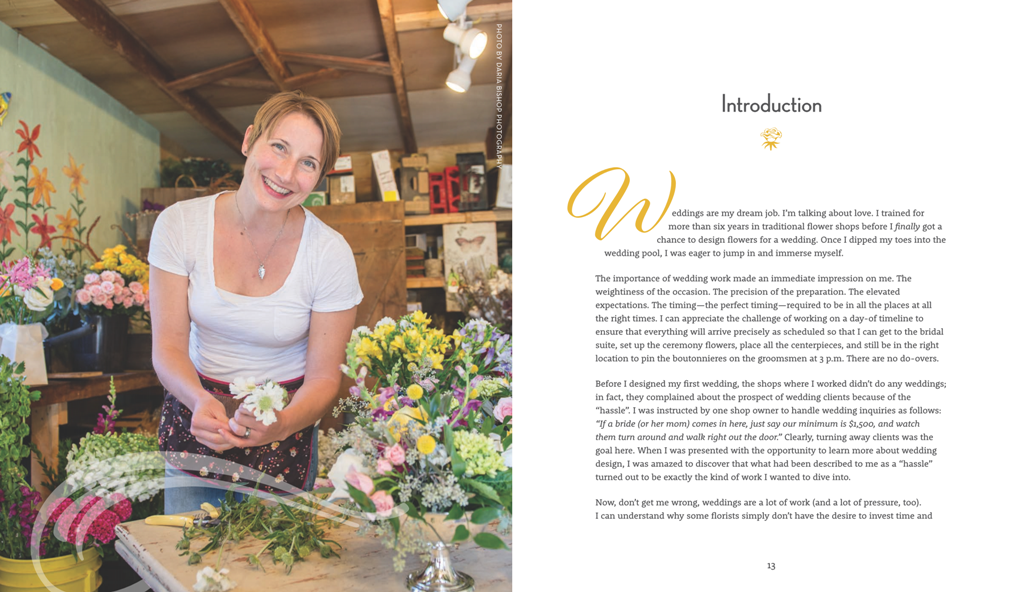 SFJ: I love that "falling into it" analogy. I often say, "I fell down the rabbit hole of flowers."
AE: I always joke about it like this (and I think I may have even joked about that on your Podcast). It's like you're walking down the street, and all of a sudden you fall into a hole and realize you're a florist.
SFJ: This is your first book, congratulations! Tell us how it came to be.
AE: I started my business in 2002, but I've been designing flowers for 25 years. Between what I learned in shops where I worked and what I've learned and created on my own, I always wanted to write a book. But I thought that book would be for brides and for couples planning a wedding. Maybe a look-book of flowers and ideas. When I branched out from being a wedding florist to build the education side of my business, I realized that I could write a book about a lot of different topics that would help shine a light on the business principles that have kept me in business.
SFJ: Beyond designing flowers, teaching florists is an important facet of your own floral business, right?
AE: Yes. I started my very first dip in that pool on Alicia Schwede's "Flirty Fleurs" blog. Then I added a business column for Florists' Review a few years ago. Writing articles and filming videos helped me find my voice. And I realized that I needed to share my free business tips along with my courses on my own website and blog.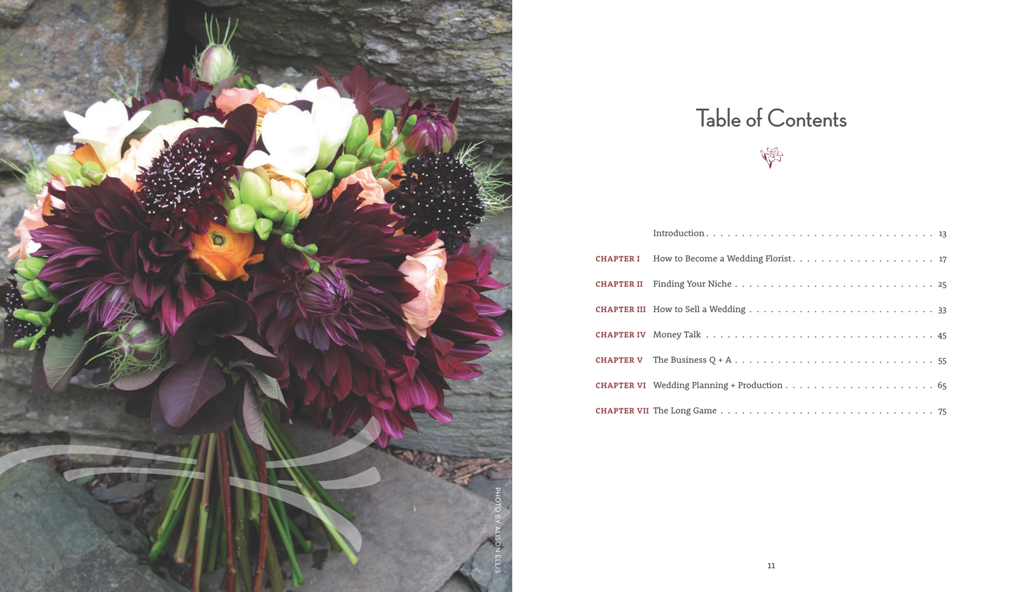 SFJ: Rather than teaching and writing about floral design, you seem to focus primarily on business topics. Can you explain why?
AE: I feel like everyone has something to teach, but there aren't enough people teaching how to make money as a floral designer. I really try to drill down on the floral business niche. You can learn design from a lot of people and places, but I want to teach you how to sell it, how to book the client, how to make sure you're providing value and how to make sure you're getting paid. That's the stuff I'm really passionate about.
SFJ: Who did you write Falling into Flowers for? Who is your ideal reader?
AE: Some of the people who have ordered my book are brand new; some of them have been running successful businesses for a long time. Falling into Flowers is a resource for the wedding florist, whether they are brand new and have never sold a wedding in their life, or if they just need a little inspiration or confirmation that what they're doing is on track. A lot of wedding florists have been doing this for a long time, but they haven't continued to revisit what I call "today's modern wedding business."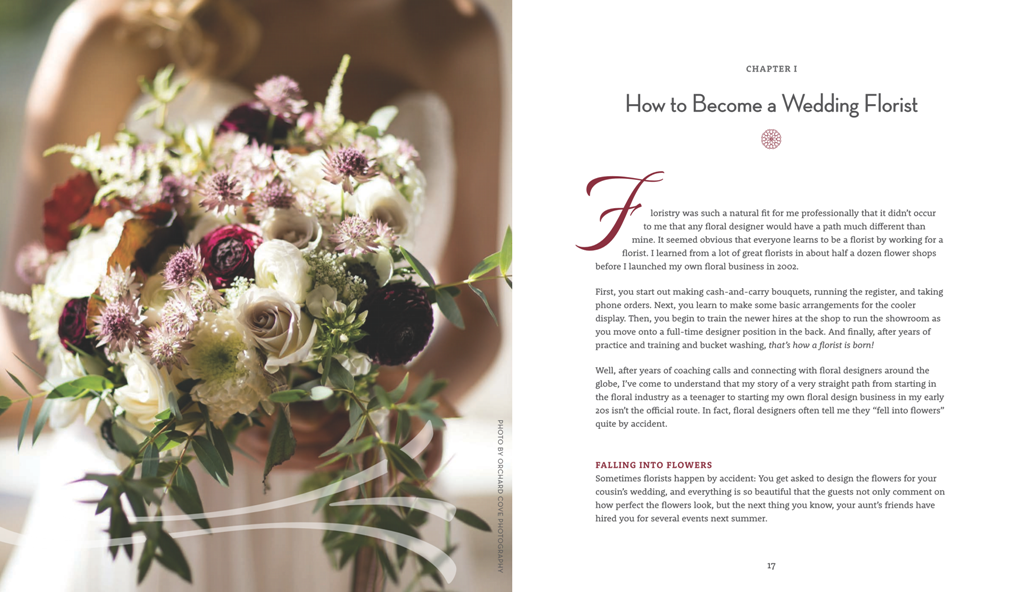 SFJ: What do you mean about "today's modern wedding business"?
AE: The way we plan the wedding is the biggest thing that's changed. You still need a bouquet, and you need centerpieces. But how we sell it is different. What our customer expects from us is different. It used to be that a customer would come into your flower shop and look through an FTD book. They look at photos of work that you didn't make, pick out something they liked and place an order for their wedding. Now, however, they are planning. They want to talk on the phone, or they want to have a virtual conference with you. They're not coming into your shop to see what you might have. They're bringing you 18 Pinterest boards with everything they might want!
SFJ: Technology has really changed the wedding narrative, right?
AE: Yes! Because of this, there is a large category of potential clients who are grabbing inspiration in endless ways. I got married in 2003. And planning my wedding in 2003 meant getting the Martha Stewart wedding magazine, cutting out pictures that I liked and putting them in a manila folder to bring to my florist. It was much harder to find inspiration then, frankly, because couples were limited to what the big magazines were showing. Google wasn't even a thing yet.
SFJ: Can you give an example of how technology has changed the florist-client dynamic?
AE: It's that whole FOMO thing, right? I didn't even know what existed or that I was missing out on something. Now, people want more: an elevated piece or a floral candelabra. And they also know they can't always afford what they want.
SFJ: So how does the wedding florist navigate this landscape?
AE: It's about how to make yourself the leader in the situation. How to lead your client in a way where you're building trust as you're getting the sale. You can learn how to create something beautiful, but how do you price it? How do you find a customer who wants your design and is willing to pay you? That's what Falling into Flowers teaches. Beyond design, here's how to move into profitability; how to get customers to a 'yes' and serve them well throughout the whole process.
SFJ: How do florists get stuck in this process?
AE: A lot of people conclude that clients have unrealistic expectations, or they think the client is uneducated. And I take big issue with that. The client's coming to you with Pinterest pictures that are beyond their budget. That doesn't make them unrealistic or uneducated. It's your job to let them know: That arrangement is beautiful, but it will cost this much. Can you afford 20 of them or should we just put one on the place card or gift table? You can, in your own educated way, guide them to the right choices.
SFJ: In Chapter 3 – How to Sell a Wedding, you talk all about customer service. Can you elaborate?
AE: You want to know my secret to selling a wedding? It's honesty. Being honest with customers about what flowers cost and what you can provide within their budgets. That's all people really want: someone to tell them the answers, because they don't know the answers.
SFJ: Do you think some florists are afraid of being so forthcoming with their clients?
AE: I believe we need to educate prospective clients before we get down the road of what burns florists out. I hope this book helps prevent that burnout you get when you're writing quote after quote after quote and no one's accepted your proposals. Or you write the quote and then they tell you they have half as much money as you quoted for their budget. You can avoid this by pre-qualifying. You can avoid this by educating; by being honest and transparent. By being proactive in protecting your time.
SFJ: How do you prequalify clients? Do you always ask what their budget is?
AE: I do. Everyone who inquires with me for a wedding fills out a form that asks for the budget. I think the biggest mistakes that florists make is to include a dropdown menu with a budget range the customer chooses. Leave that field open-ended, so people can write as much as they want about their budget.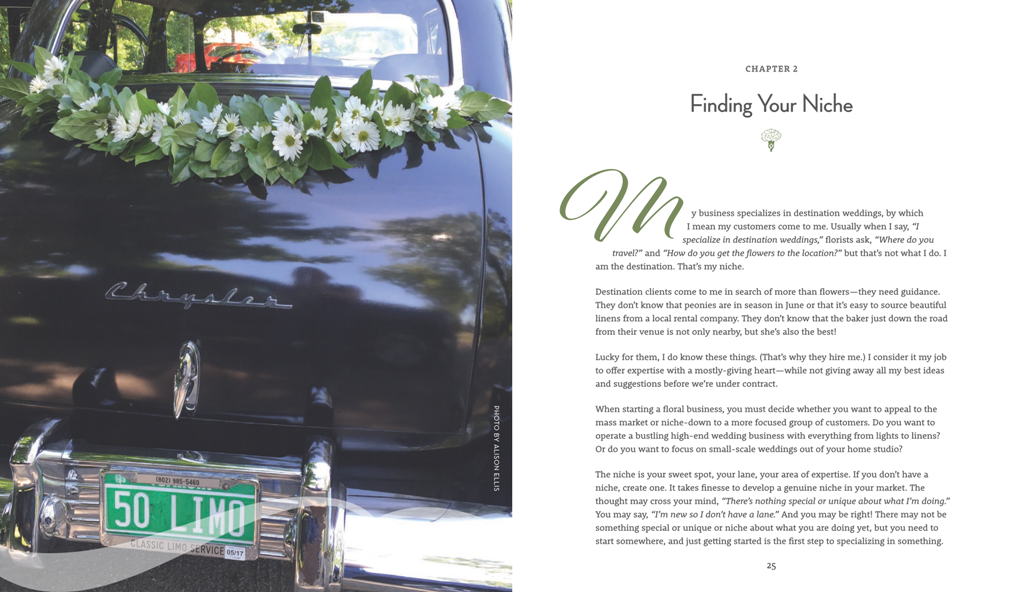 SFJ: What is some other advice you discuss in the book?
AE: Take time to get in touch with "who do you sell to?" For a while, I thought my ideal customer had $5,000 minimum to spend on flowers. That was a little illusion I created for myself, but I found that it depends on what they want for $5,000. What it should come down to is attracting the right person, not the right dollar amount. It took me years to fully understand that some of my $3,500 and $1,500 clients were the very best clients. It's about a trust level. When someone comes to me liking what they see and read on my web site, I call them "hot-to-trot." That began to happen when I stopped talking about me and started talking about them. When I was able to make better connections, year after year; getting more in touch with who my customers are and what they care about, besides just the flowers.
SFJ: How do florists learn to discover their niche and/or start to attract the best clients?
AE: I think my biggest strength, my advantage, is that I'm not a super high-end, luxury florist who has millions of followers. I think my strength is that what I do can be duplicated. What I do is easy for you to take and make your own. You are already special. You just need to tap into how you communicate that to the client and let them know you see them.
SFJ: I'm getting the sense that a lot of your advice in Falling into Flowers is from years of trial and error!
AE: Yes. The book's systems and techniques are lessons learned. I've seen so many of my students achieve the same results.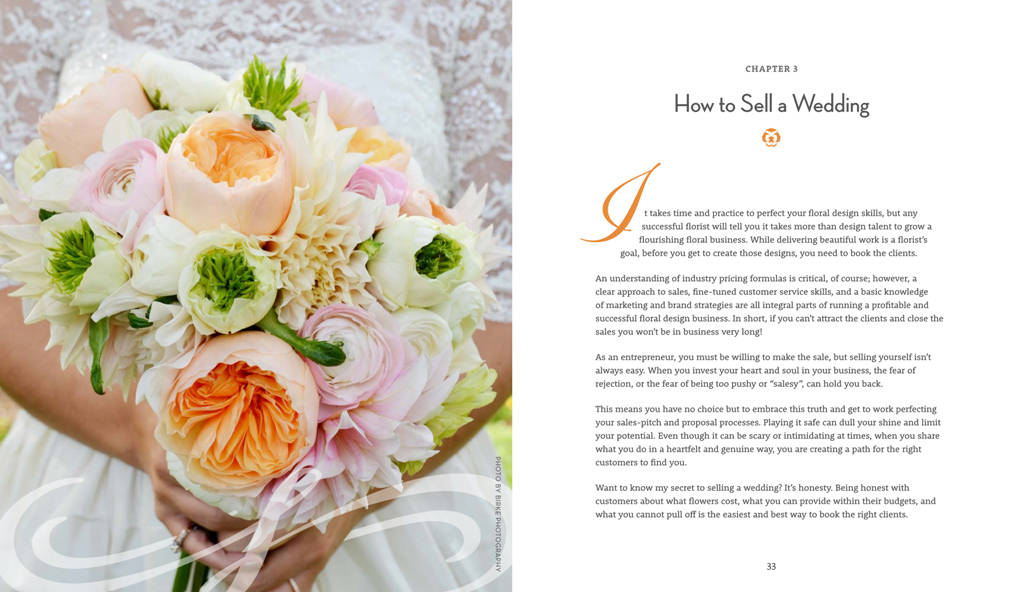 SFJ: If you have one takeaway to make sure readers receive from Falling into Flowers, what would that be?
AE: I want readers to feel happy in their businesses. I want them to feel confidence and in control of their future rather than subjected to whomever happens to click on their website and fill in the contact form. I don't want people to feel stuck in this pattern of charging the very lowest minimum because they're not worthy of charging more or because they're still too new to charge industry prices. I want to empower readers to move forward knowing that they have a plan, whether what they're doing is right or what easy adjustments they can make to maximize profit, serve their customers well and attract the right customers.
---
Falling into Flowers: A Step-By-step Guide to Today's Modern Wedding Business
Regular price $19.99
Size: 8-1/8 x 9-1/2 inches
Hard cover, 80 pages
Order signed copies from Alison Ellis
If you have the desire to perfect your wedding floral sales, business and customer-service skills, and to become more professional and profitable in this segment of the industry, this is the book for you!
Written in an enchanting, friendly and easy-to comprehend manner by Alison Ellis, a practicing wedding florist for nearly two decades, this book covers it all. Included are sound advice and proven tips for:
becoming a wedding florist
finding and creating a niche for your business
selling weddings (including consultation tips)
• pricing your wedding work profitably
• planning and executing weddings
managing communications with clients—and much, much more.
It is possible to make money on weddings, from either a studio or a retail flower shop—even if you believe weddings are too much work and not profitable. By following the steps outlined in this consummate wedding business guidebook, readers will gain the confidence, clarity and professional strategies to become successful and profitable beyond their imaginations. And don't hesitate to order this must-have business manual for your floral library: Once you start reading it, you'll have a hard time putting it down! It's that engaging!