Slow Flowers has joined a new project launched this month by Kelly Shore of Petals by the Shore and Mary Kate Kinnane of The Local Bouquet, called The Floral Field Trip, taking place this year in Vermont, September 22-24th.
Kelly and Mary Kate are longtime Slow Flowers members and past Slow Flowers Summit speakers, so you'll be interested in learning more about this project — it is an unique farm tour and design workshop created for florists interested in expanding their domestic product sourcing approach.
The Floral Field Trip was born from an idea of connecting America's flower farmers with professional floral designers. Kelly and Mary Kate believe there is a rich opportunity to highlight each region's most beautiful flowers and foliages year round. Seasonality happens throughout the country, 365 days, 12 months a year.  This means, there is always something blooming, but without the knowledge of each region's growing patterns, designers are left to source only what grows seasonally in their region while admiring different parts of the United States from afar!
We asked Kelly and Mary Kate to answer a few questions about this project in a Q&A format below: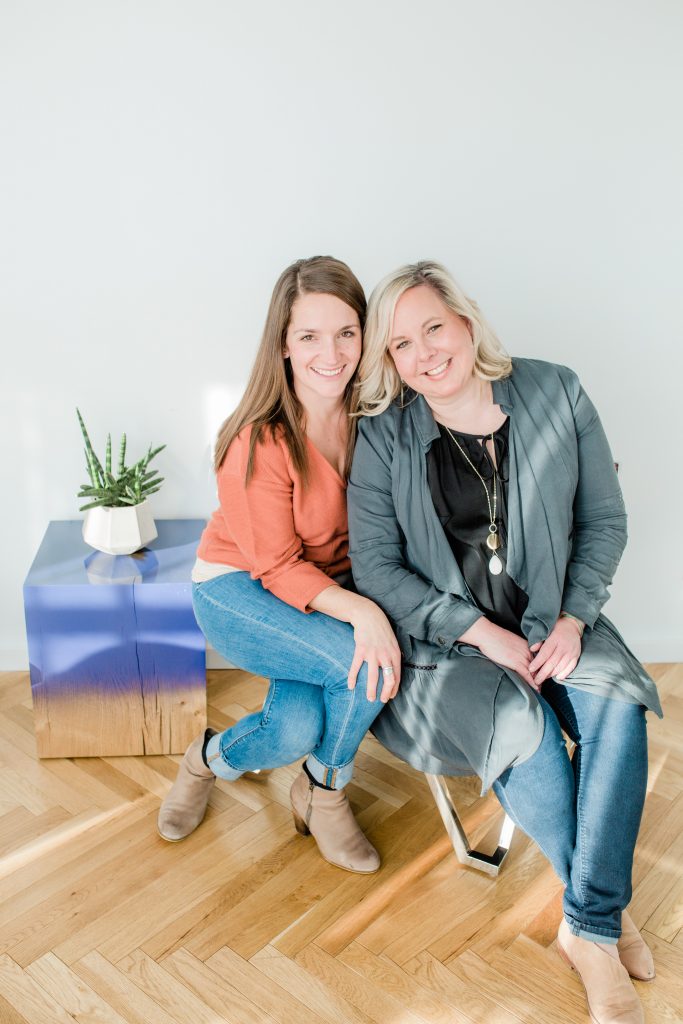 Mary Kate, would you discuss your journey as a pioneering Slow Flowers designer — and what you've learned about local sourcing?
My journey started back as a child when I was immersed in the gardening world through my family's landscape business. I spent many hours in gardens learning what seasonality looked like in New England and quickly had my favorite list of perennials and annuals that I loved!  In college, when I had my first job with a wedding floral designer, my eyes were opened to where flowers were being sourced from and what that looked like in terms of designing for wedding clients.
When I started The Local Bouquet back in 2013 I knew that I wanted to design with 100% American-grown flowers and foliage year 'round because I wanted to offer my clients a more sustainable and seasonal product to represent the time of year and the region they were choosing for their wedding. I also wanted to support all of the talented flower farmers, both locally and nationally, with the money that my clients were investing into their flowers, while offering those same clients the best product possible in return!
A lot of what our mission represents is education in that we are always teaching people about seasonality and sustainability whether it's a bridal client or an attendee who comes to one of our classes. I love sharing the beauty that is right in our backyard and giving people the confidence to explore what seasonality means to them wherever they live!
Read more about Mary Kate here.
Kelly, would you discuss how you were influenced to shift your sourcing practices?
I was influenced in shifting my sourcing practices through my experiences and interactions with flower farmers at my weekly farmers' market 8 years ago.  Through those relationships and experiences working with them on Field to Vase dinners I began to see all that I could source from for my weddings.  It was a slow transition as I was unsure of what was available seasonally and how that could work in wedding designs.
What really was a turning point for me was doing my first experiential learning project – Four Seasons of Floral Design.  It was through this project that I committed myself to learning how I could make domestic flower sourcing a real focus in my business.  I spent a year learning what grew locally and forced myself to design differently and think outside the traditional box versus how I was trained.  I started seeing flowers and foliage differently and allowed myself to explore with new varieties that I had never considered – such as poinsettias in winter as a focal flower.  From this project the passion grew and I began to realize that farms across the country offered me flowers and foliage throughout the year.  Connecting one-on-one with these farmers and learning about their businesses only strengthened my desire to further support U.S. floral agricultural.
Why did you decide to collaborate on a new business together?
We met in 2014 and had an instant bond and friendship over being young mothers and entrepreneurs.  We also had a mutual passion for sourcing from our local farmers.  Through the years we've mentored each other as our businesses have grown and as our sourcing practices have expanded across the country.  We have partnered on various projects over the past two years and realized that we make a great team.  We both had a desire to connect our peers with flower farmers across the country and teach them to source confidently like we do.  We balance each other and bring different strengths to the table and felt that the timing was right in our own journeys and businesses to create The Floral Field Trip as a new opportunity to empower others.  There is a need out there from our peers and we felt the calling to answer it.
Who is The Floral Field Trip created for?
Professional floral designers who are seeking ways to make changes in their flower source.  We are not expecting anyone to go 100% American-grown.  But what we do want to do is give fellow florists the confidence and the resources to see what is available and to learn how domestic flowers can fit into their business model.  Even if everyone makes a 1% change in the way that they source it will only strengthen the flower farming industry and create more growth and opportunity for everyone.
What do you hope to change in the floral marketplace by offering this series?
We hope to open doors to more resources, more availability of flowers and foliage year 'round for designers.  We are not looking to cut anyone out of the distribution chain, but we also know that we have to be our own advocates for change.  If your wholesaler is not sourcing local or American-grown product and you don't have local flower farms near you . . . then you need to connect with farms across the country that are willing to ship to you.  We think this shift in thinking will help encourage wholesalers to source from American farms and we think it will give flower farmers the confidence to grow and ship to designers like us and others. We just want to create an avenue that gives designers the confidence and knowledge to buy the products they want without constraints.
What are the unique facets of the 2019 TFFT experience?
This is a full-immersion experience – very hands-on.  We will spend two days on a flower farm with a focus on one primary floral crop.  We've chosen Vermont and hydrangeas as our first trip because hydrangeas are a huge part of wedding work and such an important flower for designers.  We want to highlight the American-grown hydrangea and all the varieties available.  We will see how hydrangeas are grown, learn and experience how they are harvested, see how they shipped and hear the farmers' story.  It's not often that designers and flower farmers have this type of opportunity to get to the heart of issues and learn how we can all work toward change.  Real growth happens when we stop to listen and learn from one another.
We also provide the opportunity to design with flowers and foliage from that farm.  No design techniques will be taught – it's just an opportunity to create to create. We will also, in Vermont, create a foam free ceremony structure using only hydrangea and fall foliage – built as a collaborative effort.  It's a good and challenging practice to learn to work as a team – not always easy but it strengthens community and opens our eyes to be cognizant of different ways to learn and grow.
There will also be breakout sessions where we discuss how to talk to your clients about how you source and what does that mean for your business flow and bottom line.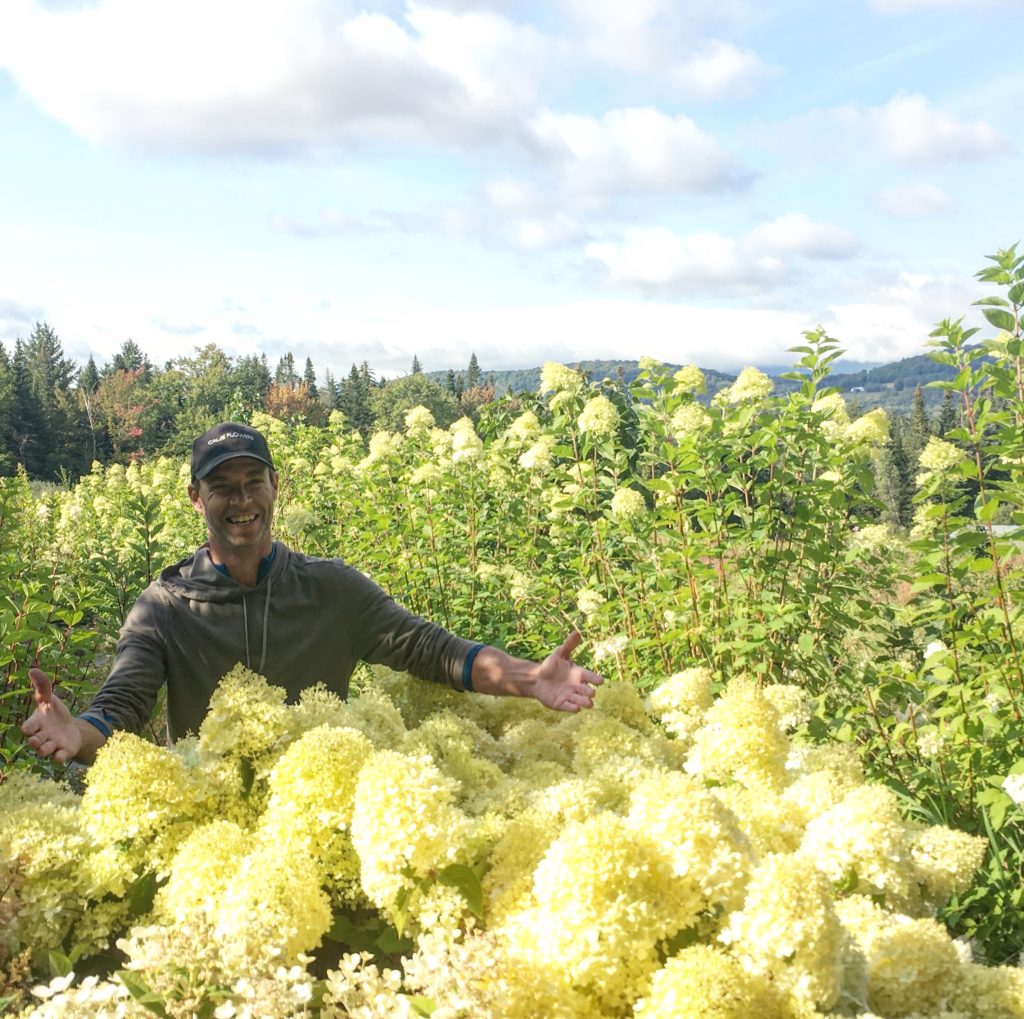 What does the future look like beyond this first 2019 workshop?
Next year we have two trips in the works and hope to add a third.  We want to go to every region in the U.S. and visit as many farms that we can find, farms that offer a primary crop or a wide selection to designers.  Our ideal attendee is someone who continues the journey with us on all the trips to build their personal directory of resources.
What else do you want to share as encouragement?
We have a sale going on until midnight tomorrow (Valentines Day) which gives you $250 off the ticket price.  The ticket price includes your stay on an organic family farm in a yurt village and 3 locally-sourced and chef-prepared meals a day. We do offer a payment plan of two installments.