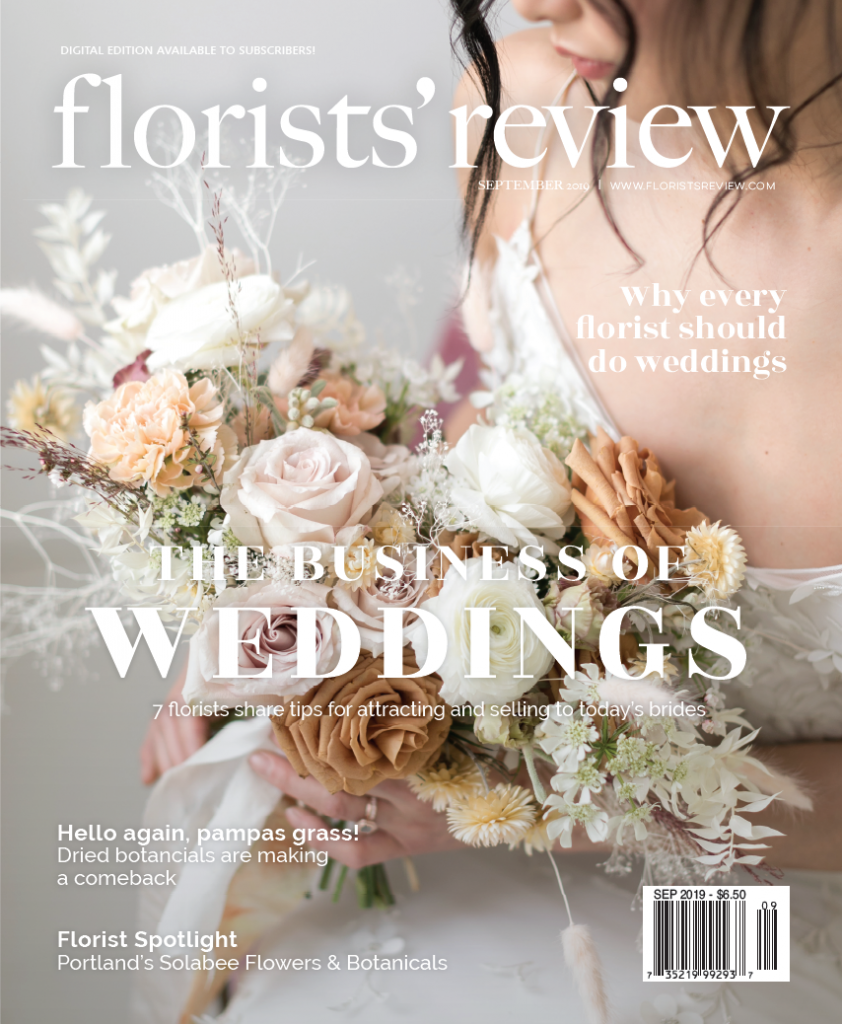 SEPTEMBER's Issue No. 26 of Slow Flowers Journal brings you inside the pages of Florists' Review! 
The entire issue features "The Business of Weddings," and we offer Slow Flowers' unique point of view for seasonal, local and sustainable weddings, as well as for weddings with a cause.
I'm delighted to share three features with you, including stories that will give you new ideas for Sustainability, Workshops and Styling.
Here's a sneak peek of our feature articles: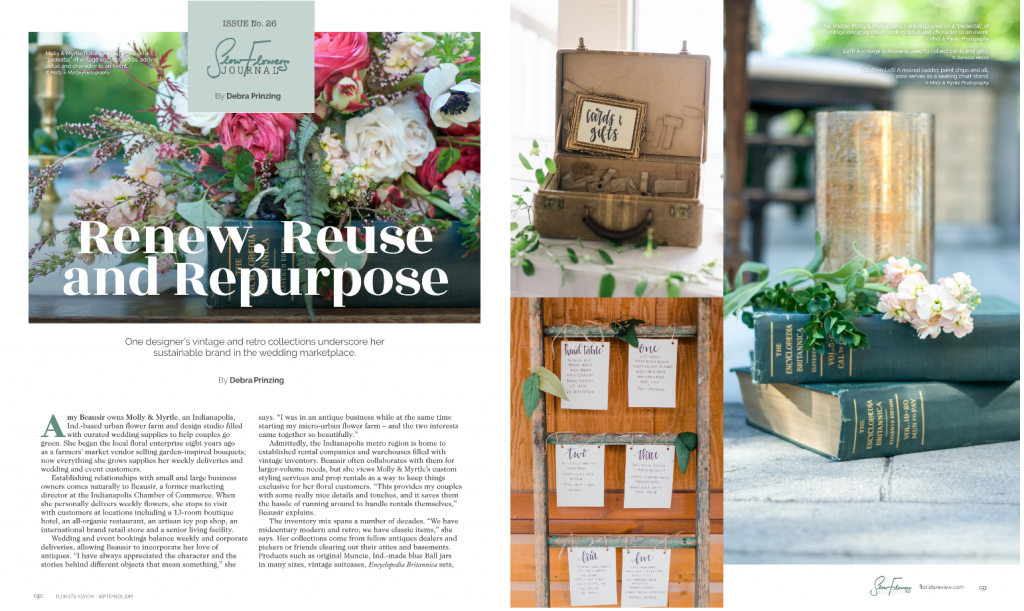 RENEW, REUSE AND REPURPOSE
One designer's vintage and retro collections underscore her sustainable brand in the wedding marketplace
Amy Beausir owns Molly & Myrtle, an Indianapolis, Indiana-based urban flower farm and design studio filled with curated wedding supplies to help couples go green. She began the local floral enterprise eight years ago as a farmers' market vendor selling garden-inspired bouquets; now everything she grows supplies her weekly deliveries and wedding and event customers.
Establishing relationships with small and large business owners comes naturally to Beausir, a former marketing director at the Indianapolis Chamber of Commerce. When she personally delivers weekly flowers, she stops to visit with customers, including a 13-room boutique hotel, an all-organic restaurant, an artisan icy pop shop, an international brand retail store and a senior living facility.
Wedding and event bookings balance weekly and corporate deliveries, and here's where Beausir incorporates her love of antiques.
"I have always appreciated the character and the stories behind different objects that mean something," she says. "I was in an antique business while at the same time starting my micro-urban flower farm — and the two interests came together so beautifully."
REAL WEDDINGS WITH SINCLAIR & MOORE
An innovative workshop approach gives aspiring and seasoned floral designers next-level professional experience
Photography by O'Malley Photographers
Sinclair & Moore is known for planning, production and floral design of incredibly elegant weddings and events for clients in the Seattle area, where the studio is based, and in destinations around the globe. In addition to producing luxury weddings and events, founder and creative director Steve Moore and co-owner and coordination advisor Jamie Sinclair Moore offer a number of floral design workshops each year, including The Art of Floral Design and The Elements of Event Design. The Real Wedding Workshop is one of their most popular, quickly filling with students eager for a behind-the-scenes experience to learn the Sinclair & Moore process and gain hands-on skills while producing and designing an actual wedding.
Steve Moore leads the workshops with a highly personal approach, including teaching elements of event design and the studio's signature floral aesthetic. Last November, I joined a Real Wedding Workshop as a guest. I wanted to know how and why Sinclair & Moore takes on the added stress of teaching students while also producing an actual wedding. One motivation, according to Moore, is to create a meaningful and beautiful experience for a couple that may not otherwise be able to afford a full-scale ceremony. Student tuition helps fund the cost of the wedding flowers, while the arrangements and bouquets made during the workshop are used to decorate the entire wedding. "We actually use tuition funds to decorate the ceremony and reception, rent nicer linens, and contribute to all of the other design elements that make it a signature Sinclair and Moore wedding," Moore explains.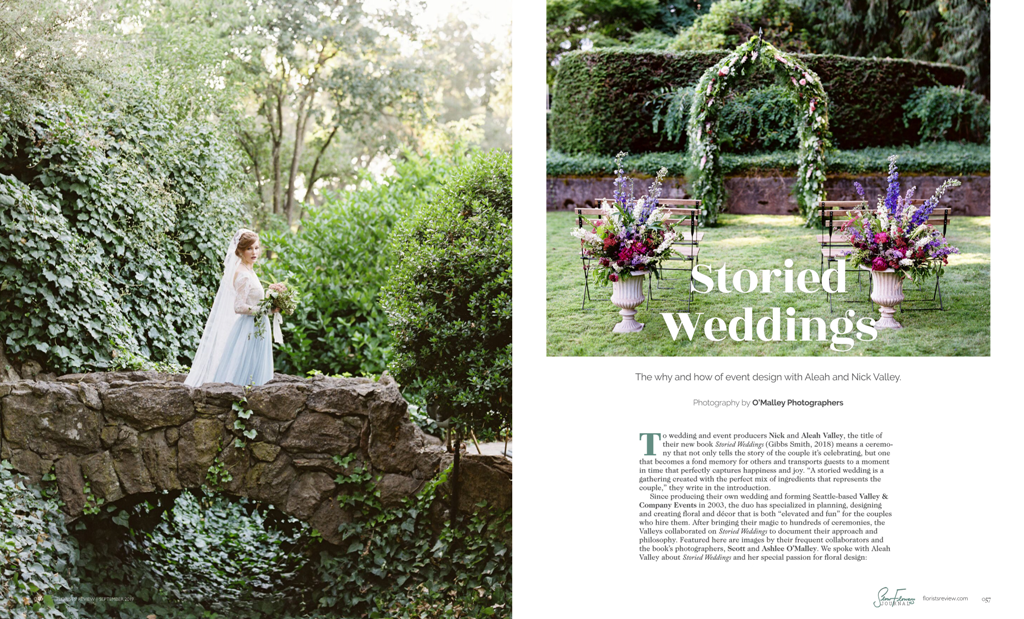 STORIED WEDDINGS
The why and how of event design with Aleah and Nick Valley
Photography by O'Malley Photographers
To wedding and event producers Nick and Aleah Valley, the title of their new book Storied Weddings (Gibbs Smith, 2018) means a ceremony that not only tells the story of the couple it's celebrating, but one that becomes a fond memory for others and transports guests to a moment in time that perfectly captures happiness and joy. "A storied wedding is a gathering created with the perfect mix of ingredients that represents the couple," they write in the introduction.
Since producing their own wedding and forming Seattle-based Valley & Company Events in 2003, the duo has specialized in planning, designing, and creating floral and décor that is both "elevated and fun" for the couples who hire them. After bringing their magic to hundreds of ceremonies, the Valleys collaborated on Storied Weddings to document their approach and philosophy. Featured here images by their frequent collaborators and the book's photographers, Scott and Ashlee O'Malley. We spoke with Aleah Valley about Storied Weddings and her special passion for floral design.
Read More: Download a free PDF of the September 2019 issue of Slow Flowers Journal.
Like what you see here? I'm delighted to serve as Contributing Editor for Slow Flowers Journal, found in the pages of Florists' Review. It's the leading trade magazine in the floral industry and the only independent periodical for the retail, wholesale and supplier market. Take advantage of the special subscription offer for members of the Slow Flowers Community. Click here for details.