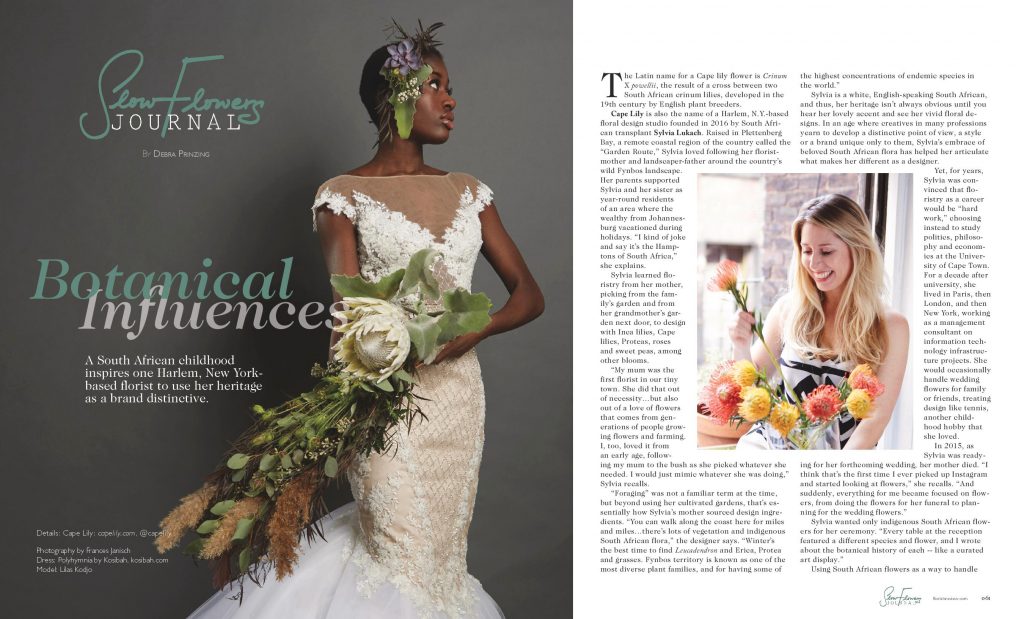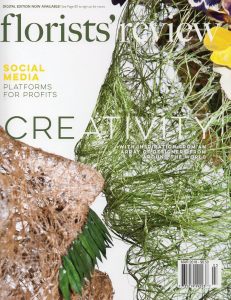 The March issue of Florists' Review is all about CREATIVITY. In the Slow Flowers Journal section, I profile three Slow Flowers members (representing a mix of studio and retail florists) about their business journey and how they find inspiration for their creative projects. I expect you'll be as excited by these stories as I am!
With gratitude for this amazing editorial platform, I'm excited to share the March 2018 content from the print edition of Slow Flowers Journal — bringing readers design, business, flower sourcing and branding inspiration.
The Slow Flowers Community and our stories include people like you — innovative floral designers, farmer-florists and other leading voices in progressive floristry.
I've excerpted the issue's articles for you here, including downloadable PDFs of each, so you can read them on your computer, tablet or smart phone. We can't post live links to digital stories, so if you want your own edition, now's the perfect time to SUBSCRIBE!
This editorial project resides in the pages of Florists' Review — please enjoy Issue No. 8. Here's a peek at the features and columns from the March Issue. Enjoy!
Botanical Influences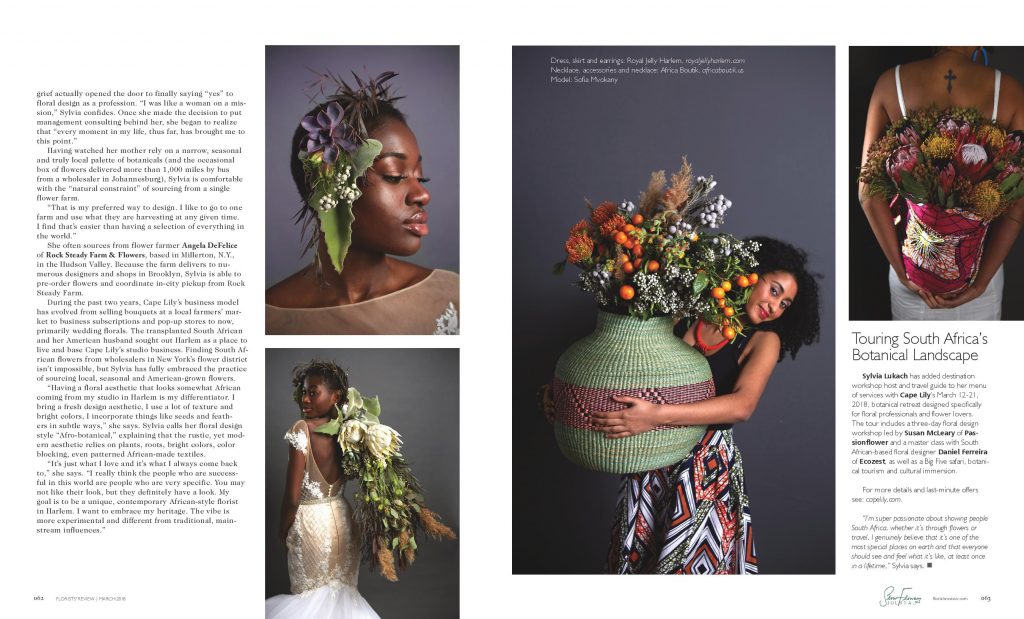 The Latin name for a Cape lily flower is Crinum X powellii, the result of a cross between two South African crinum lilies, developed in the 19th century by English plant breeders.
Cape Lily is also the name of a Harlem, New York-based floral design studio founded in 2016 by South African transplant Sylvia Lukach.
Raised in Plettenberg Bay, a remote coastal region of the country called the "Garden Route," Sylvia loved following her florist-mother and landscaper-father around the country's wild Fynbos landscape. Her parents supported Sylvia and her sister as year-round residents of an area where the wealthy from Johannesburg vacationed during holidays. "I kind of joke and say it's the Hamptons of South Africa," she explains.
Sylvia learned floristry from her mother, picking from the family's garden and from her grandmother's garden next door, to design with Inca lilies, Cape lilies, Proteas, roses and sweet peas, among other blooms.
"My mum was the first florist in our tiny town. She did that out of necessity . . . but also out of a love of flowers that comes from generations of people growing flowers and farming. I, too, loved it from an early age, following my mum to the bush as she picked whatever she needed. I would just mimic whatever she was doing," Sylvia recalls.
Download the Full Article Here: Botanical Influences
Florist-Farmers: Putting Down Roots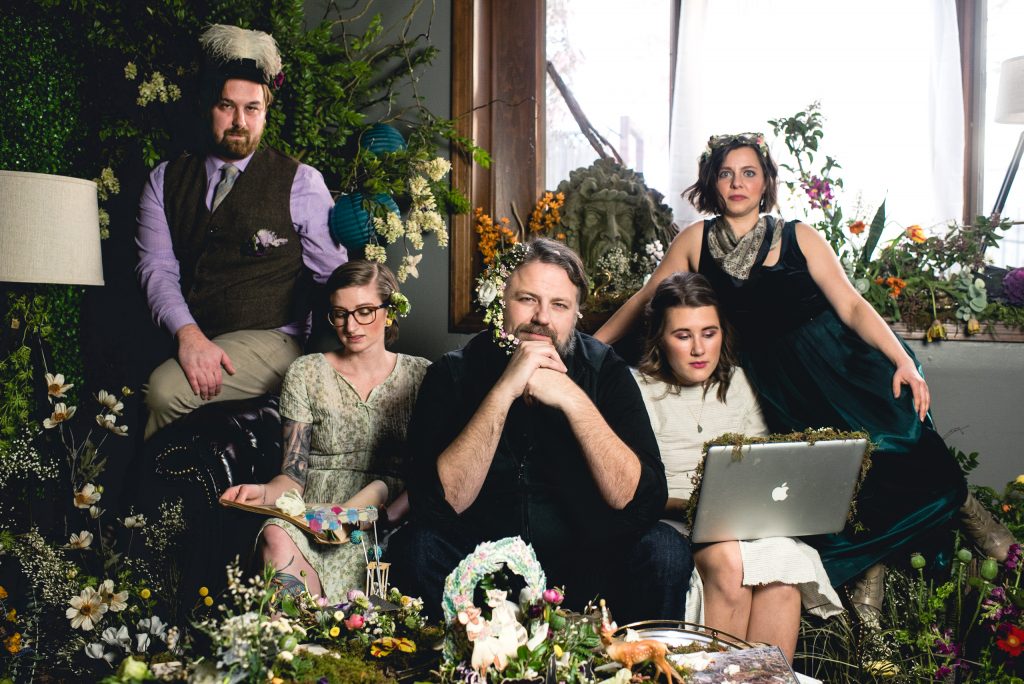 Jimmy Lohr and Jonathan Weber, owners of the greenSinner floral studio, grow their own flowers in the heart of Pittsburgh's Lawrenceville neighborhood.
The men are modern-day "gentlemen farmers" who balance wedding and event design with a small-scale, but ambitious growing operation. Jimmy's title is CEO (Chief Eccentric Officer) and Jonathan, a marketing consultant by day, moonlights as "Farmer-General."
For the past several years they've tended to a postage-stamp-sized cutting garden (estimated at one-tenth of an acre), which is wrapped around two sides of their urban studio. In 2015 they also acquired a six-acre parcel within the Pittsburgh city limits, now called Midsummer Hill Farm.
"Since our beginnings, we've focused on locally-grown flowers and sustainable practices, including wanting our very own urban micro-farm," Jonathan says. "We have a greenhouse and flower beds covering every inch of this property. We currently grow about a third of the flowers we use for weddings and all of our flower CSAs."
Download the Full Article Here: greenSinner_Putting Down Roots
Q&A: Flowers & Weeds
Flowers & Weeds is a vibrant garden center and flower shop designing more than 100 weddings a year. The business maintains a cutting garden, an everyday floral and plant delivery service, a DIY terrarium and potting station, and a lush retail greenhouse. There are seven strong and talented women who work on the F&W team.
Flowers & Weeds was started in 2012 when Jessica Douglass began designing wedding flowers, selling terrariums and potting containers as a "side gig" at an antique shop on Cherokee St., in St. Louis's South City neighborhood. In 2014, she bought a dilapidated garden center down the street and with a team of friends and co-workers got to work rehabbing the building. The shop was originally built in 1963 as an ice cream stand, which explains its unique architectural charm. In 2016, Sarah Trone, dream builder extraordinaire, and Carly Meyer, tech and graphic design wizard, joined as partners in Flowers & Weeds.
Download the Full Article Here: Flowers & Weeds
LOVE THIS?! Want to see more?
Subscribe to Florists' Review and read our bonus Slow Flowers Journal content at the special rate of $21 for 12 issues — 62 percent off the cover price! Click here to subscribe online or call 1-800-367-4708.