What to plan and plant now!
During each month of the year, I want my garden to supply botanical bounty for my floral designs. Harvesting from my own backyard is very important to me because it keeps me grounded in the seasons.
All year long, my perimeter borders produce ornamental blooms not readily found at the farmers' market. There are also four raised beds — home to spring tulips, abundant summer dahlias, fanciful vines, a proliferation of annual flowers, herbs and specialty cut ingredients.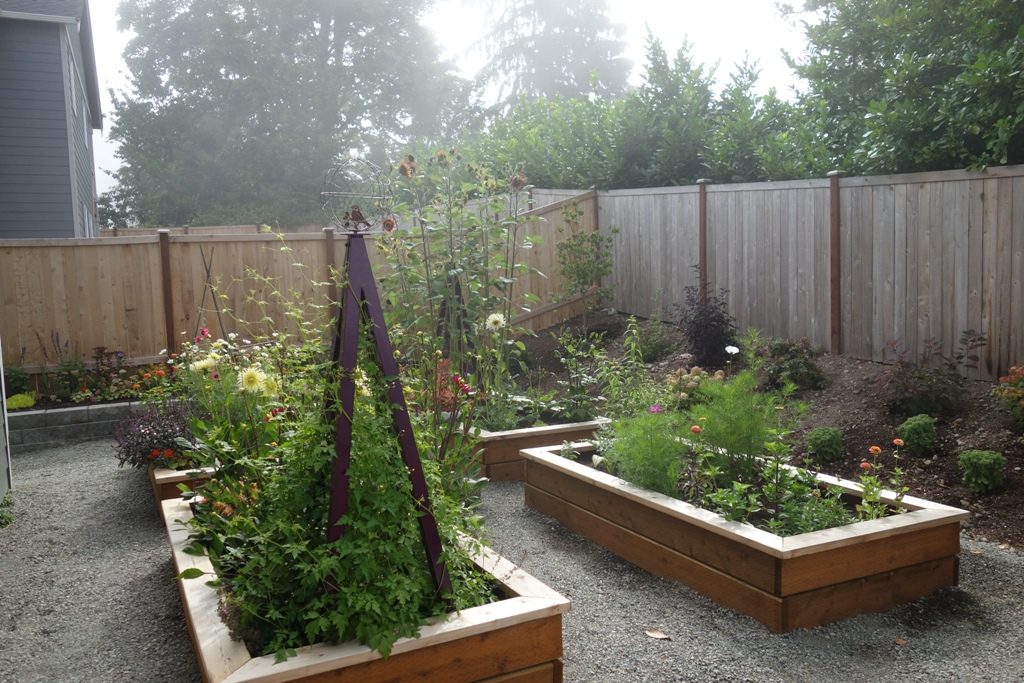 The overall size of my gardening space is 24-by-75 feet. To organize the completely rectangular backyard, I've basically divided it into three 24-by-25 foot "cubes."
As you can see from the photos above, Section 1 contains a quartet of 4-by-8 foot raised beds; Section 2 is where the patio, bench and containers live; and Section 3 is marked and prepped for a soon-to-be installed 8-by-8 foot greenhouse.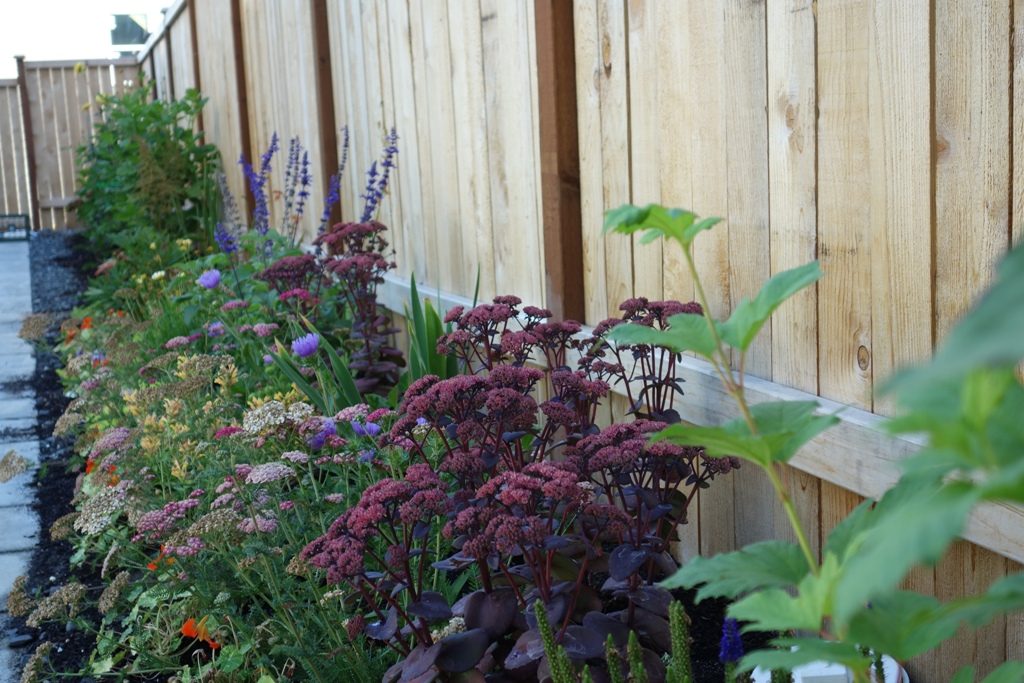 The elevated border along the side (east) fence is formed by a block-style retaining wall that the builder installed to accommodate the grade change from the neighboring property. While only 24 inches deep, it is an impressive 80-feet long, giving me another huge area for perennials, annuals, more dahlias and a few shrubs like a tree peony and an espaliered camellia.
The border across the back (south) fence is also about 75 feet long, which is where I've planted a mini-screen of arborvitae (to eventually hide what I don't want to see on the other side of the fence!) and several woody shrubs and perennials, including four roses, Verbena bonariensis, germander, several hydrangeas, a ninebark, a dogwood tree, bridal wreath spirea and sedums.
To design this season's planting scheme, I'm working with two Slow Flowers partners — Johnny's Selected Seeds and Longfield Gardens — on cut flower and foliage varieties I want to trial. I'm super excited to add the finishing touch (hopefully by May 1st) — a new greenhouse from my friends at NW Green Panels.
I'm still awaiting all the tulips I planted last fall to emerge and bloom, so until then I'm dreaming about what to eventually grown in each of the four beds.
Just like last summer, I'm devoting "real estate" of two beds to a crazy mix of annuals + the remaining two beds will contain a vivid collection of dahlias and companion plants.
Seeds for Annuals, Herbs & More
My annual planting "officially" begins today, with a 24-hour soak of two varieties of sweet pea seeds that Hillary Alger of Johnny's Selected Seeds sent me: 'Nimbus' and 'Lavender Elegance'.
I'm sure there are many other colors I could be growing, and may add, but this is a lovely start. Tomorrow I will direct-sow, and as I do so, I'll fondly recall the ritual of planting edible peas with my boys when they were younger. We followed local practice of planting peas on St. Patrick's Day, which I learned from some of my fellow Master Gardeners. I'm a little late because I've been on the road so much this past month. Being nine days late won't throw me off my sweet pea game, though.
As I was writing this post, I spoke to my dear friend Lorene Edwards Forkner, editor of Pacific Horticulture and the region's sweet pea expert. She surprised me with an offer of seeds she saved from her favorite sweet pea variety of last summer: 'Prince of Orange'. So, I'll pick those up later this week and get them started, too. Love how the peachy orange petals will play off of the lavender and dusty plum hues of 'Nimbus' and 'Lavender Elegance'.
Next up: Using the seed starting supplies that Hillary sent. I've watched several videos and in-person demos of soil blocking, but this will be my first time making soil blocks for my annuals. The varieties I want to grow are mind-blowing, but they are inspired by a list from Hillary called "Top 10 Seeds for Direct-Sowing":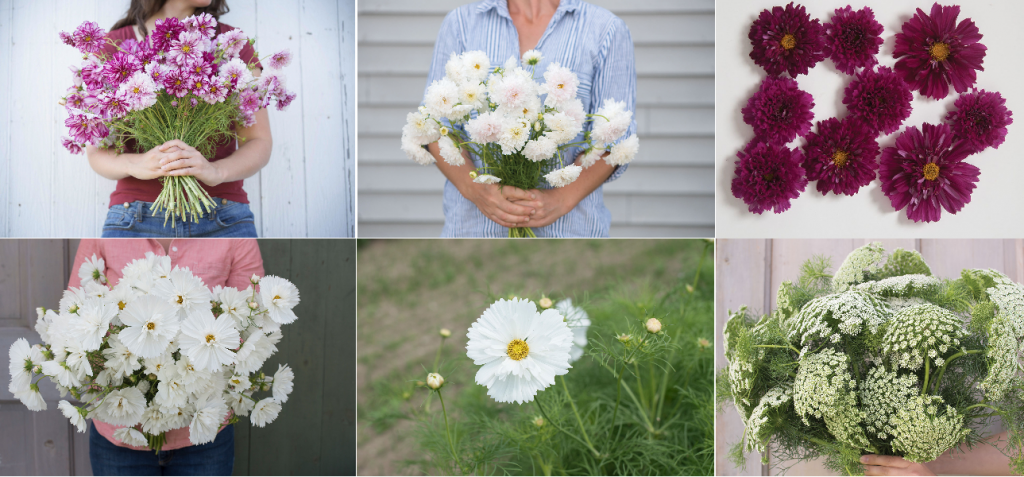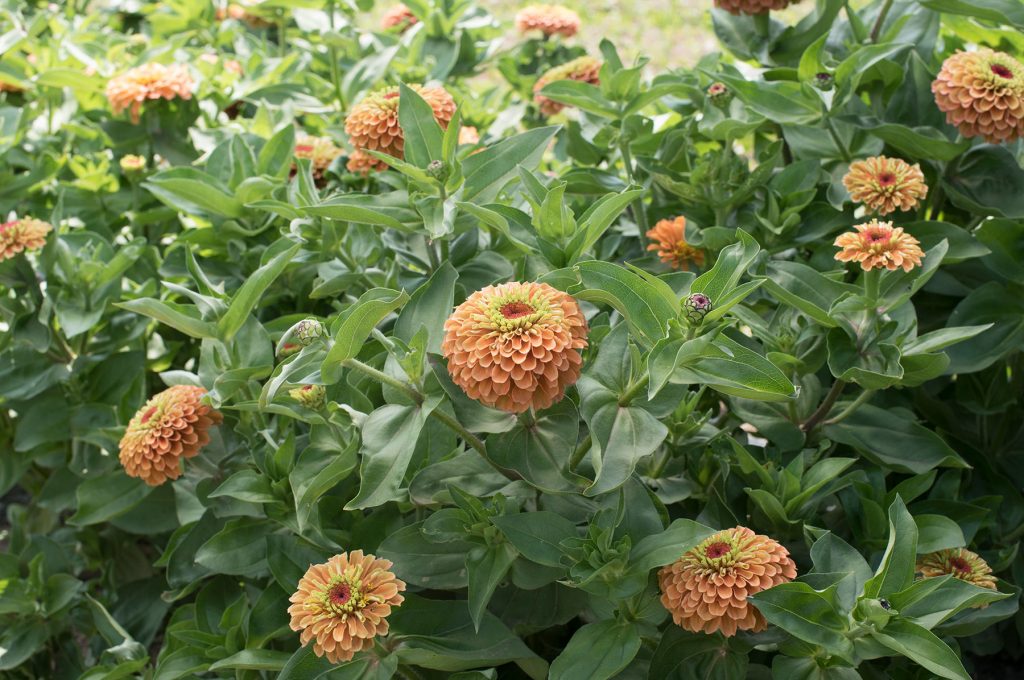 Warm soil  – Easy to grow, warm season annuals can be seeded once danger of frost has passed and can be seeded again a few weeks later for a success planting, providing lots of blooms to cut all season.
Sunflower: 'Buttercream' and 'Sun-Fill Green'
Zinnias: 'Oklahoma Salmon', 'Oklahoma White' and 'Benary's Giant Golden Yellow'
Cosmos: 'Double Click Bicolor Violet', 'Fizzy White', 'Double Click Cranberries' and 'Double Click Snow Puff'
Ammi/carrot flower: 'Green Mist' (organic)
Basil: 'Sweet Thai', 'Mrs. Burns' Lemon' and 'Red Rubin'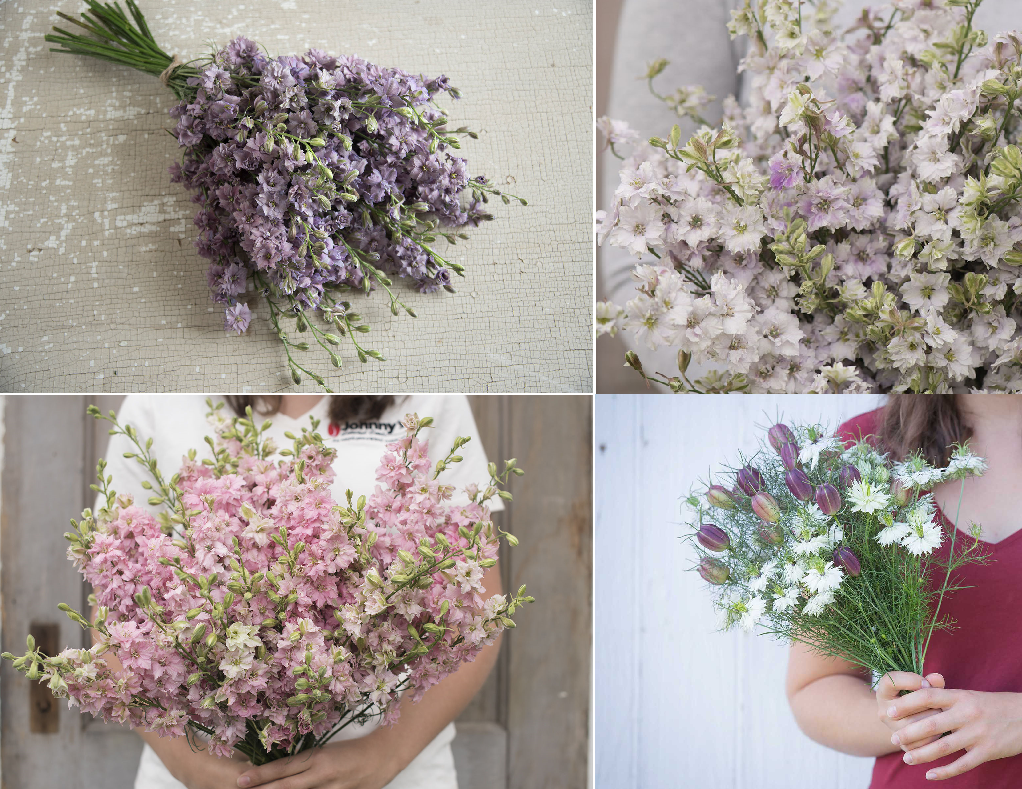 Cool soil –  Easy to grow, cool season annuals that love cool soil for germination and should only be seed in the early spring or in the fall (where over wintering is possible) for best results.
Bells of Ireland
Bupleurum: 'Green Gold'
Bachelors' Buttons: 'Classic Magic'
Larkspur: 'Misty Lavender', 'Fancy Smokey Eyes' and 'Galilee Pink Perfection'
Nigella: 'Albion Black Pod'
I'll be keeping you posted on the progress of all these beauties! Here's a link to all the new 2018 cut flower seed varieties from Johnny's Selected Seeds.
Dahlia Planning Begins
As for the two beds devoted to dahlias, I'm very excited to trial a cutting garden design created just for me — one that I want to share with you. Kathleen LaLiberte, who works closely with Longfield Gardens, created this plan to fit my 4-by-8 foot raised beds.
I love how she calculated the benefit of this project, both for me and for anyone who wants to have a garden and cut from it, too! While I probably will wait until Mother's Day to plant, it's time to order dahlias and other summer-blooming bulbs now, in order to get the best varieties available!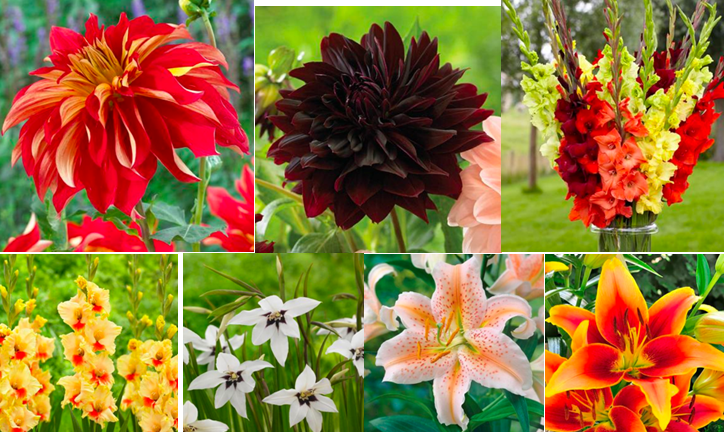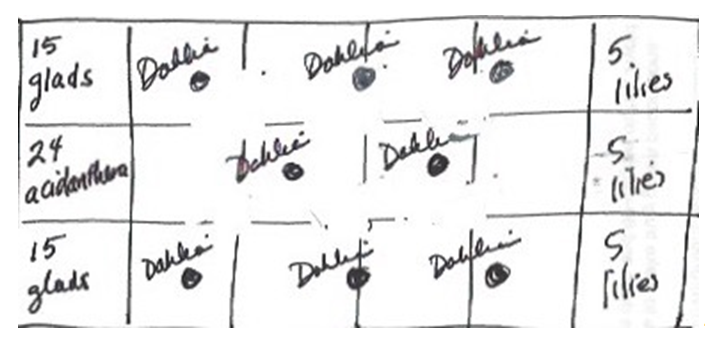 Here's the recipe:
Raised Bed Cutting Garden
77 bulbs for $85
4-by-8 foot bed
12 weeks of cut flowers
2 bouquets per week
$25 value/bouquet x 24 bouquets = $600 value
Ingredients:
Dahlias (8): 'Noordwijks Glorie", 'Catching Fire', 'Arabian Night', 'HS Date', 'Show N Tell', 'Silvie's Queen' and 'Rip City'
Gladiolus (30): 'Sunset Mix' and 'Safari'
Oriental Lily (15): 'Kaverie', 'Salmon Star'
Acidanthera (24): a lovely gladiolus relative
Check out a great cutting garden article from Longfield Gardens' archives: How to Plan a Cutting Garden
My Cutting Garden in the WSJ!
This past weekend, renowned garden writer Cynthia Kling (founding editor of Domino Magazine) published a seed-lover's article in the Wall Street Journal's Real Estate section.
Titled "Old School Gardening: The 8 Most Reliable Flowers and Veggies to Grow from Seed," the piece asked me and several others to name their favorites. You can read the article here: Old-School Gardening_ The 8 Most Reliable Flowers and Veggies to Grow From Seed – WSJ
The promise of a 2nd season in my cutting garden has kept me going all winter long!
CREDITS:
Raised Beds & Patio designed/installed by Jim Boekhoff, Brick & Blade
Akoris Tuteurs from Jennifer Asher, Terra Trellis
Gabion Bench from Greg Graves and Gary Waller, Old Goat Farm
Ornamental landscape plant-sourcing, Karen Page, Landshapes
Countless hours of muscle and moral support, Bruce Brooks