Game of Thrones is a big deal, and now the epic television series has a floral interpreter. That person is Carly Jenkins of Killing Frost Flower Farm in Missoula, Montana.
I have never watched a single episode of Game of Thrones, but the males in my family are committed viewers, giving me a vague awareness of the series' popularity. So when I started noticing the fantastic wreath series that Carly has been posting to Instagram, I knew a little about her inspiration and I was drawn into her botanical narrative.
Carly's "Game of Throne Wreath" collection has gone viral, capturing attention of fans who search for the #GOT hashtag.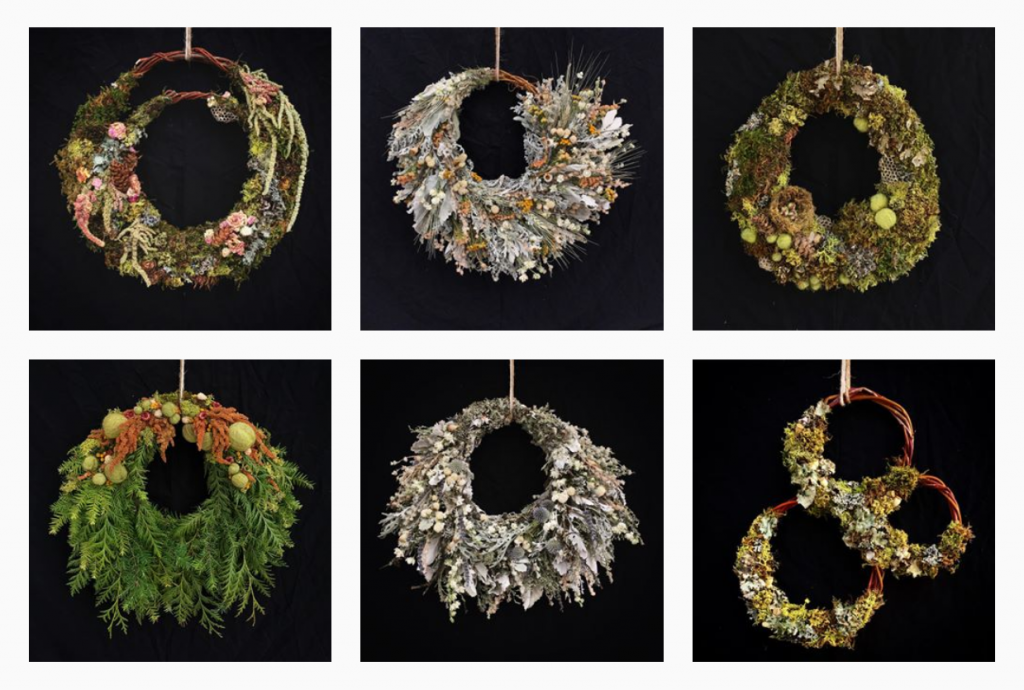 Her wreath series has an evocative, otherworldly character. It began, in part, because Carly and her husband Jamie Rogers are fans of the show ("Jamie has read all the books," Carly confides.)
Why the wreaths? "When I'm doing any sort of artistic endeavor, I benefit from having some parameters," Carly explains. "I draw inspiration from a character and other times, it comes from the material."
The Game of Thrones storyline is based in a pre-Medieval fantasy world, according to Carly. "One of the realms is in the North, which inspires a lot of my wreaths. It's really wintry and woodsy. And my (Montana-sourced) material lends itself to that Northern narrative."
Wreath-making is not a new endeavor for Carly, who often dries summer flowers for use in her fall and winter designs. "I make the wreath frames out of willow that I forage. I forage moss and lichen and evergreen ingredients. I found this little bird's nest made out of horsehair and then I became obsessed with nests. I started making nests and using nigella pods for the eggs."
The way she uses materials is one of Carly's innovations; the other are her wreath shapes. Most of them are ovoid, elongated, anything but a perfect circle. "I call it a Nautilus shape, which everyone seems to be digging this year."
The term "nature inspired" often suggests looser, freer designs. But in the hands of this floral artist, it's different. "My version of 'nature-inspired' is heavily geometric," she says. "The Nautilus is a deep-sea mollusk that has a small-to-large-shaped curving shell, so I'm stealing inspiration straight from nature."
Killing Frost Farm's "Game of Thrones" wreaths vary in size, as well. The miniature wreaths are 12-inches in size, but most measure 24 inches. Carly is selling them by special order and at pop-up artisanal venues in Missoula.
I asked if she would ever teach students how to make wreaths in her style and she laughed and said that may not be cost-effective. "First, I would tell them to wander around the woods for three hours and be silent while looking for materials. Then you have to spend two hours experimenting to figure out what you want to make."
Uniqueness is a high priority. "I might make three of one kind, but that's my limit," Carly admits.