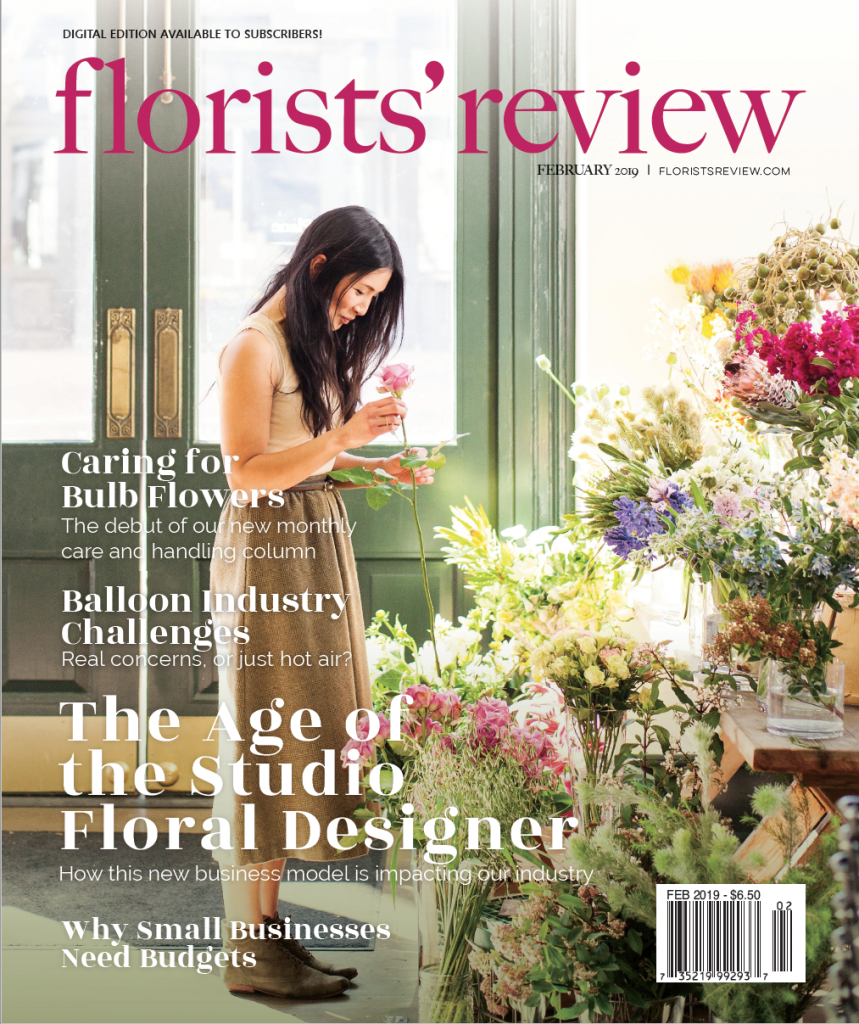 Our partnership with Florists' Review continues for February 2019, with a fantastic package of stories covering floral education that highlights sustainable design practices, a profile of a leading Seattle retail florist, and a fabulous new product called The Styling Mat — featured in our made in the USA series.
As always, we strive to feature Slow Flowers members in all facets of floristry, shining a light on the people, farms, studios and flowers that represent the mission of Slow Flowers.
Enjoy this sneak peek and download a free PDF of the February Slow Flowers Journal, found in the pages of Florists' Review.
Floral Knowledge Base
How educators are teaching sustainable floral design
As more aspiring florists seek to gain new skills and knowledge, the varied options, formats and venues are on the rise. And yet, sustainable design education isn't widely offered. Students in search of earth-friendly approaches may have to dig deep to find mentors and teachers to share that knowledge.
In this and future articles, I hope to identify best practices and shine a light on floral educators who are incorporating green practices into their curriculum. Be it workshop series, single-topic classes, online teaching or more formal programs, such as certificate- or degree-based education, this Slow Flowers Journal series will document how sustainable floral design is being taught.
To kick things off, here are four models of sustainably-based floral education, with details on how each meets the needs of the current marketplace.
MADE IN THE USA
The Styling Mat
Designed by photographer Sarah Collier, the North Carolina-made product is a portable solution for on-the-go creatives who need a beautiful flat-lay background.
Sarah spends a lot of time sourcing beautiful, wrinkle-free fabric that she knows will complement whatever is photographed against it. She has found that photographers tend to prefer neutral colors, such as tans and grays, while florists are drawn to blush, greens and dark blue. Options include velvets, linen-textures and faux marble-printed fabric. "I feel like I've become a color consultant, choosing the best materials and palettes for each type of customer," she says. The items are made in small batches and can be customized for specific color needs, ranging in price from $179 to $275, including the base reflector.
Producing The Styling Mat in North Carolina is one of Sarah's priorities. "Much of the textile industry here has shut down, but I've always wanted to do a business that impacts other people's lives in a positive way. I like hiring local vendors and keep the manufacturing in the United States."
Details: The Styling Mat, stylingmat.com, @stylingmat
Photography: Taken by Sarah, takenbysarah.com, @takenbysarah
Q&A: The London Plane
Who: Katherine Anderson (owner), Jeni Nelson (manager)
What: The London Plane is a multi-faceted space with a full-scale flower shop and studio, co-located with cafe serving breakfast, lunch and dinner, a pastry kitchen, a baker of the famous Plane Bread country style loaf, retail shelves filled with all sorts of treasures, such as aprons, books, soaps, plants, ceramics, and kitchen pantry items.
Where: Seattle, Washington, in the historic Pioneer Square gallery/artists' district on the corner of Occidental and Main.
Social Media: thelondonplaneseattle.com; @thelondonplaneplaneflowershop & @londonplaneseattle
Download a PDF here: Slow Flowers Journal_February 2019
I'm delighted to serve as Contributing Editor for Slow Flowers Journal, found in the pages of Florists' Review. It's the leading trade magazine in the floral industry and the only independent periodical for the retail, wholesale and supplier market. Take advantage of the special subscription offer for members of the Slow Flowers Community. Click here for details.