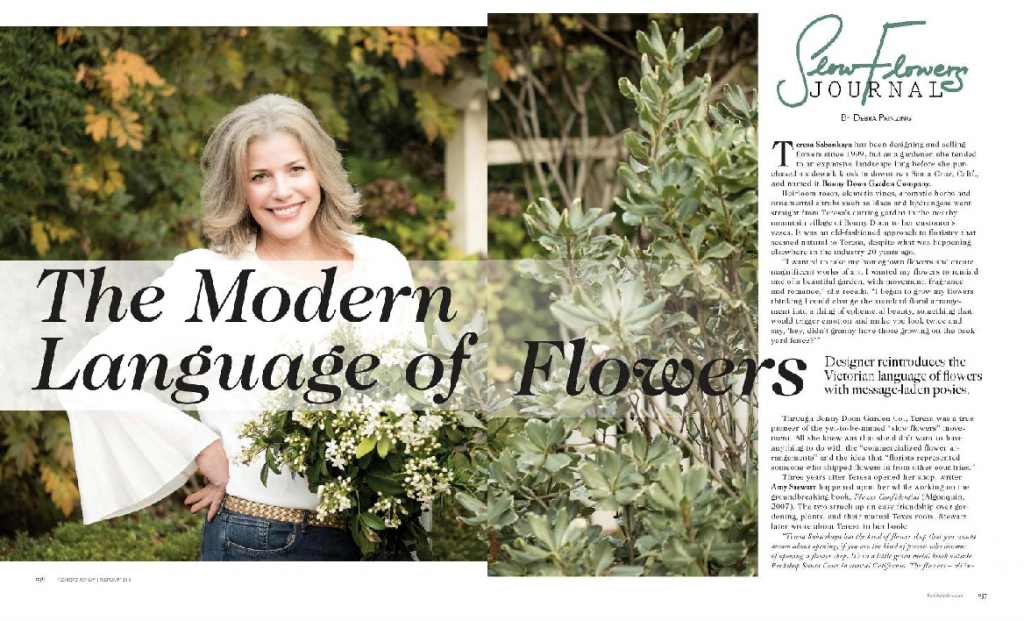 With gratitude for this amazing editorial platform, I'm excited to share the February 2018 content from the print edition of "Slow Flowers Journal" — bringing design, business, flower sourcing and branding inspiration.
This editorial project resides in the pages of Florists' Review — please enjoy Issue No. 7 from February.
The Slow Flowers Community and our stories include people like you — innovative floral designers, farmer-florists and other leading voices in progressive floristry.
I've excerpted the issue's articles for you here, including downloadable PDFs of each, so you can read them on your computer, tablet or smart phone. We can't post live links to digital stories, so if you want your own edition, now's the perfect time to SUBSCRIBE!
Here's a peek at the features and columns from the February Issue. Enjoy!
The Modern Language of Flowers
Teresa Sabankaya has been designing and selling flowers since 1999, but as a gardener, she tended to an expansive landscape long before she purchased a sidewalk kiosk in downtown Santa Cruz, Calif., and named it Bonny Doon Garden Co.
Heirloom roses, clematis vines, aromatic herbs and ornamental shrubs such as lilacs and hydrangeas went straight from Teresa's cutting garden in the nearby mountain village of Bonny Doon to her customer's vases. It was an old-fashioned approach to floristry that seemed natural to Teresa, despite what was happening elsewhere in the industry twenty years ago.
Download the Full Article Here: 02_Slow Flowers Journal Modern Posies
American-Grown Heroes: Sonoma Flower Mart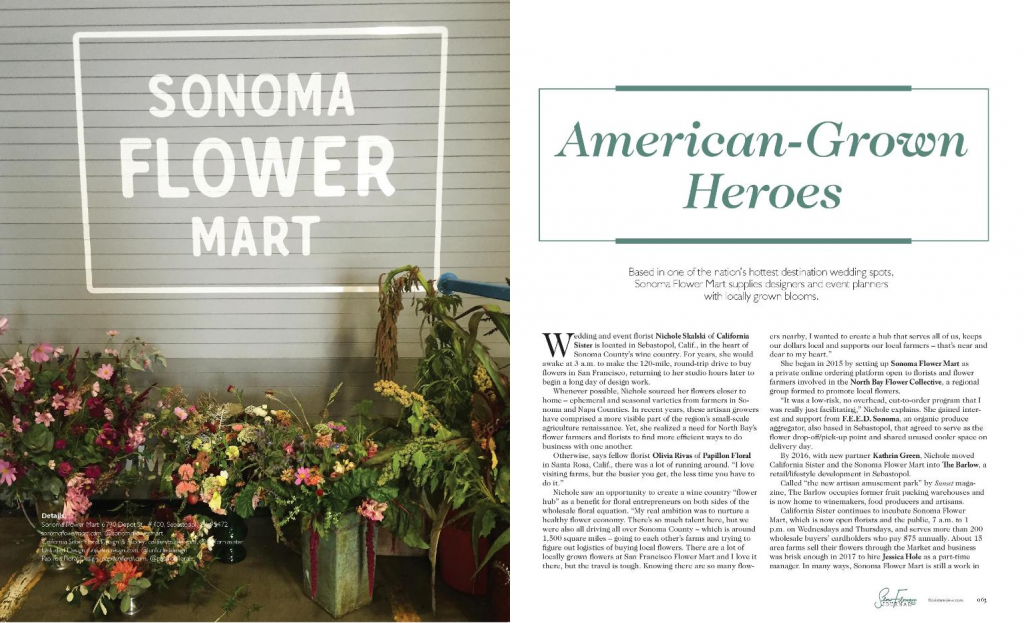 Wedding and event florist Nichole Skalski of California Sister is located in Sebastopol, in the heart of Sonoma County's wine country. For years, she would awake at 3 a.m. to make the 120-mile, round-trip drive to buy flowers in San Francisco, returning to her studio hours later to begin a long day of design work.
Whenever possible, Nichole sourced her flowers closer to home — ephemeral and seasonal varieties from farmers in Sonoma and Napa Counties. In recent years, these artisan growers have comprised a more visible part of the region's small-scale agriculture renaissance. Yet, she realized a need for North Bay's flower farmers and florists to find more efficient ways to do business with one another.
Download the Full Article Here: 02_Slow Flowers Journal_AmericanGrownHero
Made in the U.S.A.: Florian Tools
Avid gardeners already know about Florian Tools, a family-owned manufacturer of hand-pruners, loppers and what I call "floral snips." That's because Florian has traditionally been a big presence on the spring flower and garden show circuit around the country.
Like many of Florian's customers, I find it satisfying to use a well-made tool, knowing it's backed by a lifetime guarantee to last.
Company vice president and a third-generation member of the family, Beth Florian says there's a lot of company pride behind the "Florian USA" stamp that appears on the base of each precision-ground stainless blade.
Download the Full Article Here: 02_Slow Flowers Journal_Florian_MadeinUSA
From Field to Flower Shop
Heidi Joynt and Molly Kobelt are flower farmers who grow everything from spring anemones to lavish, late-summer dahlias. They are also in-demand wedding designers known for bouquets filled with texture, movement and a lovely balance between positive and negative space. And as of last summer, they are the proprietors of a new retail flower shop called Field & Florist.
To them, these are not three different ventures. Rather, the abundant flower farm in southwest Michigan, a busy Chicago design studio and a flower shop in the pedestrian-friendly Wicker Park neighborhood, are essential components of their singular company. To use a handy business term: Field & Florist is now "vertically integrated."
Download the Full Article Here: 02_Slow Flowers Journal_FieldandFlorist
LOVE THIS?! Want to see more?
Subscribe to Florists' Review and read our bonus Slow Flowers Journal content at the special rate of $21 for 12 issues — 62 percent off the cover price! Click here to subscribe online or call 1-800-367-4708.