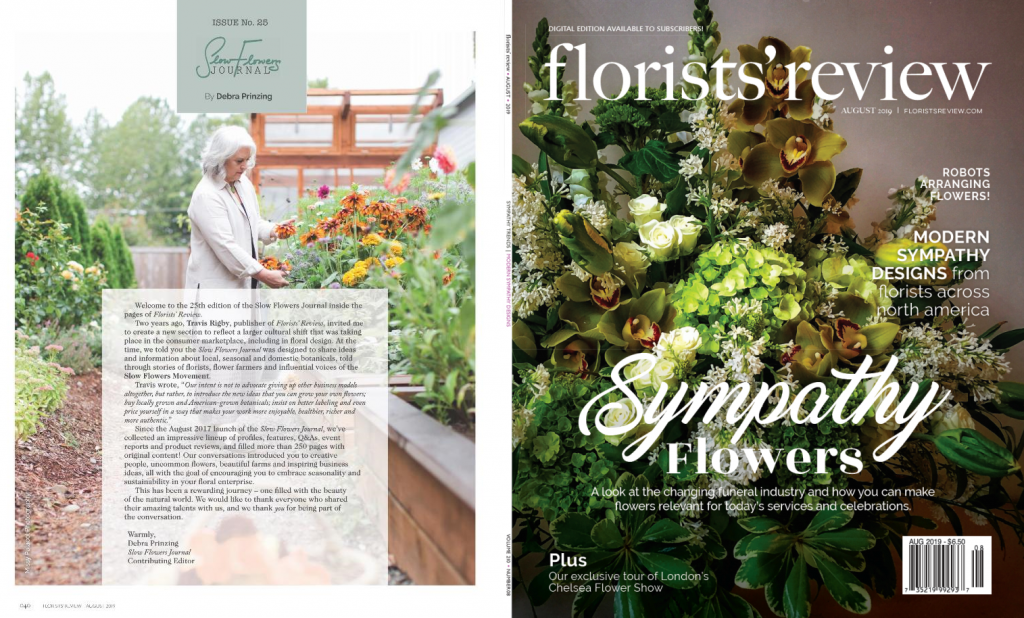 August 2019 and Issue No. 25 marks the second anniversary of Slow Flowers Journal inside the pages of Florists' Review!
Two years ago, Florists' Review publisher Travis Rigby invited me to create a new section to reflect a larger cultural shift taking place in the consumer marketplace, including in floral design.
At the time, we told you that the Slow Flowers Journal was designed to share ideas and information about local, seasonal and domestic botanicals, told through stories of florists, flower farmers and influential voices of the Slow Flowers Movement. Travis wrote this: "Our intent is not to advocate giving up other business models altogether, but rather, to introduce the new ideas that you can grow your own flowers; buy locally-grown and American-grown botanicals; insist on better labeling and even price yourself in a way that makes your work more enjoyable, healthier, richer and more authentic."
Since the August 2017 launch of the Slow Flowers Journal, we've collected an impressive lineup of profiles, features, Q&As, event reports and product reviews — more than 250 pages of original content!
Our conversations introduce you to creative people, uncommon flowers, beautiful farms and inspiring business ideas, with the goal of encouraging you to embrace seasonality and sustainability in your floral enterprise.
Filled with the beauty of the natural world, this has been a rewarding journey. We thank all of those who shared their talents with us and we thank you for being part of the conversation.
Below, you'll find two beautiful feature stories from the August 2019 issue of Slow Flowers Journal:
THE GATHERING ROSE
Expert rose growers design a different type of floral workshop that gives back to fellow creatives.
Last April, fifteen rose lovers traveled from around the U.S. and Canada to take part in a two-day workshop at Rose Story Farm in Carpinteria, Calif., just outside of Santa Barbara. This was unlike most educational events in the floral design world because it was 100% financed by the organizers.
The purpose? According to Danielle Hahn of Rose Story Farm and her collaborator Felicia Alvarez of Menagerie Farm & Flower, based in the Sacramento Valley, they created the one-of-a-kind workshop "to bring together people for a sharing of knowledge, exchange of ideas, formation of deeper connections, and global inspiration."
The women wanted to teach the foundations of farming, designing a rose farm or garden, selecting varieties for floral design and growing and designing with companion plants. Like gathering roses for an arrangement, they wanted to gather other artists and growers to join them as workshop presenters.
There is a burgeoning farmer-florist movement in the U.S. and a lot of people who are coming from different backgrounds who may not necessarily have farming or agriculture experience. Many are just starting from scratch. And many are discovering that there is a big difference between a field-grown garden rose and a conventional greenhouse rose — Felicia Alvarez, Menagerie Farm & Flower
The genesis of The Gathering Rose, as the project was named, began as series of conversations that occurred when Alvarez traveled from her Northern California farm to visit Hahn's farm on the state's central coast. The two realized they shared mutual values as fellow growers of garden roses for the floral marketplace. "We began talking about how much we both were interested in providing education about rose growing and sharing our knowledge," says Alvarez, who, like Hahn, fields a steady stream of near daily inquires about rose farming, cultivation and harvest from florists and entry-level farmer-florists.
Read more! Download a free PDF of The Gathering Rose
URBAN ROOTS
A farmer-florist grows design ingredients in a city garden where chickens roam freely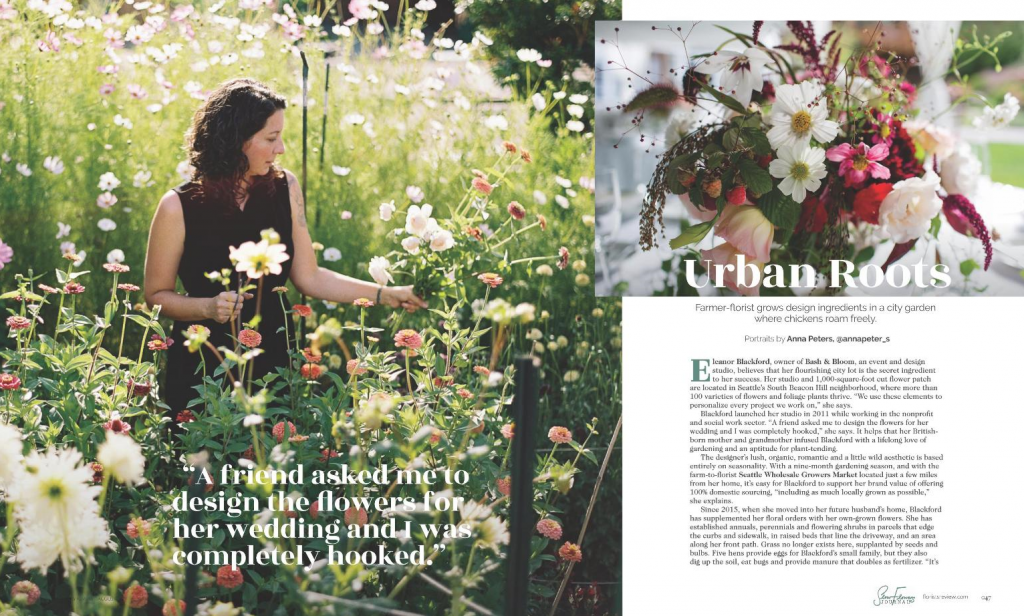 Eleanor Blackford, owner of Bash & Bloom, an event and design studio, believes that her flourishing city lot is the secret ingredient to her success. Her studio and 1,000-square-foot cut flower patch are located in Seattle's South Beacon Hill neighborhood, where more than 100 varieties of flowers and foliage plants thrive. "We use these elements to personalize every project we work on," she says.
Blackford launched her studio in 2011 while working in the nonprofit and social work sector. "A friend asked me to design the flowers for her wedding and I was completely hooked," she says. It helps that her British-born mother and grandmother infused Blackford with a lifelong love of gardening and an aptitude for plant-tending.
The designer's lush, organic, romantic and a little wild aesthetic is based entirely on seasonality. With a nine-month gardening season, and with the farm-to-florist Seattle Wholesale Growers Market located just a few miles from her home, it's easy for Blackford to support her brand value of offering 100% domestic sourcing, "including as much locally-grown as possible," she explains.
Since 2015, when she moved into her future husband's home, Blackford has supplemented her floral orders with her own-grown flowers. She has established annuals, perennials and flowering shrubs in parcels that edge the curbs and sidewalk, in raised beds that line the driveway, and an area along her front path. Grass no longer exists here, supplanted by seeds and bulbs. Five hens provide eggs for Blackford's small family, but they also dig up the soil, eat bugs and provide manure that doubles as fertilizer. "It's basically a little urban farm. I go out and do farm chores. I do crop rotation and use no-till methods. I'm all organic," she maintains.
Read more! Download a free PDF of Urban Roots
Like what you see here? I'm delighted to serve as Contributing Editor for Slow Flowers Journal, found in the pages of Florists' Review. It's the leading trade magazine in the floral industry and the only independent periodical for the retail, wholesale and supplier market. Take advantage of the special subscription offer for members of the Slow Flowers Community. Click here for details.