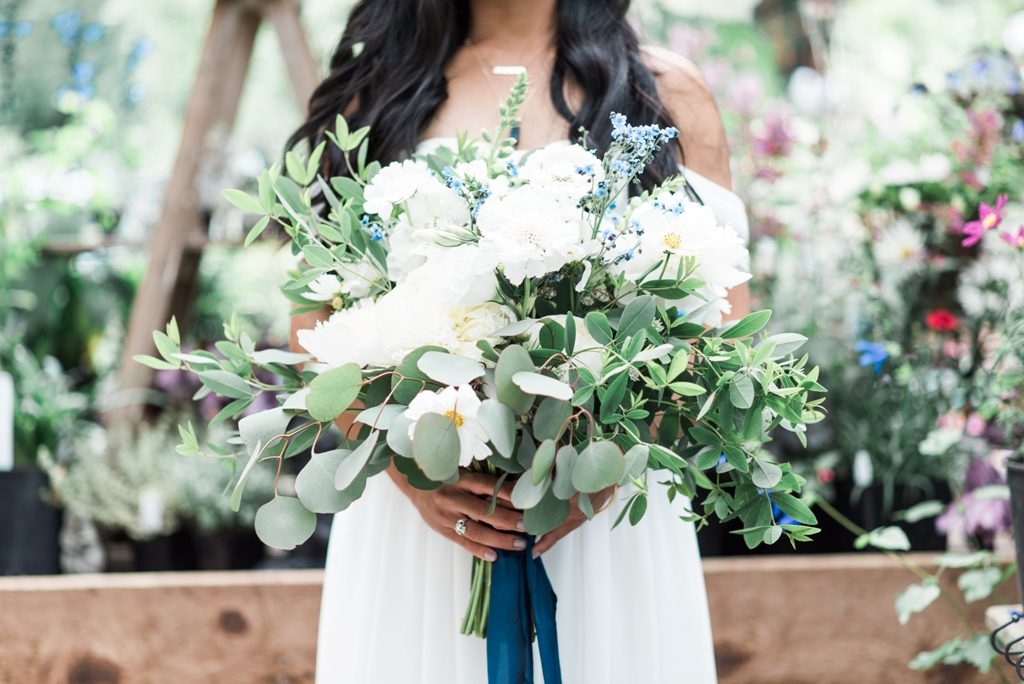 Photography (c) B. Jones Photography
I had the immense privilege this summer to design the wedding florals for my young friends Claire Krueger and Cody Carlson. Claire and my oldest son Benjamin Brooks essentially grew up together from infancy. Claire's mom, Carrie Krueger, left Seattle for China to bring home baby Claire the week after I gave birth to Ben, so we raised them as best buds all those years ago.
That's why being part of Claire and Cody's wedding as their volunteer floral designer was so special. When I first learned that Claire and Cody were engaged, there was talk of an elopement. And I blithely suggested that I would love to design the flowers for their gift if they had a party in Carrie's backyard after returning from their destination wedding. I wrote: "If you need flowers for the party, I would love to provide them and also make a bouquet and boutonniere for you and Cody, if you want."
That was last September. By early October, plans began to change. Claire and Cody's vision for their wedding really seemed to take off after they secured a very special venue: Pine Creek Farms & Nursery in Monroe.
That choice delighted me for many reasons. First of all, there is nothing better than a garden wedding and reception. Seriously — how can any indoor venue compete?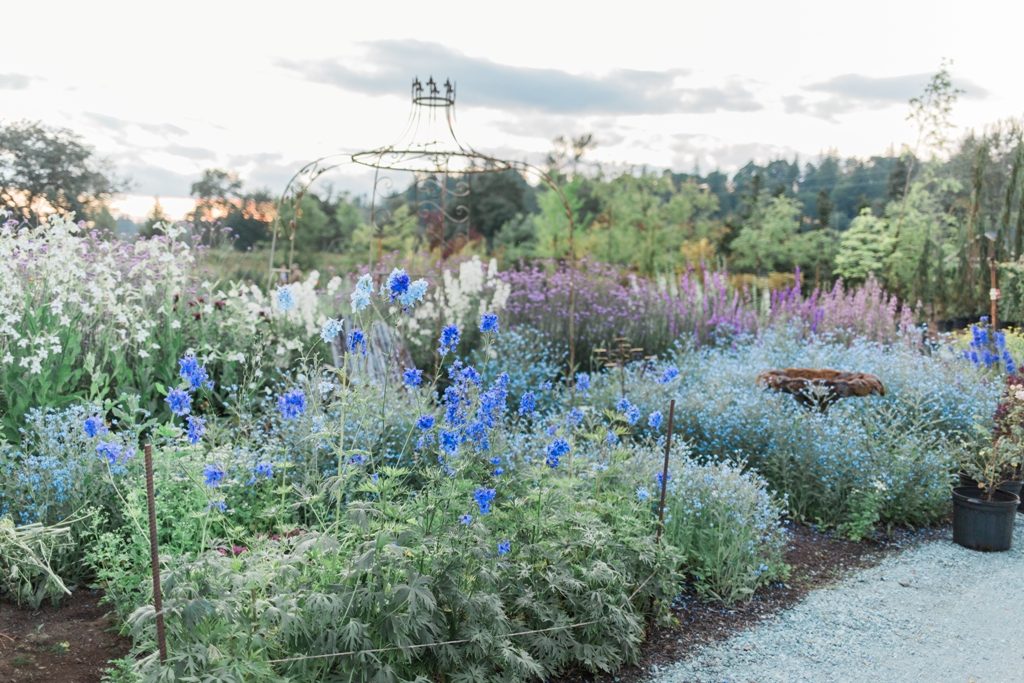 Second, I have known Gwen and Paul Sayers, owners of Pine Creek Farms, since the late 1990s. I honestly do not remember the entire chronology of our friendship, but I believe Paul and Gwen sent in photos to Seattle Homes & Lifestyles, where I was the garden editor. We loved their arboretum-like display garden and the landscaped pond they designed and built at their first nursery location, also in Monroe. That led to me writing an article about their landscape for the magazine; and then later, I wrote about their gardens for the Daily Herald in Everett, Wash., where I was a regular contributor in the early 2000s. I remember being so impressed with the life they were building around their love of horticulture.
Gwen and Paul and I reconnected in 2018 at the Northwest Flower & Garden Festival in Seattle. They were there with a booth to promote Pine Creek Farm Nursery and Scattered Seeds, Gwen's cut flower farm that's adjacent to the nursery. We discovered we had a mutual friend in photographer Missy Palacol, who has booked the farm for some of her family portrait packages. It is indeed a smallish world!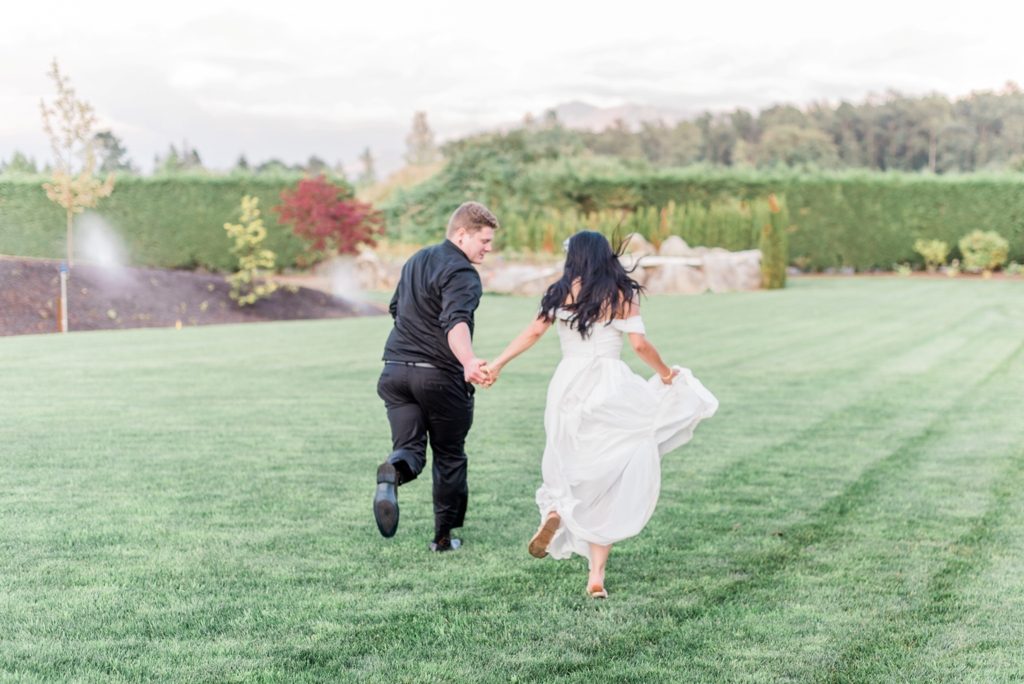 I am so happy that Claire and Cody's July 6th wedding took place at Pine Creek Farm. Gwen and Paul have really developed something special in their nursery, designing the grounds to accommodate all the elements of an outdoor wedding — from pre-reception to ceremony to dinner-dance and more. Each nook and cranny is landscaped with Paul's masterful use of Northwest-inspired evergreens, deciduous trees, shrubs with all-season interest, and lots of well-placed stone and structures.
Yes, you can come here to shop for nursery plants, but you will also be wowed by the beautiful character and setting of Pine Creek Farm. Gwen's talent for styling and merchandising, using antiques, vintage collections and interesting herbs and perennials, is evident in each vignette that catches the eye.
You can see how perfectly suited the nursery and display gardens are for an intimate wedding in the photos shared here by Kimber and Christine, team members for B. Jones Photography.
Once Claire and Cody secured Pine Creek Farm, we started talking in earnest about her vision for the ceremony and reception flowers. She told me: " The bridesmaids will be in a mixture of dresses in taupe, light gold, grey, beige, and maybe a light pink. I'm hoping to steer away from country and move towards romantic, as far as theme. I just don't think Cody and I are very country…. Anyways, my hope is to move towards lanterns, candles, chandeliers, and big, bold, beautiful, florals."
What impresses me today, looking at the photos, is how close the theme and decor reflected the vision Claire articulated months earlier.
She sent me lots of inspiration images and what emerged in my mind was "carefree, luxe and elegant." Claire later wrote: "I think whites, greens, and silvers would be gorgeous as far as flowers are concerned! I am trying for a super neutral color scheme due to the venue being quite pretty and colorful!"
Since the couple live a few hours away from where I am in Seattle, we relied on exchanging photos and emails. I visited Pine Creek Farm with Claire's mom Carrie last fall when Gwen and Paul hosted a wedding open house. It was super helpful to see where Claire and Cody planned to say their vows, where their guests would be seated, dine and later dance; where the head table was to be and more. I was struck again by the grounds and buildings as perfect backdrops for wedding photography (not to mention the ceremony itself).
As the date approached, I also made a few real floral samples for Claire and Cody to see on their weekend family visits. I think that really helped them envision whether I was reflecting their style in flowers. Cody apparently "lost his mind" when I texted Claire an Instagram photo of herbs and blue sea holly (Eryngium) as a boutonniere, so we decided to add lots of blue touches to the white and green palette. After she saw my bouquet sample, Claire sent me this note:

"Loved: The unruly and wild vibe it exuded; Loved: That it was wide and large; Loved: The silvery greens and whites together. I cannot wait to see the blues!"
We had first thought of apricot touches, but shifted to blue accents and beautiful blue Hanah Silk ribbon after Claire selected indigo for her wedding palette. The place cards, glassware and other touches added defining tones of chambray-and-faded-denim blue. Glass votive candle holders in a variety of finishes, including gold, helped us select a rustic gold glass vase for the centerpieces. We actually borrowed them from a local Slow Flowers member and purchased more to expand her inventory, so it felt good to know these vases will have a nice, long life after Claire and Cody's reception.
The ampersand "&" was a motif for the print suite, so it was fun to see a large gold wire "&" that Claire planned to display in front of the head table. I had recently been inspired by a tip shared with me by Amy Beausir of Molly & Myrtle to bring a gold bowl large enough to hold all of the bridal and maids' bouquets after the ceremony, so we placed that instantly impactful arrangement with the "&" for the dinner decor.
Speaking of dinner decor, the long head table was finished with the eclectic display of votives, plus a mixed greenery garland (from CamFlor Inc. in Watsonville, CA), into which lots of white and blue flowers were tucked. These elements were echoed by the centerpieces and votive holders adorning the top of the round dinner tables.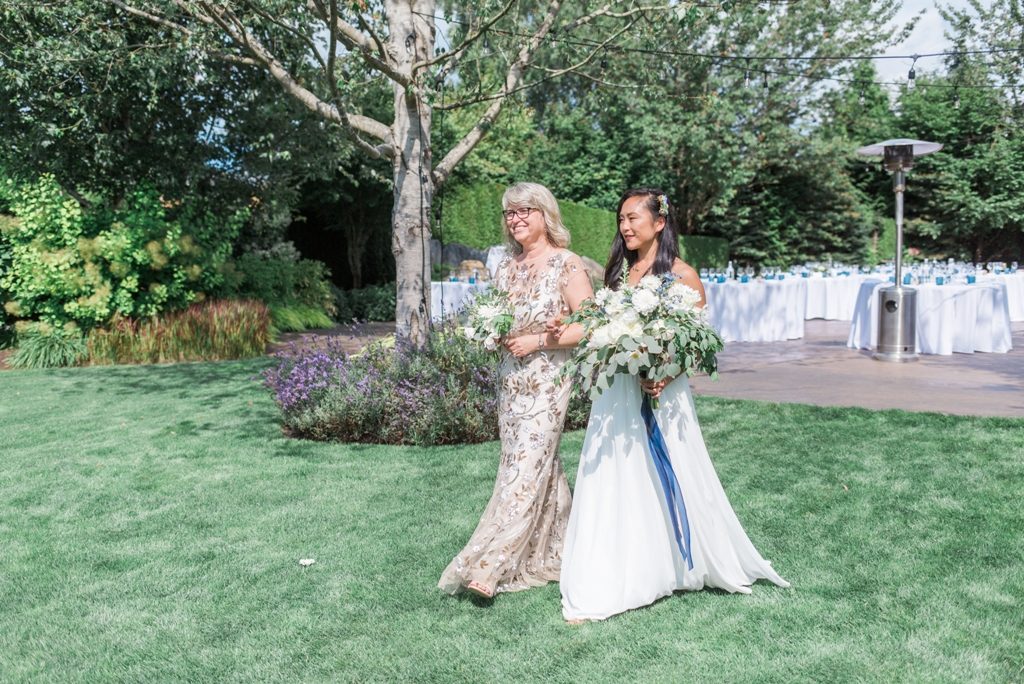 None of the beautiful flowers you see in the images would have come together without the talents of our assistant designer, Nancy Finnerty. When I knew that Nancy and her daughter Catherine Finnerty were coming back to Seattle for the wedding festivities, I asked Nancy to help me with the floral design. She clearly brought her fashion designer's eye to the task. She cranked out centerpieces, boutonnieres and the head table decorations and made it all look effortless.
Thank YOU, Nancy!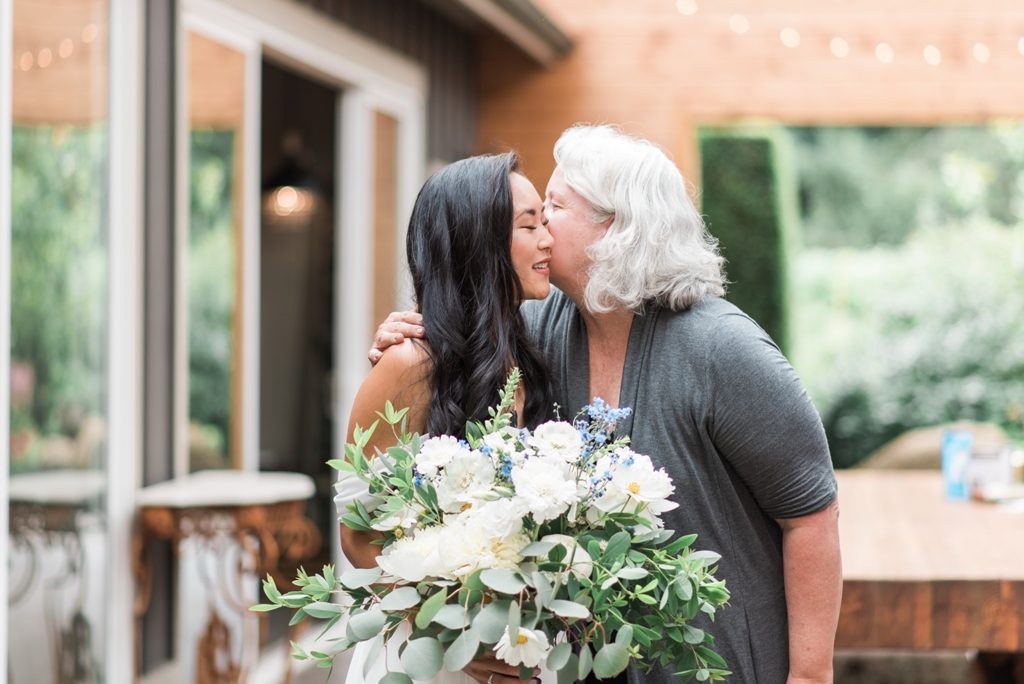 Enjoy these photos of the very special marriage of two very special young friends of ours.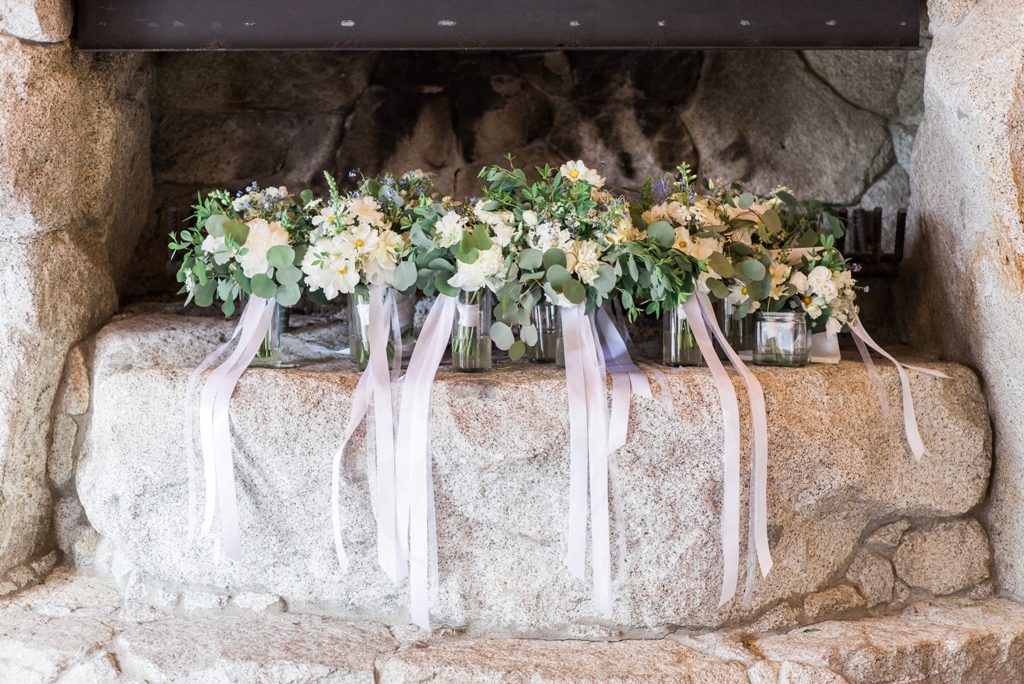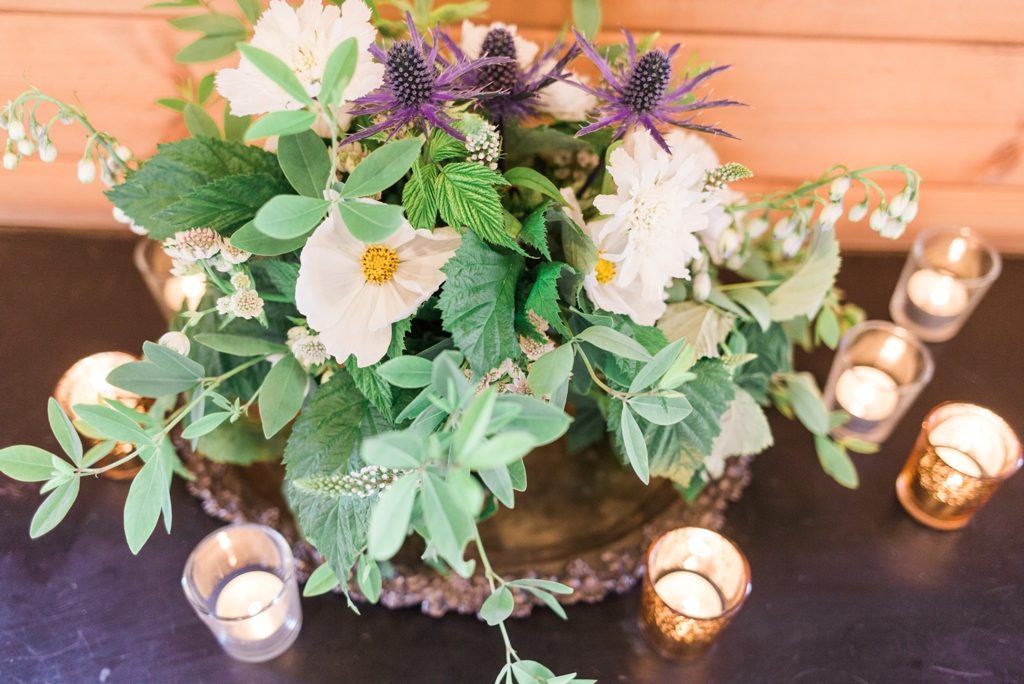 More about the flowers!
Bridal and bridesmaid bouquets:
Focal Flower: Duchesse de Nemour white peonies from Arctic Alaska Peonies
Other white flowers ordered through Seattle Wholesale Growers Market
Scabiosa (Ojeda Farm)
Lisianthus (Peterkort Roses)
Orlaya (Free Range Flowers)
Cosmos (Rain Drop Farm)
Gooseneck (Lysimachia, CA-grown)
Blush accent flowers
Foxglove (Rain Drop Farm)
Astrantia (Ojeda Farm)
Blue accent flowers
Sea Holly (Eryngium, Ojeda Farm)
Chinese forget-me-not (Bash & Bloom)
Delphinium (CA-grown)
Foliages
Silver dollar eucalyptus (CA-grown)
Raspberry foliage (Jello Mold Farm)
Baptisia foliage (Jello Mold Farm)
Aisle Pieces (2 urns)
Eucalyptus, Raspberry foliage, curly willow (Charles Little & Co.), foxtail lilies (Choice Bulb Co.)