By Xenia D'Ambrosi, Sweet Earth Co.
Pound Ridge, New York, is a quaint, picturesque town located an hour or so north of Manhattan. It's known for conserved land, hiking trails and horse farms. And it's here that fueled by our mutual interests in sustainability and community, I met and formed a friendship and business relationship with a fellow creative entrepreneur.
I own and operate Sweet Earth Co., a floral and landscape design studio and sustainable flower farm in Pound Ridge.  Tami McCarthy is the proprietor of Kahlo Collective, an eco-luxe boutique also in Pound Ridge, offering fashion and beauty lines that are ethically made and sustainably sourced.
Tami and I have partnered on various workshops and pop-ups, but our fall 2019 collaboration – an Eco-Chic Fashion Show – was our most ambitious to date.  The fashion show was truly a community effort.  Organized and supported by the local business association, the event was intended to showcase local and environmentally-conscious businesses in the Pound Ridge area.
The event included a fashion show and a farm-to-table dinner followed by dancing.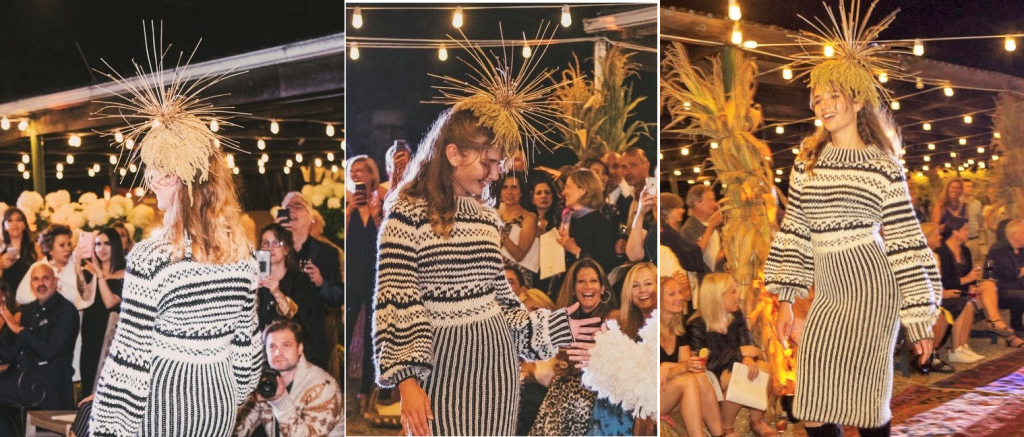 The fashion show featured zero-waste brands such as Malaika New York, hand-dyed designs by Rory Worby, and bespoke recycled Indian sari dresses by designer Stephanie McDonald-Walker.
Sweet Earth Co. designed botanical couture pieces to adorn the runway models — floral crowns, floral tattoos and extraordinary floral head pieces made with amaranth, dried alliums and other elements..
This creative endeavor reminded me that Nature is my Muse.  It inspires me and fuels my creativity.  It weaves its way into my design work.  The Eco-Chic Fashion Show was an amazing opportunity to expand my creativity into botanical art and botanical couture.
I want to pay homage to inspiring floral artists Susan McLeary and Joshua Werber whose work with floral wearables and botanical couture have influenced and inspired many — including me.
Details:
Sweet Earth Co., sweetearthco.com, @sweetearthco