The March 2020 issue of Slow Flowers Journal is our 32nd consecutive special section for Florists' Review, our print magazine partner.
We love featuring the Slow Flowers' message and our members' stories each month, with original, informative and visually compelling content to inspire you. Showcasing the positive business models and strategies to promote local, seasonal and sustainable flowers is one beautiful way to support the community and our members.
Inside the March pages, find three feature articles about our members as well as a timely article on alternatives to plastic bouquet wraps. We love sharing these feature stories about our Slow Flowers community and other emerging and important topics.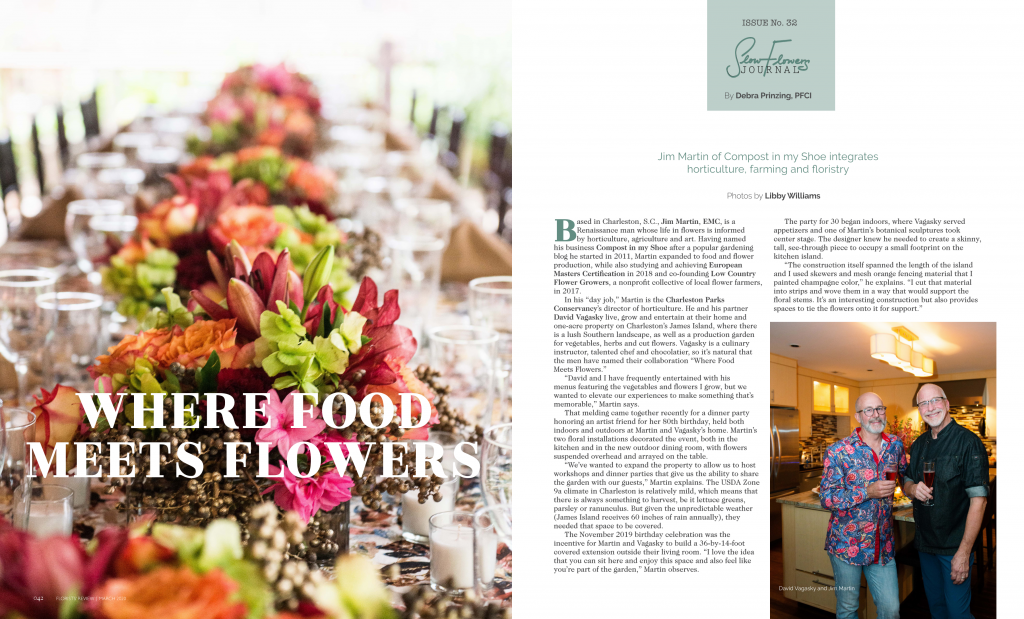 WHERE FOOD MEETS FLOWERS
Jim Martin, of Compost in My Shoe, integrates horticulture, farming and floristry
Photos: (c) Libby Williams
Based in Charleston, S.C., Jim Martin, EMC, is a Renaissance man whose life in flowers is informed by horticulture, agriculture and art.
Having named his business Compost in my Shoe after a popular gardening blog he started in 2011, Martin expanded to food and flower production, while also studying and achieving European Masters Certification in 2018 and co-founding Low Country Flower Growers, a nonprofit collective of local flower farmers, in 2017.
In his "day job," Martin is the Charleston Parks Conservancy's director of horticulture. He and his partner David Vagasky live, grow and entertain at their home and one-acre property on Charleston's James Island, where there is a lush Southern landscape, as well as a production garden for vegetables, herbs and cut flowers. Vagasky is a culinary instructor, talented chef and chocolatier, so it's natural that the men have named their collaboration "Where Food Meets Flowers."
Download your free PDF of Where Food Meets Flowers here.
FLORAL DEBUT
Taking a page from fashion to make a floral statement with seasonal collections
Photos: (c) Macey Sierka
In this year's Slow Flowers' Floral Insights and Industry Forecast, which I released in Florists' Review's January 2020 issue, I named "Collections as a Marketing Tool" our theme Number 6. This design concept is so compelling that I want to expand on it here, with an interview featuring the seasonal floral collections of Scottsdale, Ariz.-based Morgan Anderson, Ph.D., owner of The Flori.Culture.
Since 2016, Anderson has adopted floral collections as a way to communicate and promote her brand, her design services and educational packages for clients, primarily Destination Management Companies (DMCs). She produces three to four floral collections annually, consistently photographing the pieces for her web site and sharing thematic storylines with a featured "muse" or inspiration.
Seeing the 2015 documentary "Dior and I" inspired Anderson to borrow from couture fashion and the "big reveal" of seasonal runway shows to introduce a season and market a specific label.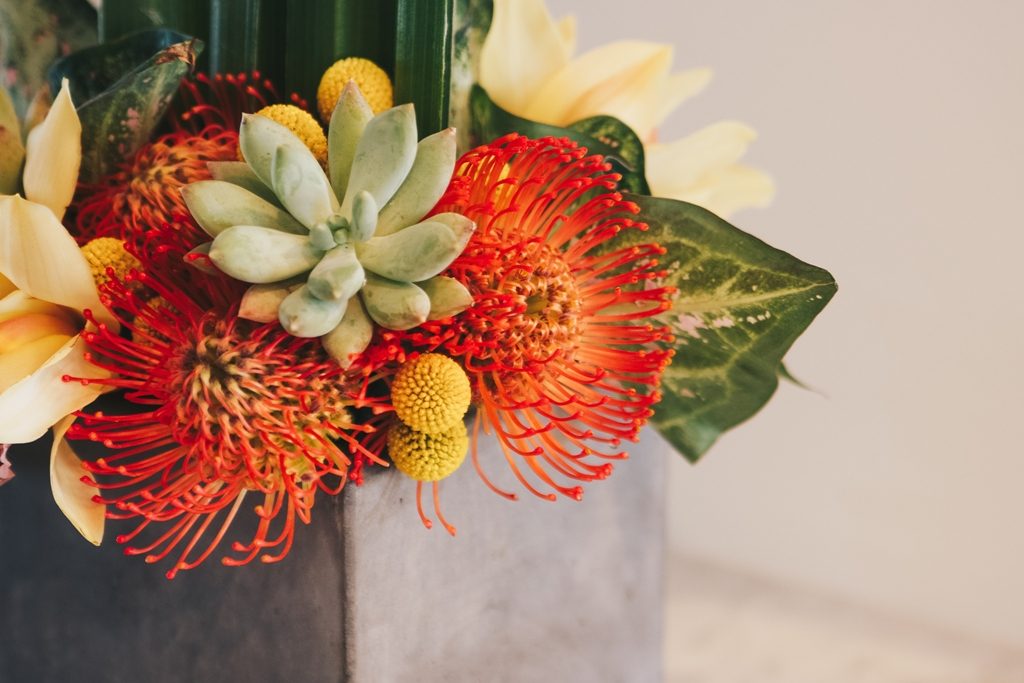 She named her first collection , designed for Fall 2016, "Modern Harvest," and within it featured nine floral arrangements, also each named. "I needed to create something to sell to corporations for their events, because that's who was interested in my work," she explains. "You can actually see the development of my collections over time, because I went a lot more corporate with the first couple of years — ideas that were more general and 'easy' for clients to interpret. Now, I'm getting more abstract and avant garde and as I develop as an artist personally, I am marketing what designs I want to create in the world."
Download a free PDF of Floral Debut here.
BOOK REVIEW: THE ART OF WEARABLE FLORALS
Susan McLeary shares her iconic approach to designing floral wearables
Photos: (c) Amanda Dumouchelle
Full disclosure, Sue McLeary invited me to write the foreword to her new book, so this is a thoroughly biased article. When you see the beautiful images of McLeary's creativity, as captured through the lens of her frequent collaborator Amanda Dumouchelle, I know you will agree with me that The Art of Wearable Flowers (Chronicle Books, March 2020) elevates floral accessories and jewelry to an entirely new category of botanical couture.
Florists' Review first profiled McLeary in March 2017 for the "Creativity" issue, and I titled my article "A Curious Creative." Indeed, McLeary's inquisitiveness has fueled her to push the medium of floral art to new echelons as she seeks inventive ways to produce the ideas in her mind's eye.
The Art of Wearable Flowers is filled with lots of instruction, including how-tos for 40 floral accessories that range from an eye-catching succulent baubles and hyacinth hoops to a showstopping petal necklace and luxurious all-white headpiece. Bracelets, corsages, fascinators and a petal bustier round out the many alluring projects, each designed with fine details and signature styling known to McLeary's nearly 100,000 Instagram followers, workshop students and subscribers to her new online courses. Each design project includes an ingredients list, styling tips, and easy-to-follow instructions paired with step-by-step photographs.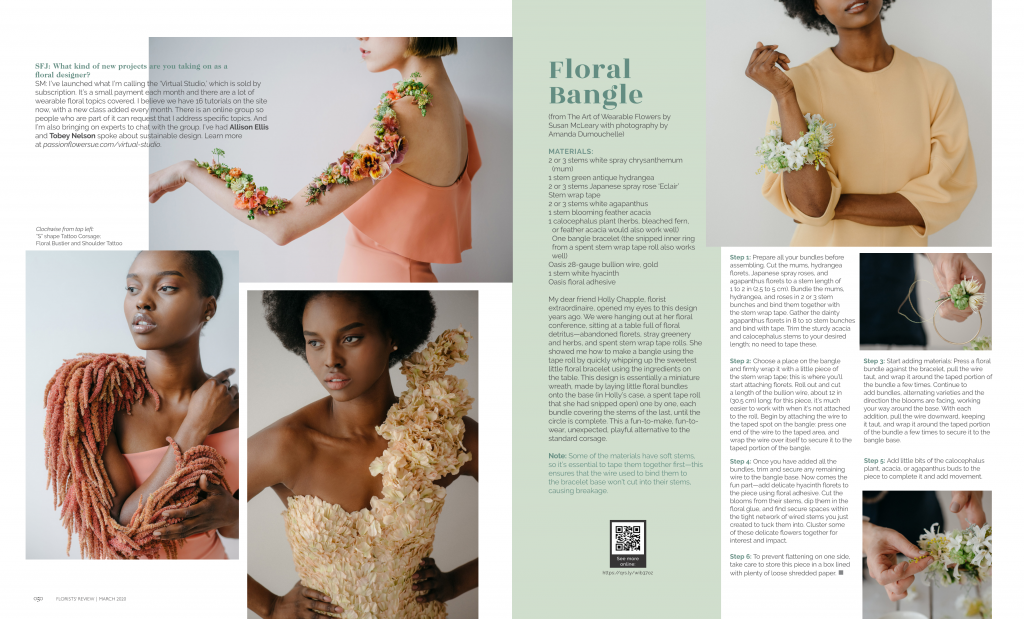 Download a free PDF of Florals for the Body here.
Like what you see here? Debra Prinzing, our creative directory serves as Contributing Editor for Slow Flowers Journal, found in the pages of Florists' Review. It's the leading trade magazine in the floral industry and the only independent periodical for the retail, wholesale and supplier market. Take advantage of the special subscription offer for members of the Slow Flowers Community. Click here for details.