Week 7, as we we revisit the 10-year anniversary of the book, Slow Flowers
Ten years ago, when I published "Slow Flowers," my collection of one weekly arrangement for a full year, I created a lovely composition featuring red and burgundy roses, accented with pink spray roses — all grown by Peterkort Roses in Hillsboro, Oregon. The rose selection was accompanied by evergreen rosemary (from my garden) and multiflora rose hips, purchased from Seattle Wholesale Growers Market.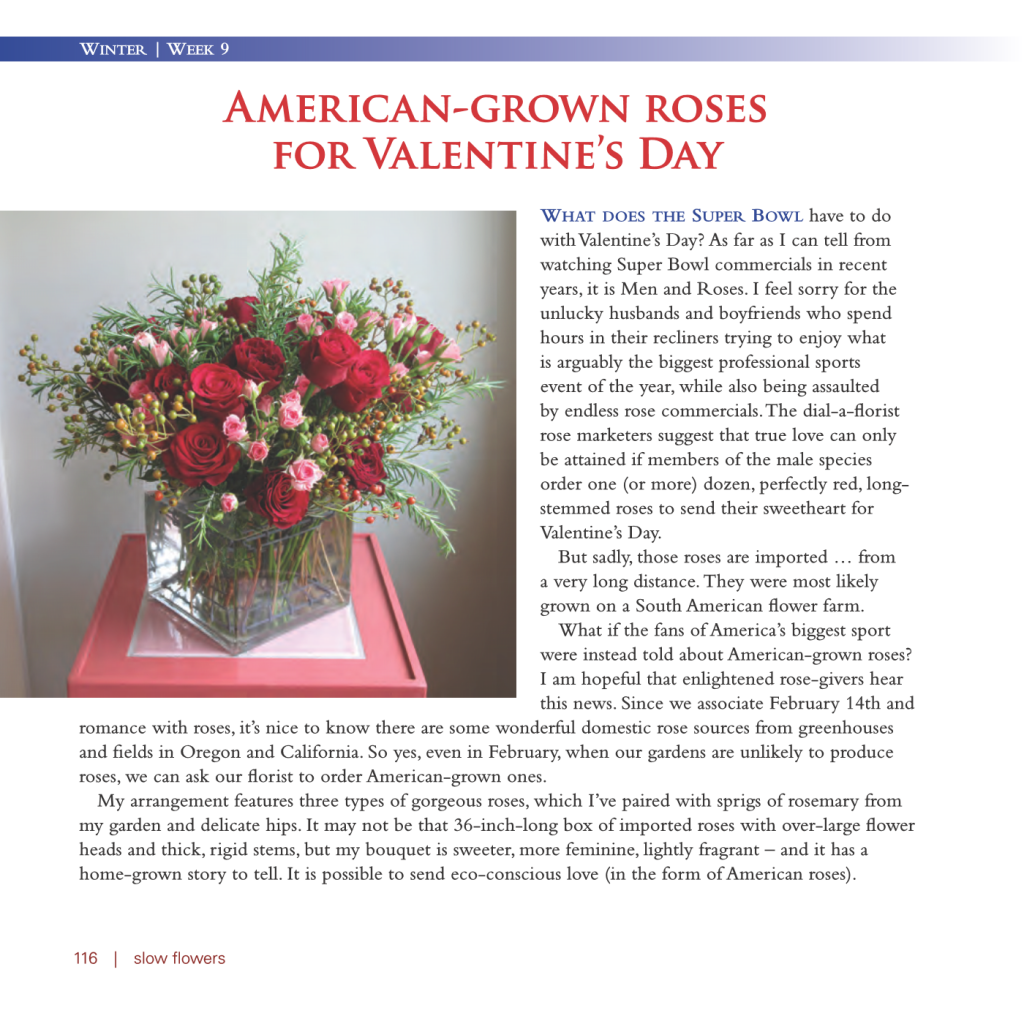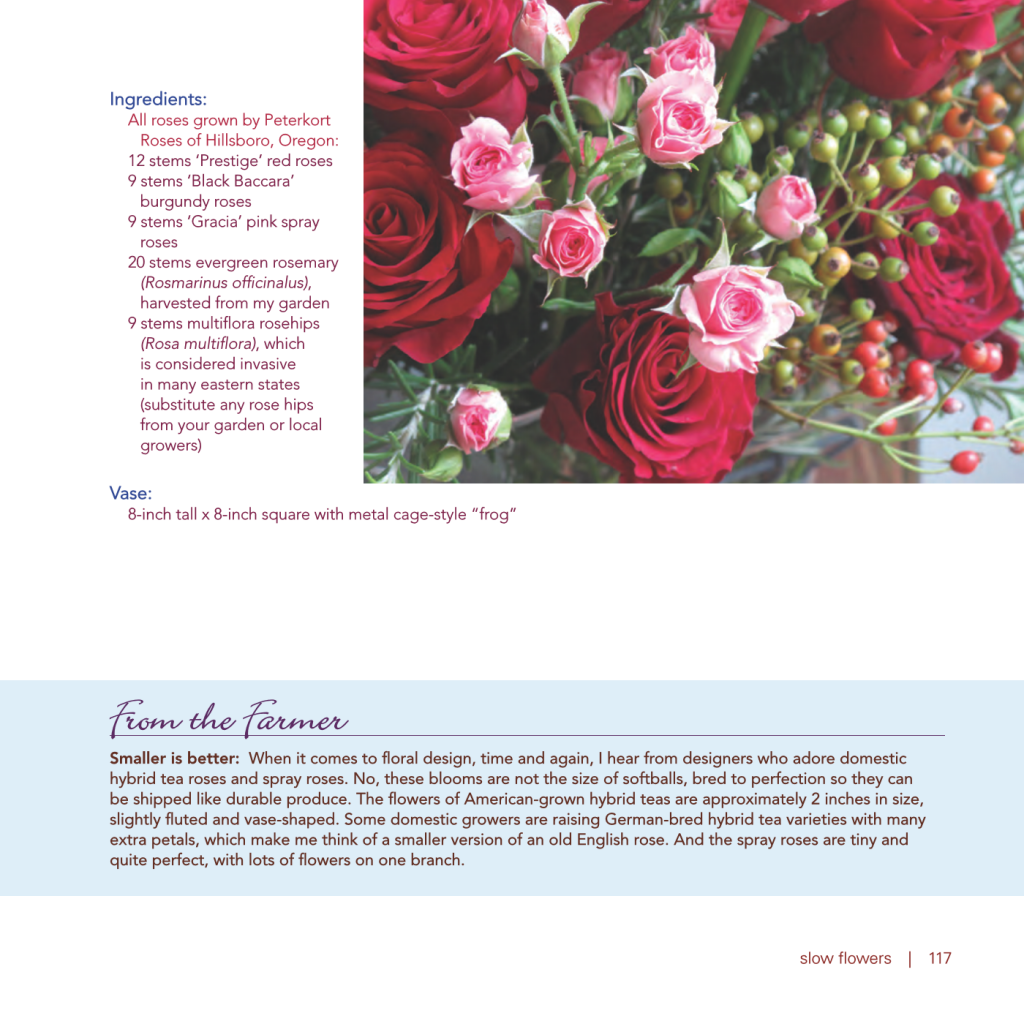 For my "reimagined" arrangement, I again selected domestic roses. Valentine's Day took place a few days ago, and I sourced these large red hybrid tea roses (Green Valley Floral) and hot pink spray roses (Pajarosa) at Seattle Wholesale Growers Market. Sad for us, but right for the environment, Peterkort is no longer growing winter roses due to the high energy costs to heat their greenhouses. Their roses come along later in the spring when the days warm and light increases inside those glass structures.
This week, with two types of California-grown roses to play with, I added baby eucalyptus, also sourced from California. The shiny green foliage you see tucked in and out between the flowers and eucalyptus is called sweet box, (Sarcococca sp.), a broadleaf evergreen shrub found in many old Seattle gardens. Mine came courtesy of Riz Reyes, who brought huge bunches of sarcococca and other foliages and branches to the Northwest Flower & Garden Festival floral stage earlier this week. He harvested the greenery and the really pretty salix branches from Heronswood Gardens, where he is the assistant director. I love the golden hue and linear form of the salix, and we're going to try an identify the cultivar soon.
In this new rose arrangement, circa 2023, I started with this perfectly-proportioned creamware urn, from my friend Nancy Finnerty, who gifted me her entire collection a few years back. Its classic form supports the equally classic American-grown rose, doesn't it? There is a small piece of chicken wire in the base of the vessel, and by first adding the foliage, I created "green mechanics" to support the flower stems. Adding the salix branches and sweet box imbues the out-of-state elements (roses and eucalyptus) with a sense of the season.
When I created the 2013 rose arrangement, we were living in Seattle's Seward Park neighborhood, and I had a robust rosemary plant in the garden. In 2017, we moved about 12 miles south, to a town called Des Moines. In that first season, I planted a trailing rosemary on the top of a retaining wall. It has been mostly used for garden ornamentation and culinary clips (rather than floral design). The past two winters have been unkind to that plant. Half of it died back in 2022, and this winter's occasional deep freezes ended its life. I just learned that the trailing varieties of rosemary are not as hardy, so I'm looking for an upright form to replace the one I lost. All this to say: I do not have rosemary for the present-day version of this piece.
My Slow Flowers chapter featuring American-grown roses ended with this sentiment. It is as true today as ever!
Earlier this week, I received an amazing gift, a total surprise to have the book Slow Flowers receive a mention in a February 13th essay by Margaret Renkl, a NYT Opinion Columnist. She devoted her entire piece to Valentine's Day and its impact on the planet and highlighted locally-grown and sustainable flowers, sharing slowflowers.com, plus a mention of my book and podcast, as great resources!
An excerpt: "Still, the very best environmental alternative to a bouquet of imported flowers probably isn't a potted plant or even paper flowers. The best alternative, I would argue, is a local flower farm, ideally one that operates according to regenerative farming principles. It's possible to support sustainable flowers through gift cards, retail sales at farmers' markets or community-supported agriculture subscriptions. A flower C.S.A. works much like a produce C.S.A.: Customers provide the farmer with a reliable source of income, and the farmer provides a reliable source of fresh, in-season flowers (or, in winter, foliage and berry-laden boughs). Often the flowers are fragile heirloom varieties that would never survive a trip from South America.
"I learned about flower farmers from "Slow Flowers: Four Seasons of Locally Grown Bouquets From the Garden, Meadow and Farm." This 2013 book by Debra Prinzing started an entire slow flower movement. She now has a website and a podcast aimed at helping people find sustainable alternatives to imported flowers for occasions big and small or just for the pleasure of having fresh flowers in the house. This concept, she writes, is an "artisanal, anti-mass-market approach to celebrations, festivities and floral gifts of love." Her site provides a searchable database of flower farms and florists committed to locally sourced flowers."