Week 6, as we we revisit the 10-year anniversary of the book, Slow Flowers
The march toward March (and the first day of spring) is still more than one month away, but we are now beyond the halfway point between the Winter Solstice and the Vernal (Spring) Equinox . . . moving toward the light and life for which we yearn. The term is actually called "interequinoctial." I had to look it up!
---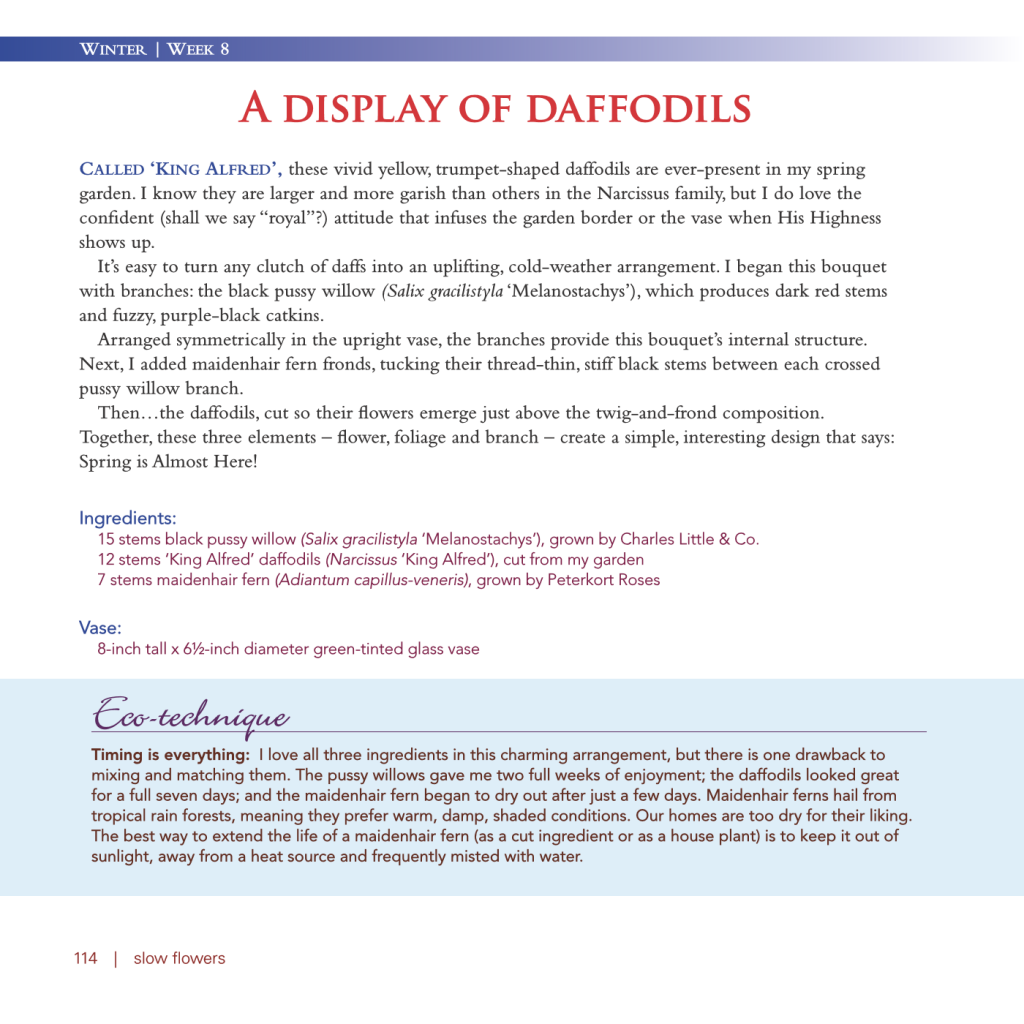 In 2012, when I created an arrangement for Slow Flowers, I used vivid yellow, trumpet-shaped 'King Alfred' daffodils paired with alluring black pussy willows grown by Charles Little & Co. in Eugene, Oregon, and lacy maidenhair ferns grown by Peterkort Roses in Oregon.
---
This time around, my own garden daffodils are only about six inches out of the ground, so I purchased three 5-stem bunches of BC-grown yellow daffs at the Seattle Wholesale Growers Market two days ago. I kept thinking that I would pick up more local daffodils at the grocery store, but instead, Trader Joe's had "Ireland-grown" daffodils at a ridiculous price of $1.99/bunch. So ridiculous that it made me feel very sad for whomever grew those flowers, because when you factor in the air transport and the middlemen, it felt like they were giving them away!
Also, the Growers' Market had sold out of the maidenhair fern by the time I arrived (it is the week leading up to Valentine's Day after all!), so selected Western sword fern, harvested by Rain Drop Farms in Philomath, Oregon (thank you, Erin & Aaron!). I really love how the sword fern acts as a green mechanic in this large ceramic vessel, which was gifted to me by my friend Sharon Hazzard and made by a Whidbey Island-based artist (see caption above). The pussy willow tips, with beautiful red bark and silver catkins, came from Jello Mold Farm (thank you, Dennis & Diane!).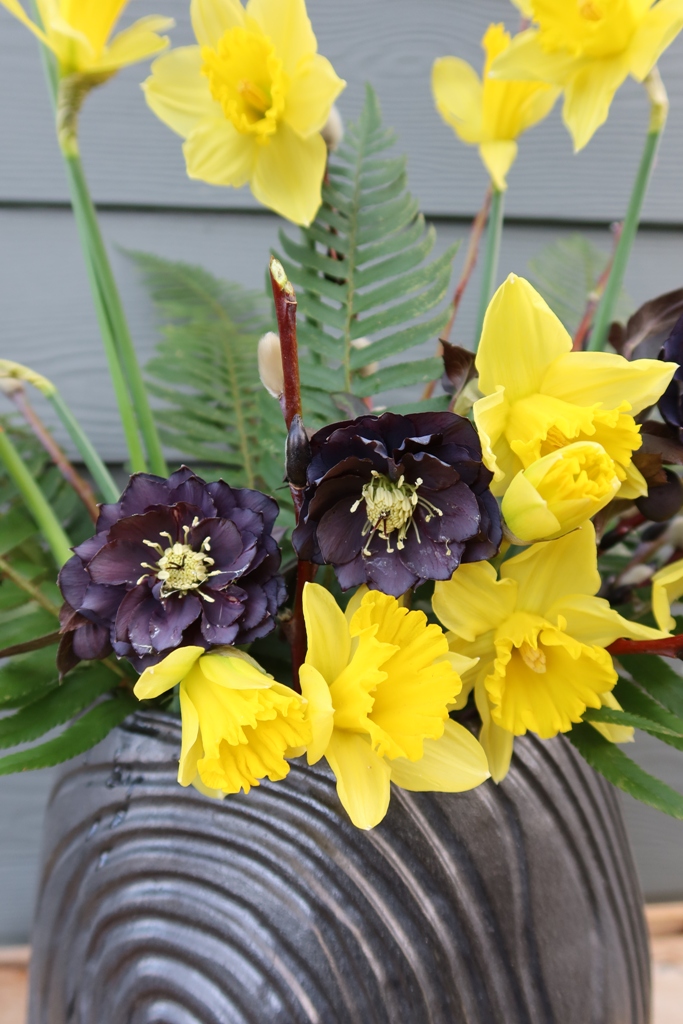 As I was photographing my arrangement in my favorite spot on the patio, I kept eyeing the dark plum-black hellebore plant, 'Slate Double' from Skagit Gardens, which grows in the bed between the path and the peonies, against the side of my house. The plant has six stems, three of which are in bloom. I knew the rich, chalky black petals would really pop against the daffodils, not to mention the vase's ceramic glaze. I thought how seldom I take that side path in the winter and how much more I could enjoy these hellebores in this week's arrangement. After I added the hellebore trio and photographed the "final" look, I took them indoors and placed each stem in a bud vase. I know they are a little immature for the best harvest stage, but still, the sacrifice is well worth it!