Week 8, as we we revisit the 10-year anniversary of the book, Slow Flowers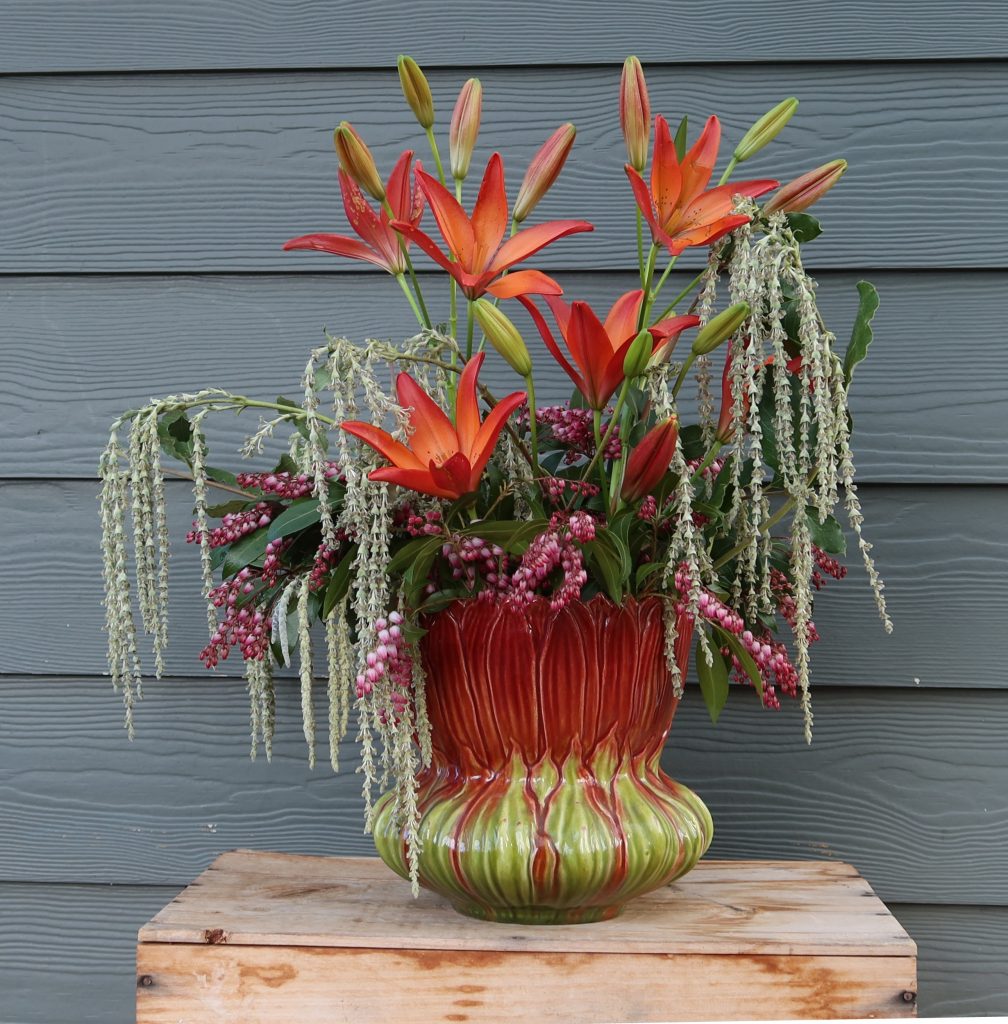 Some of the sources on which I relied for creating my weekly arrangements more than one decade ago have changed. For this reimagined composition, I found it hard to source large quantities of Pieris japonica (its common name is lily-of-the-valley; originally harvested by Oregon Coastal Flowers and sold at the Seattle Wholesale Growers Market).
In fact, my love of the tassel-like floral clusters in any color available prompted me to plant three Pieris japonica shrubs in my newish garden. The "oldest" one was planted in 2017 and I have clipped the ruby-pink blooms to add to the other ingredients. This is a slow-growing broadleaf evergreen shrub, so what you see here is the result of six seasons in the garden. (I'm impatient, but you can't exactly speed things up with this shrub, or many, for that matter).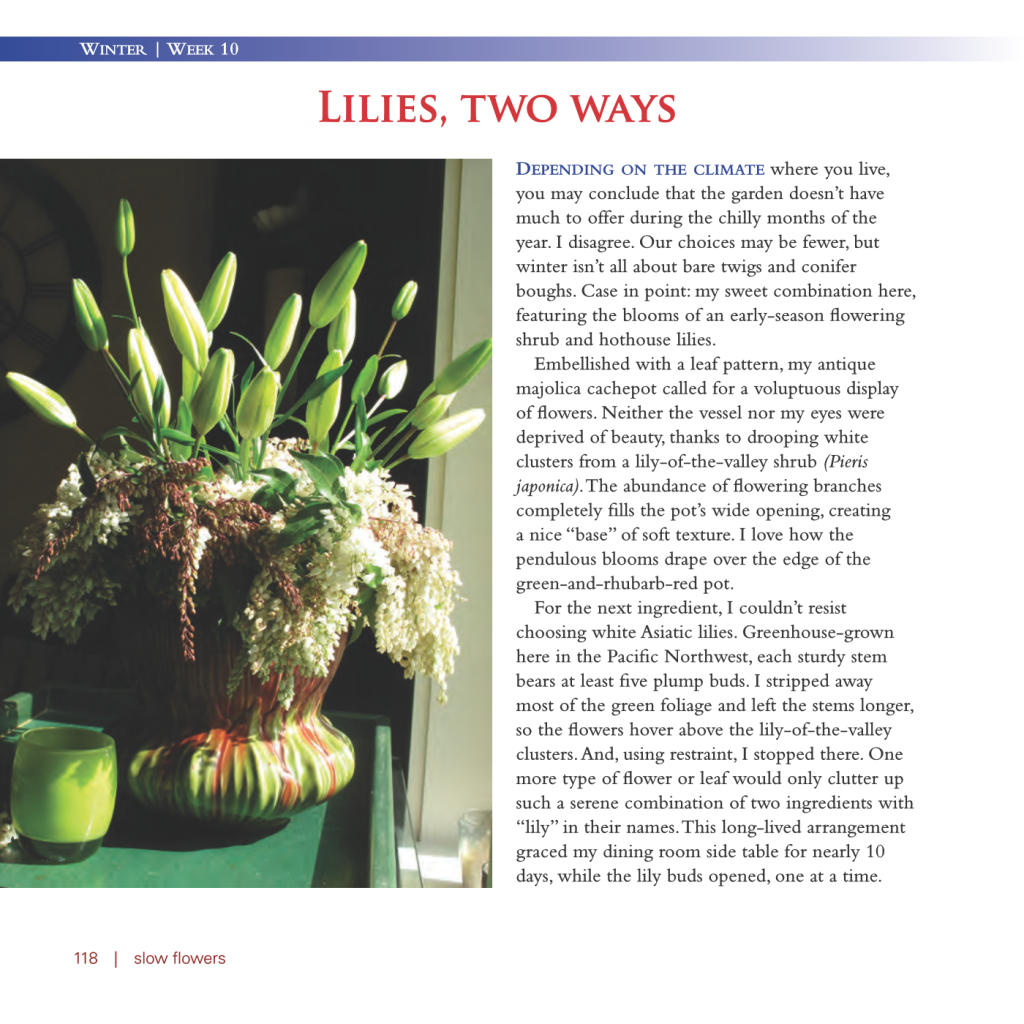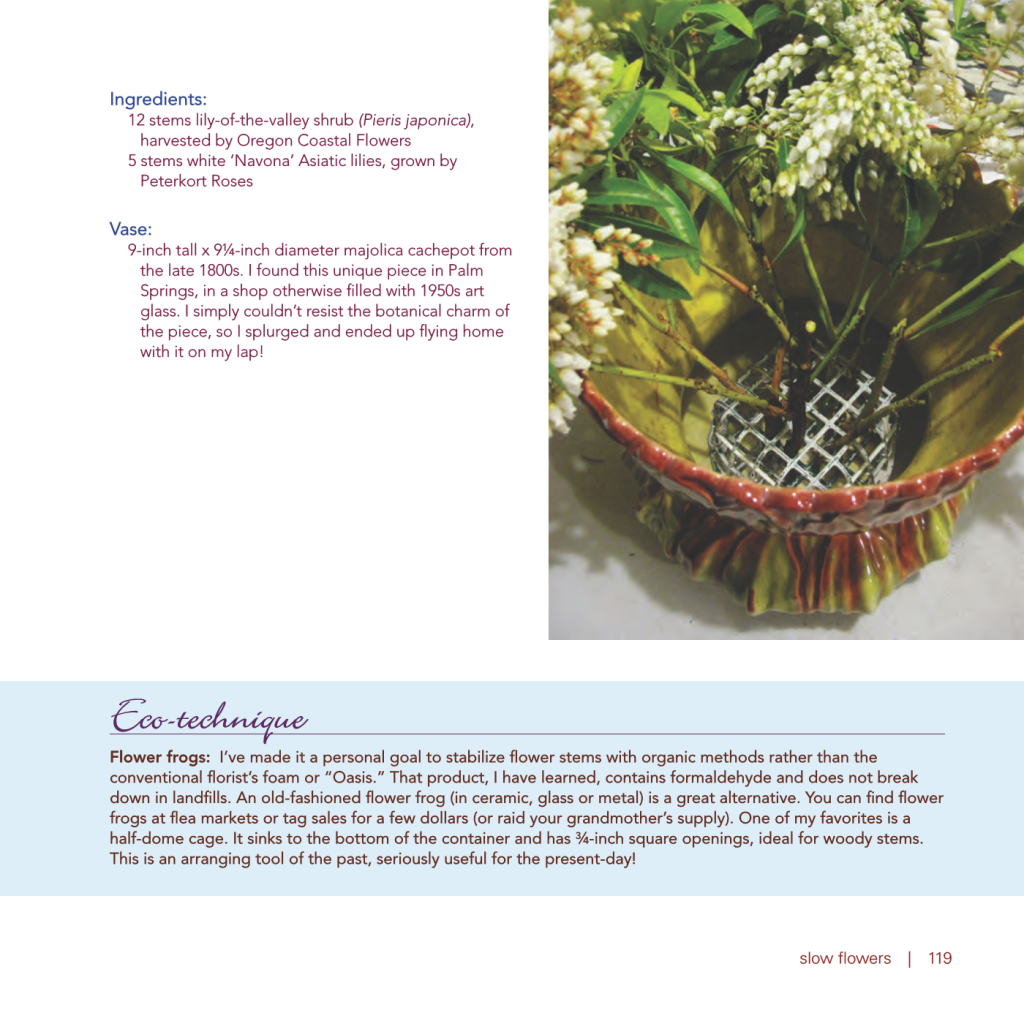 When I was shopping at the Growers' Market earlier this week, mainly to pick up some Asiatic lilies from Peterkort Roses, I knew I wouldn't see any Pieris. Looking around for something that would emulate those gorgeous tassels, I spotted one bucket of something rarely found at a wholesale floral outlet: Garrya elliptica (Silk tassel bush). I have always admired this shrub in old gardens or at the Washington Park Arboretum. It's a species of flowering plant in the family Garryaceae, native to the coastal ranges of California and southern Oregon. Turns out that Brad Siebe, general manager of the Growers' Market, brought in branches to sell. I'm not sure if they came from his garden in north Seattle, or if he sourced it from around his neighborhood (with permission, of course!). But I'm thrilled to add this to the 2023 version of this arrangement!
The vase is the same as my original arrangement. The majolica cachepot from the late 1800s, I found this unique piece in Palm Springs, in a shop otherwise filled with 1950s art glass. I simply couldn't resist the botanical charm of the piece. Upon closer inspection, you'll notice that the pattern of strappy tulip leaves begins at the base and ascends to the top. The vase measures 9 inches x 9-1/4 inches.
---