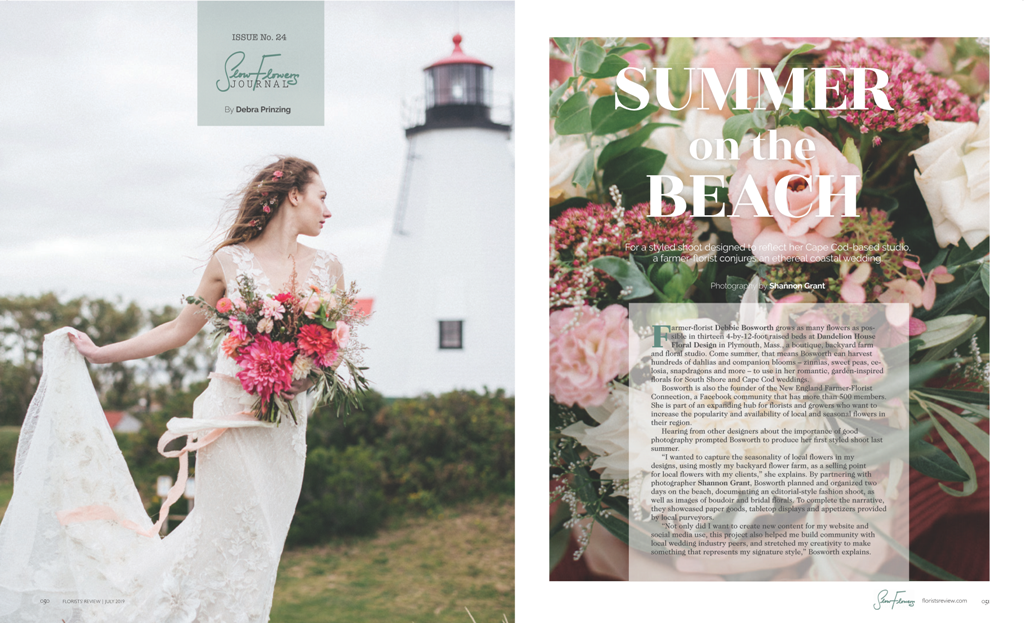 SUMMER ON THE BEACH
Summer is here! In the July issue of Florists' Review, we devoted several pages to seasonal weddings with beautiful local and domestic botanicals.
The opening pages of our July "Slow Flowers Journal" section begins with "Summer on the Beach," featuring a style shoot designed by Debbie Bosworth of Plymouth, Mass.-based Dandelion House Floral Design.
Debbie envisioned an ethereal coastal wedding reflecting her studio's Cape Cod roots. She partnered with photographer Shannon Grant to cature the seasonality of local flowers, including those growing in Bosworth's backyard cut flower farm.
Details:
Floral Design: Dandelion House Floral Design, dandelionhousefloral.com, @dandelion_house
Photography: Shannon Grant Weddings, shannongrantweddingsblog.com, @theshannongrant
Location: Gurnet Point, Plymouth, Mass.
Model: Nicolette Bosworth, @nicolette.bosworth
Hair and Makeup: Manda Monium, mandamonium.net, @mandamoniummua
Dress and veil:  Flair Boston, flairbridesmaid.com, @flairboston
Lingerie: Shop Gossamer, shopgossamer.com, @shopgossamer
Silk Ribbon: Hey It's So Pretty, @heyitsohsopretty
Paper Suite: Alison Kathleen, allisonkathleen.com, @allisonkthln
Wedding Cake and Desserts: Katelin Gellar, @katelingellar
Charcuterie Board: Jillian Rivers, @jillianrivers
Download a free PDF of Summer on the Beach
A TOUCH OF RUSTIC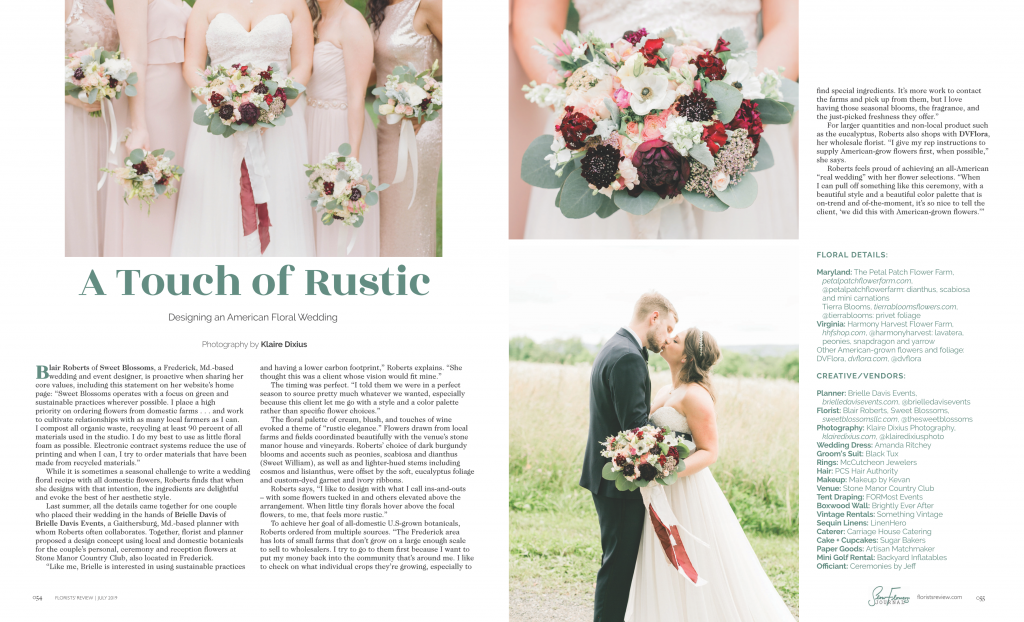 Blair Roberts of Sweet Blossoms, a Frederick, Maryland-based wedding and event designer, is up front about her five "core values," including this statement on her web site's home page. "Sweet Blossoms operates with a focus on green and sustainable practices wherever possible. I place a high priority on ordering flowers from domestic farms . . . and we are working to cultivate relationships with as many local farmers as I can. I compost all organic waste, recycling at least 90 percent of all materials used in the studio. I do my best to use as little floral foam as possible. Electronic contract systems reduce the use of printing and when I can, I try to order materials that have been made from recycled materials."
Last summer, all the details came together for one couple who placed their wedding in the hands of Brielle Davis of Brielle Davis Events, a planner with whom Roberts often collaborates. Together, they proposed a design concept using local and domestic botanicals for personal, ceremony and reception flowers for a wedding held at Stone Manor Country Club, also in Frederick.
Floral Details:
Maryland: The Petal Patch Flower Farm, petalpatchflowerfarm.com, @petalpatchflowerfarm: dianthus, scabiosa and mini carnations
Tierra Blooms, tierrabloomsflowers.com, @tierrablooms: privet foliage
Virginia: Harmony Harvest Flower Farm, hhfshop.com, @harmonyharvest: lavatera, peonies, snapdragon and yarrow
Other American-grown flowers and foliage: DVFlora, dvflora.com, @dvflora
Creative/Vendors:
Planner: Brielle Davis Events, brielledavisevents.com, @brielledavisevents
Florist: Blair Roberts, Sweet Blossoms, sweetblossomsllc.com, @thesweetblossoms
Photography: Klaire Dixius Photography, klairedixius.com, @klairedixiusphoto
Download a free PDF of A Touch of Rustic
PATTERNED PETALS
Learn more about botanical artist Josephine Rice, creator of the unique branding for American Flowers Week 2019.
Joyous and uplifting, Josephine Rice's red-white-and-blue interpetation gives a modern twist to the conventional patriotic palette. In the botanical world, flowers themselves change color throughout a single season, so it's enticing to see how she reimagines traditional flag colors in a new, inventive way.
Download a free PDF of Patterned Petals.
Like what you see here? I'm delighted to serve as Contributing Editor for Slow Flowers Journal, found in the pages of Florists' Review. It's the leading trade magazine in the floral industry and the only independent periodical for the retail, wholesale and supplier market. Take advantage of the special subscription offer for members of the Slow Flowers Community. Click here for details.