Week 20, as we revisit the 10-year anniversary of the book Slow Flowers
In the 2013 edition of Slow Flowers, for the 20th week of the year, I featured a design called "First Peonies," and the focal flowers were red peonies grown by Gonzalo Ojeda of Ojeda Farms. The 'Purple Sensation' alliums (Choice Bulb Farm) and tender green lady's mantle foliage (from my former garden) were seasonal accents.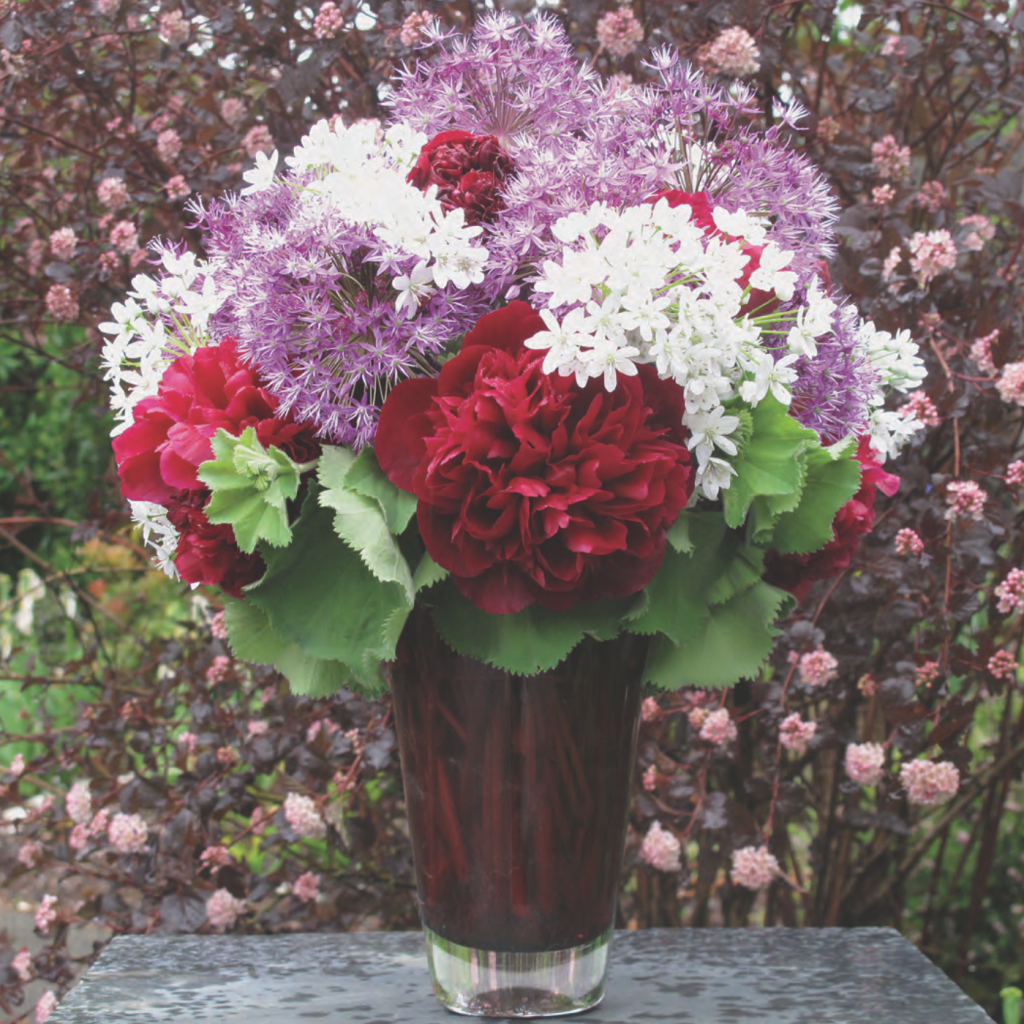 This year, though, I couldn't find 'Cowanii' ornamental white allium at the Seattle Wholesale Growers' Market so I checked every display to find a similarly delicate white flowering alternative. I have heard about the uncommon 'single' form of stock, and this week was the first time I spotted it. Along with the 'Coral Sunset' semi-double peonies used for my 2023 version of "First Peonies of the Season," the single-white stock also was grown by Gonzalo Ojeda. Imagine his staying power to continue growing beautiful peonies for the local floral marketplace, year in and year out, over more than a decade. Gonzalo is a pro!
I love this new version of the original peony bouquet I created during the year-long journey of producing the book, Slow Flowers.
Vases: The deep red hand-blown art glass vase is no longer in my possession. I think it went to a new owner during my famous "Gardener's Garage Sale," when we sold our former Seattle home in 2015. This time around, I'm using one of the vintage creamware urns that I inherited when my dear friend, Nancy Finnerty, gifted me her collection.
Botanical elements: Purple and white alliums are regular harbingers of spring/early summer in my current garden, courtesy of Longfield Gardens. The lady's mantle, a gift that keeps on giving. Each year, it seeds itself in the gravel paths, as earlier plants have done so ever since I began making gardens. Easy to dig up and pop into a 4-inch pot for gift-giving, I love this passalong plant, especialy for its gorgeous foliage.