Week 38, as we revisit the 10-year anniversary of the book Slow Flowers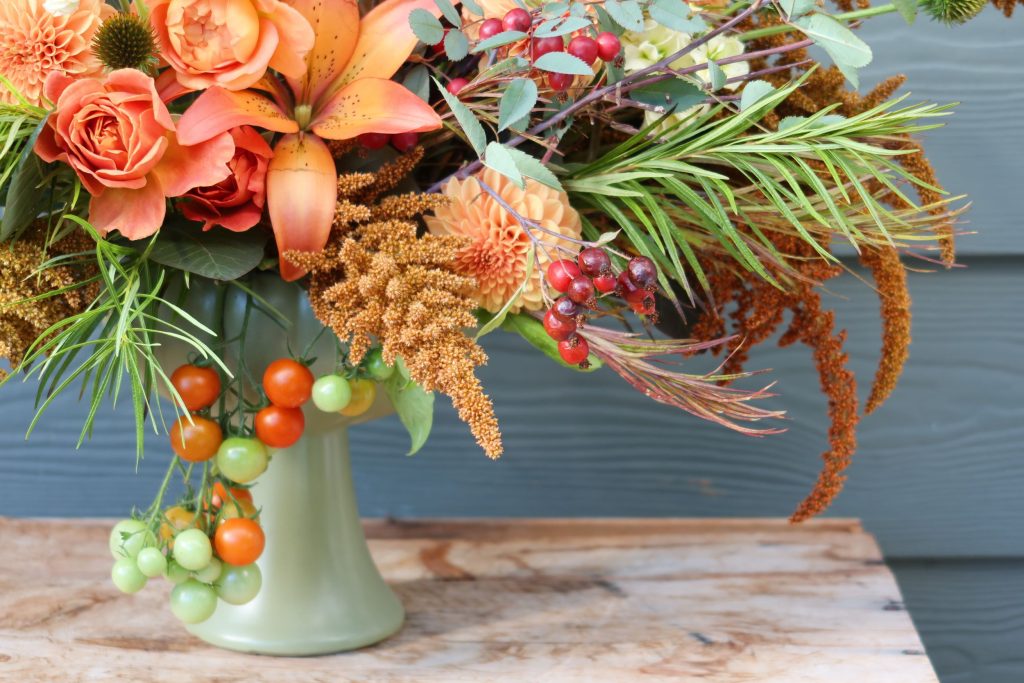 When I designed the original arrangement featured in Slow Flowers (2013), it turns out that – yes – it was during the first week of Autumn, but I was in the Bay Area to lecture for a garden club, so some of the ingredients were decidedly summery.
The ingredients included clippings I took at Baylor Chapman's (former) Lila B. Garden in San Francisco (Pittosporum foliage, garden roses, and seed heads including echinacea), as well as other local cuttings from gardens I visited (Cotinus foliage and yellow pear tomatoes). I also brought Seattle Wholesale Growers Market ingredients with me on the airplane (!), including dahlias from Jello Mold Farm, Asiatic lilies grown by Peterkort Roses, and two varieties grown by Charles Little & Co.: brown millet (Setaria viridis 'Caramel') and perennial flax (Linum perenne). I also picked up some peach stock at the San Francisco Flower Mart.
I loved making this arrangement and also loved sharing the Slow Flowers story with a prominent San Francisco garden club. I remember discussing foam-free alternatives like chicken wire and the concept of using foliage as "green mechanics" in a vase with a wide opening. I used an antique-finished metal urn, the imported type you find from floral suppliers (lightweight for flying with no worry of breakage), measuring 7-inch tall x 10-inch diameter with a 6-1/2 inch opening.
---
I upped my game this time, both in the floral ingredients and in the vase. I used a piece from my collection – a 7-1/2-inch tall sage green McCoy planter – and subbed in a few botanicals to replace what I couldn't find this time around. My mechanic? I used a Holly Chapple pillow mechanic that fits perfectly into the green vase!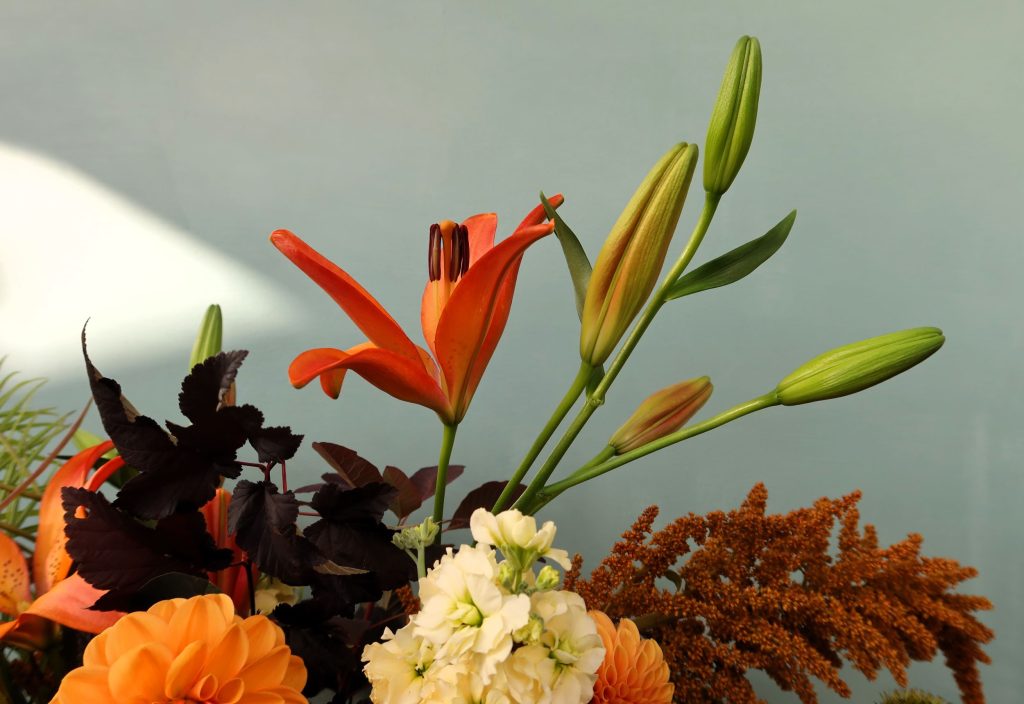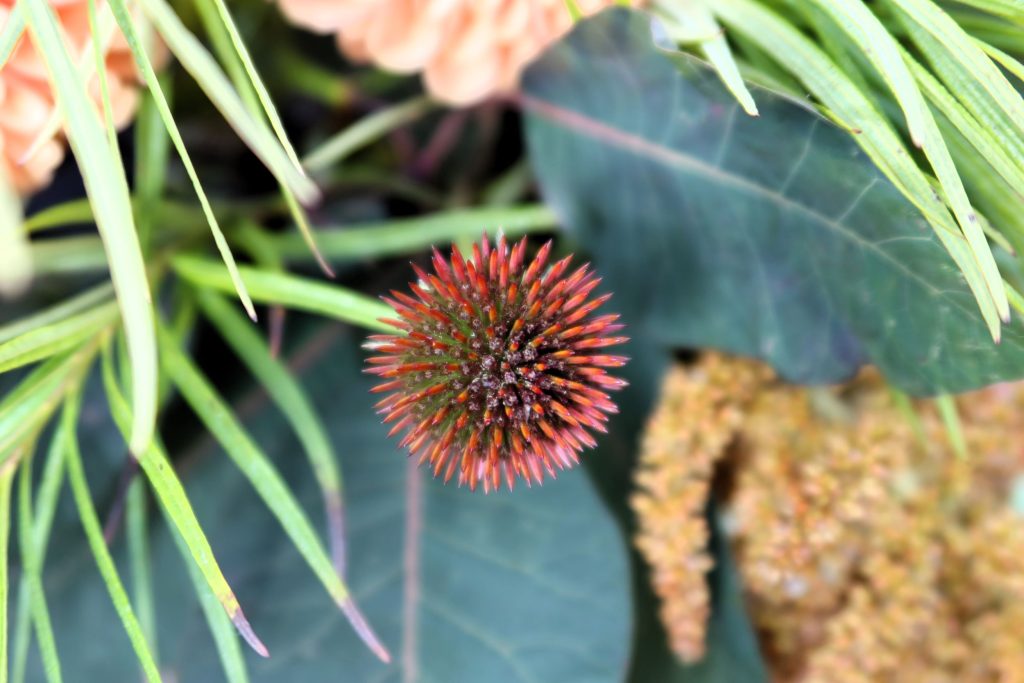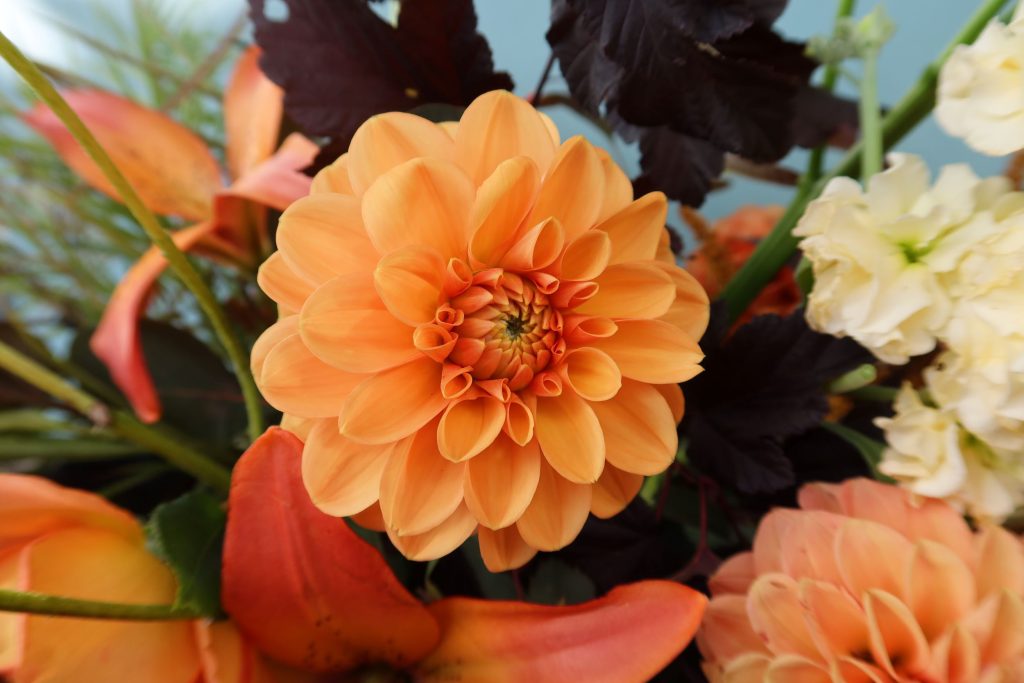 Ingredients from the Slow Flowers Cutting Garden:
Smoke tree (Cotinus coggyria 'Grace')
Ninebark (Physocarpus opulifolius 'Petite Plum')
Amsonia hubrichtii foliage and seeds
Garden Roses, including 'Pumpkin Patch' (Weeks Roses) and 'Lady of Shalott' (David Austin Garden Roses)
Rosa glauca foliage and hips
Echinacea seed heads
Orange dahlias
Ingredients from the Seattle Wholesale Growers Market:
Dahlias, grown by Diamond Day Bouquet
Copper Amaranth (upright), grown by Jello Mold Farm
Asiatic lily 'Royal Sunset', grown by Peterkort Roses
Stock (pale yellow), grown by Space Lotus Floral Collective
My favorite bonus design element: late-season cherry tomatoes, harvested from my mother's senior center vegetable garden (with permission!)