Week 13, as we revisit the 10-year anniversary of the book, Slow Flowers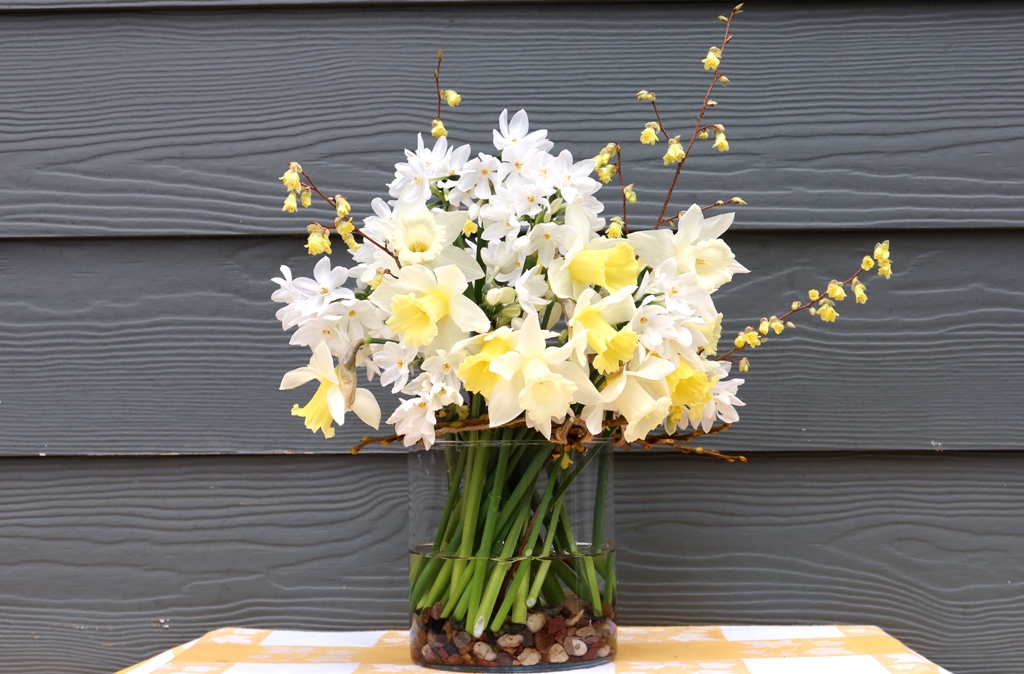 When I first created "Zen in Bloom," I shared my inspiration: a project from Design, a publication of The Flower Arranging study Group of the Garden Club of America. This time around, I wanted to upgrade the twig mechanics used to stabilize the flower stems.
My inspiration come from a design workshop that Slow Flowers member Riz Reyes of RHR Horticulture taught at the 2023 Northwest Flower & Garden Festival on the "Blooms and Bubbles" stage. Using twigs and branches that he gathered the day before, Riz wove them into a flat, circular shape and rested the piece on the rim of his vase. (If you held it up to a window, it looked a lot like a dreamcatcher, with twigs instead of yarn). It was a perfect mechanic for organizing flower stems! Incidentally, Riz credited floral designer Françoise Weeks for teaching him the basketweave-like technique.
---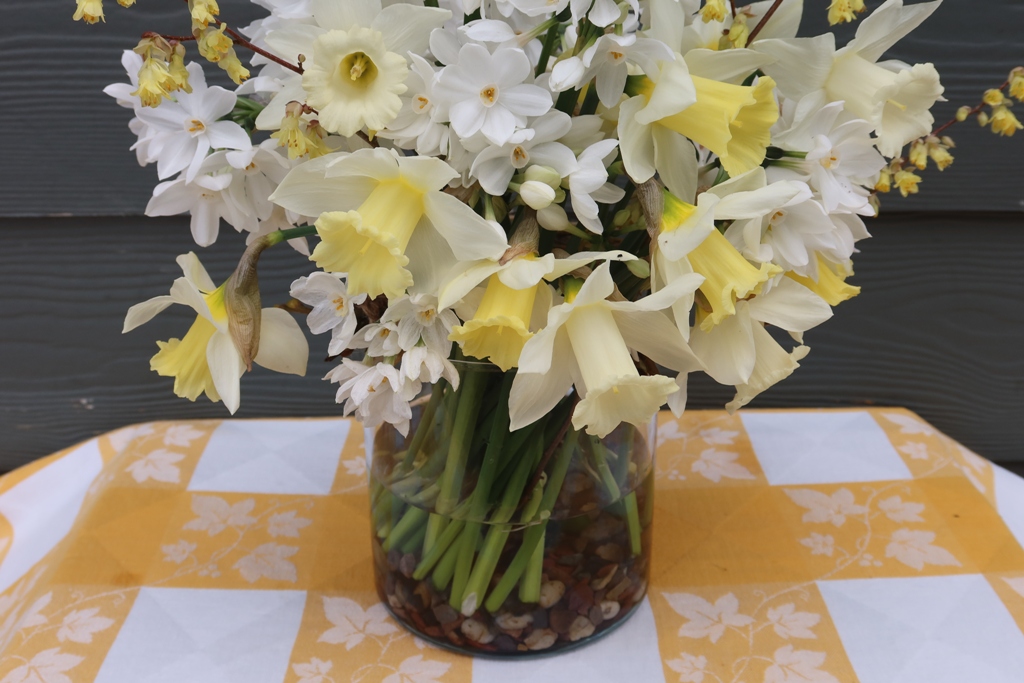 When I created the original piece, I picked all of the bright yellow King Alfred trumpet daffodils from the parking strip in front of our former home to include, along with coral twig dogwood branches.
This time around, 10 years or so later, and I harvested as many of the bulbs I planted last fall for my updated arrangement. The specialty daffodils and paperwhite narcissus come from pots and raised beds in the Slow Flowers Cutting Garden and I love their lighter palette of white, cream, and pale yellow. With the twig matrix resting on the opening of a cylinder glass vase, it was easy to insert and arrange the flower stems and create a soft, cheery arrangement. The addition of wintersweet branches (Corylopsis pauciflora), clipped from a shrub in my front garden, echoes this sweet color scheme.
Sources: Bulbs are from Longfield Gardens and winters hazel (Corylopsis pauciflora) is from the nursery at Old Goat Farm in Graham, Washington.