Author's Note: This article is based on a true story about a real business. The images are from my farm and business.
Business was booming. Selling their flowers at several large farmers' markets, which they had done successfully for many years. Each week at the market, customers lined up to make purchases. Their biggest challenge? Growing enough flowers to meet the unending demand.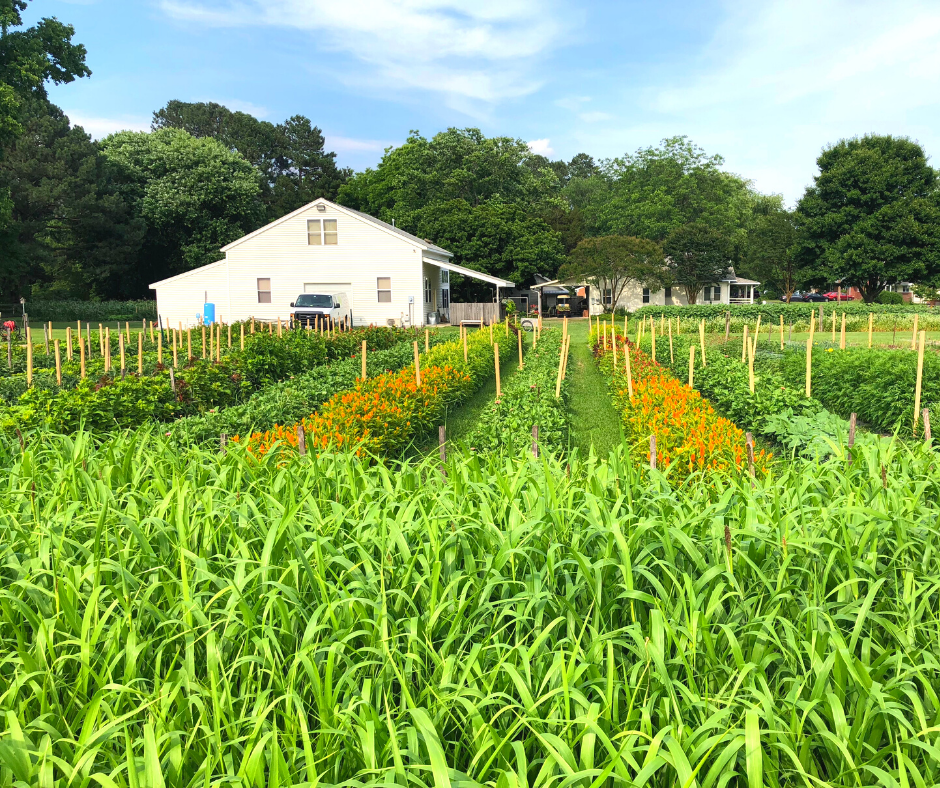 Sounds dreamy as a flower farming business owner doesn't it?
Standing on the outside looking at a business model like this, it appears that all is well. Other than showing up and having a flower-filled display, it did not seem like much else was needed . . . until Covid-19 literally shut the world down.
The markets and shops closed. And this business had no way to reach out to their faithful customers. They also did not have a website and were not especially active on social media. It may sound crazy in this day and time but there are many businesses that fit this description. As the harvests piled up unsold, many farms realized there was a major missing piece in their business: A way to contact their customers beyond face-to-face.
It has never been more obvious then now, how much we need direct contact with our customers.
Many of us have never had to think beyond the face-to-face meeting. Until now. Yes, it is more work and who wants to add another layer of things to do to an already endless chore list? But what we have witnessed these past months in the pandemic is that some were prepared for this unprecedented time and others have missed out. Businesses that could reach their customers have pivoted and changed their sales outlets and because of that, their businesses will not just survive, but will thrive again.
Were your customers standing in a virtual line wanting to buy from you, but you weren't there to send them a sales link, or direction to where to pick up, or, or, or? Have you heard it said that a business's customer email list is the most valued asset the business owns? It has surely been proven true this year that… the list is golden.
Where to start and how to do it?
When I speak of direct contact, I mean sending emails. While I see social media as a very necessary tool in business, it is not enough. You do not have any control over it, nor do you know who sees your posts. You cannot depend on Facebook or Instagram to show your posts to all your followers. With an email list you are in control.
To create a customer email list, you will need an email service. Sending large group emails through your email box is problematic and not professional. There are many services to choose from such as MailChimp, ConvertKit, and others. They offer plans based on how many email addresses are on the list and may even offer free introductory plans. Some of the benefits they offer include templates to create emails, storage of your email addresses, the unsubscribe feature that should be on every email, and other tools.
Once you decide on a service and set it up, you need to get busy building your list. If you have face-to-face meetings, share a flyer inviting attendees to sign up for your Farm News with their purchase. Invite followers on social media; ask friends to share your sign-up link. We offer free resources to folks that sign up for our Farm News (sign up and see!). Face it: People are not looking for more emails in their inboxes, so it's nice to offer a gift (or resources) as a thank you in exchange for their email address. Be sure to provide great content to keep them engaged.
What should you email your customers on the list? Good stuff. Things that people enjoy may surprise you.
Photos of your garden or business and a blurb about what is growing there
An image of a flower and tips on growing it
What is available for sale now?
How they can buy from you?
Design studios can share favorite floral designs
Event planners can share photos from an event
Your family
Your pets
Your customers will love this glimpse into you and your business. There are so many ways for them to feel so more connected to you.
Connected customers become returning customers! When and if the day comes (again) that you cannot connect with your customers face-to-face, you will have your email list to back you and your business up.
If you would like to learn more about flower farming including the importance of a customer email list, how to construct simple emails, and using social media for business you may be interested in my course Flower Farming School Online: The Basics, Annual Crops, Marketing, and More! Annual registration opens October 1-5, 2020. School starts November 3, 2020 and runs for six weeks.
Lisa Mason Ziegler is the founder of The Gardener's Workshop and Flower Farming School Online and the publisher of Farmer-Florist School Online and Florist School Online. Award-winning Author of Vegetables Love Flowers and Cool Flowers. Watch Lisa's Story and view her blog Field & Garden. Connect with Lisa on Facebook and Instagram.