We are smitten with Lara Rose Bos's large-scale botanical sculpture designed for the six-week Nannup Flower and Garden Festival, which continues through September 20th. Based in Southwest Australia, Lara is a botanical artist and florist specializing in weddings, events and large-scale, sustainable and seasonal installations.
A regular listener of the Slow Flowers Podcast, Lara recently reached out to share a beautiful video clip about her new, interactive piece of public art. She wrote:
"I have just completed the biggest challenge yet in my career by installing a mandala-inspired "Spiral of Life" that measures 20 meters (about 65 feet) in diameter. It was built en plein air, all with local materials, a touch of wire and just a handful of pegs and cable ties. This was an incredible challenge because this was a community project of volunteers working with virtually zero budget. The piece serves as a call to action where each visitor is asked to make a 'pledge for the planet' as they place their own gumnut (from a Eucalyptus tree) in the heart of the sculpture."
The video that you see here was produced by Marco Noe of MN Film for Nannup Flower and Garden Festival and I know you will enjoy it as much as I have. It depicts an interview with Lara, the construction process, as well as the interactive experience of walking through the labyrinth pathways.
Here's a little more about Lara Rose Bos, excerpted from the Nannup Flower and Garden Festival's web site: Lara is an adventurous spirit with a passion for nature. Growing up without a TV on an ornamental tree farm in the misty hills of Balingup she was forced to make her own fun, which led her well beyond the garden gate. This wild and wholesome upbringing enabled her to explore her creativity to its fullest. She travelled the world, studied Arts and Horticulture and has found herself blending all her experiences into one. The result is botanical art.
I asked Lara if we could connect via a Zoom call to talk more about this amazing project. We spoke earlier this week, taking into account our 15-hour time difference. It was a delightful experience to "meet" this gifted environmental artist and learn more about her botanical styling and art. What follows is a condensed version of our conversation.
SFJ: How did this project come to be?
LRB: The flower and garden show contacted me as COVID had hit, saying, "We'd love you to create something here and we have 3,000 tulips that you can use." As a florist, that sounded fun to me. here was virtually no budget because of COVID. At the time, I was meant to be traveling to London to work with some designers over winter. I had lost all of my event work and was sitting at home just needing to get creative, so I said "yes." I was happy to take this opportunity to give a gift to the community.
I don't think the committee ever expected me to do anything this big. They're all a little shocked, but it has been fantastic. The video went viral and people have come from all over to see the artwork. I never imagined that it would move viewers so much, like hearing from people as they exit the spiral who have told me "I've just had a spiritual experience in there."
SFJ: Describe where you're located?
LRB: I grew up in Balingup, in Western Australia and I have a lot of connections here, but I also spent 15 years traveling abroad and living elsewhere. I came back about ten years ago when I realized that this is as good as it gets.
SFJ: What motivated you to say "yes" to the Nannup Flower and Garden Festival?
LRB: I mostly design weddings and festival set design. My jam is to create ephemeral environments and ecosystems that transform spaces for people to experience. I'm a trained horticulturist and I've designed for the Melbourne International Flower and Garden Show as student. The Chelsea Flower Show has always been a dream for me to showcase my work, so when the local festival asked me to design an installation, even though there was no budget, I thought: "Let's go large. I can't go to London so let's bring the Chelsea Flower and Garden Show to Nannup."
This project was only possible due to the huge community support. From people donating materials and plants and countless hours of construction, care and maintenance, it really was created from love and kindness.
SFJ: You call your piece a hybrid of a mandala, labyrinth and spiral. I love the shape! Tell us about its conception and creation.
LRB: The design had to be really simple as I couldn't predict how much and exactly what product we would actually have to work with at the time of the build.
It also needed one way in and the other way out, for COVID reasons. As you enter the spiral, the dried and decaying botanicals represent all the destruction that is happening to our precious environment. The black and red botanicals symbolize the catastrophic forest fires, the bare branches are alikened to the deforestation. As you walk into the center of the spiral the sculpture becomes more alive and colorful and is an artistic interpretation of a healthy ecosystem. I wanted there to be a call to action, so each person who enters is asked to place a gumnut in the center and make one little pledge for the planet. I want there to be a ripple effect that causes more people to care about the environment and realize how powerful we are if we stand together.
SFJ: What botanical material did you use in addition to the tulips?
LRB: I use a lot of dried material in my work already because Australia's climate is so harsh and because a lot of the events I design last longer than a wedding would. I have access to our 100-acre family tree farm, which I grew up on, so I source a lot of product there. We also approached (town) councils for their green waste from parks and gardens. One of my favorite "ingredients" is the silver cushion bush (Leucophyta brownii). It's a really cool coastal plant that looks silvery even when it has failed in the landscape. I found a huge amount of this at a local gas station so I stuffed my van full of it. I also put a shout out via local Facebook pages and then the community started donating material, which we collected and stored in a warehouse for weeks before the installation.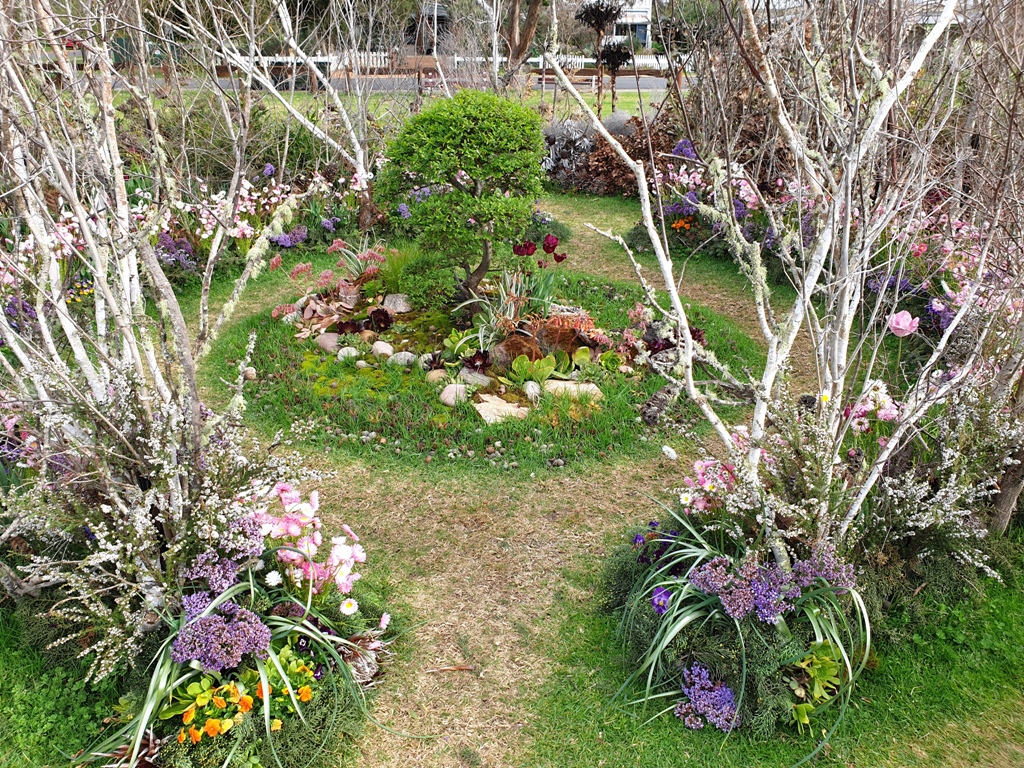 SFJ: What about floral choices?
LRB: We have a limited (local) floral supply here in Western Australia and few flower markets. Nothing, compared to what you have in the U.S. Everything is imported and there haven't been many Western Australian growers to source from. (That is starting to change, though, with a few micro growers emerging).
Through my contacts, I knew of an old African-flower farm filled with proteas. They no longer sell plants, but the owner lets me pick whatever I wanted on the honor system. I literally picked up a couple tons of product. I have another family friend with a Banksia farm, so I collected from older varieties of Banksia. I used heaps of dried palm materials including the dried palm "canoes," which work so well with the other flower heads in all their lifecycles. The most stunning ingredient for me was the burnt black logs and charcoal. This black in the design contrasted so beautifully against the yelllow and red of the banksias.
SFJ: Your parents are a poignant part of the story that you share in the video. How have they influenced you?
LRB: My parents, Dr. Chrissy Sharp and Andrew Thamo, met as environmental activists 40 years ago and they own Small Tree Farm in Balingup, Western Australia, specializing in European deciduous trees. My mom was a politician for the Australian Greens party for 10 years and she has done lots of incredible things. One of the special things my parents have done and where I actually do some of my foraging is to establish Golden Valley Tree Park, Western Australia's biggest tree arboretum. The Arboretum has a world collection of Australian trees covering 60 hectares (approximately 150 acres). It's where I was married — an absolutely stunning place that still looks like a farm, with sheep grazing it. The tree farm and arboretum are in my blood and bones; it's been a long way for me to come from there to being a florist today.
SFJ: You mentioned traveling for years before returning to the place you grew up. How did that happen and how has "coming home" influenced your botanical art practice?
LRB: After traveling for more than 10 years, I came back home and met Jeremy Bos through a close friend — and it was love at first sight. We actually went to America together and traveled from Canada down to San Diego and across your beautiful country. When we returned to Western Australia to get married, we couldn't find a marquee tent that we wanted. So we bought some African stretch tents for our own wedding and discovered there is a market in renting them for events.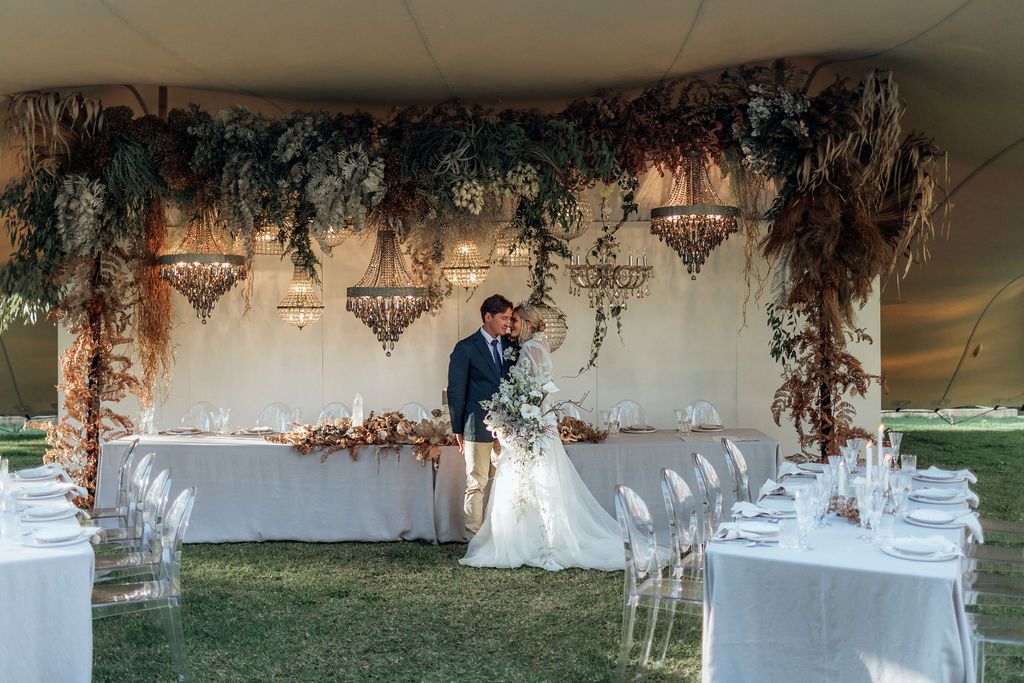 SFJ: Tell us about your studio Lara Rose Bos Botanical Stylist?
LRB: We're in our sixth year. We also have a full-scale events business called BOS Tents and Events and we run and service music and arts festivals. I work with Jeremy and our team to provide a wide range of services to weddings and events, including African Stretch Tents, DJ Service, Sound, Lighting, Florals and Styling. For several years, when our business was developing, I ran our family tree farm in the winter and we produced events in the summer. Two years ago I stepped down from the family farm and Jeremy and I are now focused full-time on our business.
SFJ: What market do you serve?
LRB: We are located right in the heart of the south west about four hours south of Perth which makes us very central to service a huge region.
One thing that makes our business viable is that we live just over one hour east of Margaret River, one of Australia's most famous wine regions and an established, higher-end wedding destination, so we spend a lot of time there. We're just full-time gypsies, so every weekend we're heading somewhere with a full trailer and truckloads of supplies for our events.
SFJ: You recently took possession of a new home and garden that you are calling The Lillypad on Lavender Lane, in Bridgetown. Please tell us about it!
LRB: My mom found this beautiful property for us — a 100-year-old, double-brick house with two-and-a-half acres of a completely overgrown secret garden. This house was owned by the pediatrician who delivered me when I was born in 1981. He planted all these trees and is a big environmentalist. It's completely magic here.
There is a pond and a winter creek and 40-year-old trees everywhere, including California redwoods, Japanese maples and beech trees. It's a huge, rambling old house that was most recently home to a family with seven kids.
Now we're on this mission to do fewer events and turn our downstairs into a working studio so people can pick flowers and take workshops here.
There is a bittersweet part of the story, though. Three weeks after we moved in, my mum found out that she has terminal cancer. She has a Buddhist attitude and she's handling it so well. She's never been scared of death. We all have so much gratitude that we get this time to say good-bye. And now, she's going to spend a bit of time here in the house with us.
I wake up in the morning and I feel like I'm in a tree house looking out at these trees and my love for my mum fills my heart. As hard as it is, I'm meant to be here.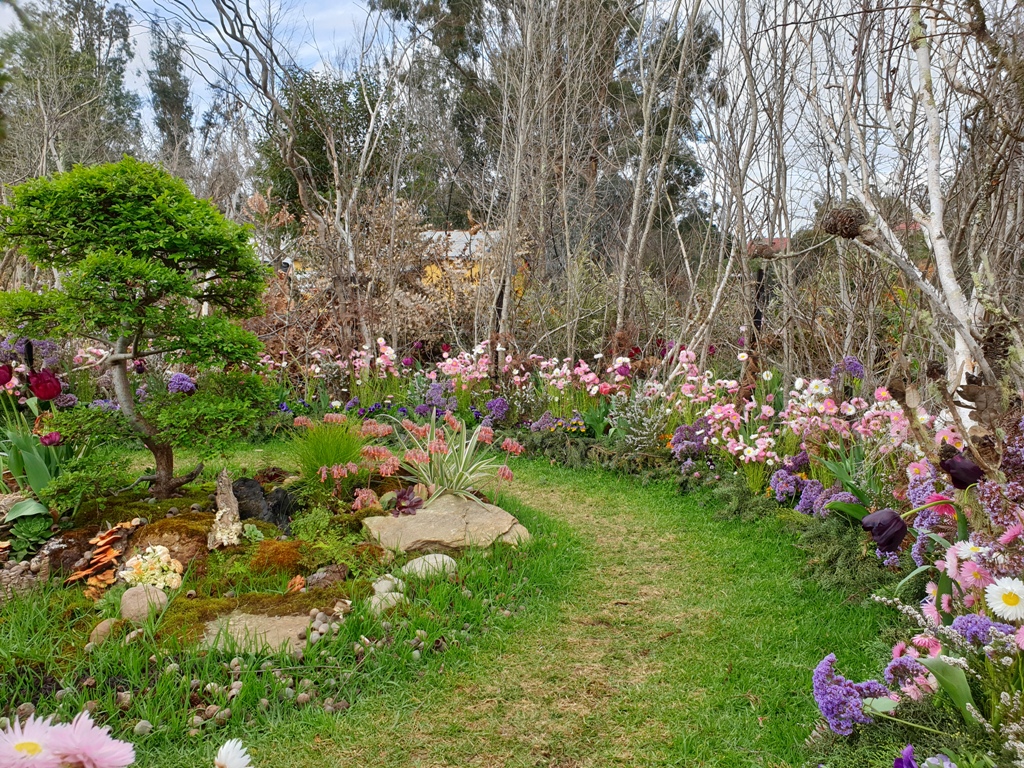 SFJ: How are you wrapping up the Nannup Flower and Garden Festival?
LRB: Last weekend, I had the complete honor to visit Lucinda's Everlastings, a farm that grows everlastings, also called paper daisies, a West Australian native flower (Rhodanthe chlorocephala). There's an awesome lady named Jen Egerton-Warburton who's growing giant paddocks of them. The season was ending and she was happy to be a sponsor of our botanical sculpture. So I got to pick a whole load of these daisies. Pick and pick and pick. We got to run in the fields and make 'flower angels' and it was such a healing day.
The tulips are finished flowering, so we replaced them with all the everlasting daisies. I also added a lot of live, potted materials and experimented with more leucadendrons, proteas and Banksias. Even if they dry and change color, they are still beautiful when faded.
Also, there will be some cocktails on Saturday night and I'll retrieve what I want out of the mandala and then get the big tractor with the bucket and soon, everything is just going to be mold, back to the earth.
Details: Lara Rose Bos, Botanical Stylist, lararosebos.com
@lararose_botanicalstylist
This message appears at the entrance to Lara Rose's installation at the Nannup Flower and Garden Festival:
This "Spiral of Life" mandala is a creative representation of the natural world and its struggle with the destruction of our biodiversity and threat of climate change. As you enter the spiral, the dried and decaying botanicals represent all the destruction that is happening to our precious environment. The black and red botanicals symbolises the catastrophic bushfires, the bare branches alike to the deforestation. As you walk into the centre of the spiral the sculpture becomes more alive and colourful and is an artistic interpretation of a healthy ecosystem.

Before you enter:
1. Please take a seed from the basket.
2. As you weave your way towards the centre, add your "Seed of change" to the Mandala heart.
3. Make a "Pledge for our planet" – Whether big or small, a promise such as planting a tree, catching public transport more often, collecting rubbish at your favourite beach, starting a worm farm or growing more of your own food, every little bit helps. It's up to each and everyone of us to do what we can to tread lighter on our planet earth. If we stand alone it's overwhelming but when you see all our little promises entwined it's clear how powerful we become if we all work together.