Week 10, as we revisit the 10-year anniversary of the book, Slow Flowers
The opening line of "Heady Hyacinth," the essay I wrote about a vase filled with just eight stems of locally-grown hyacinth, began like this:
The extremely simple arrangement that we published in Slow Flowers in 2013 features a cluster of hyacinths, their stems spiraled and tied with twine, visible under water in a clear glass vase.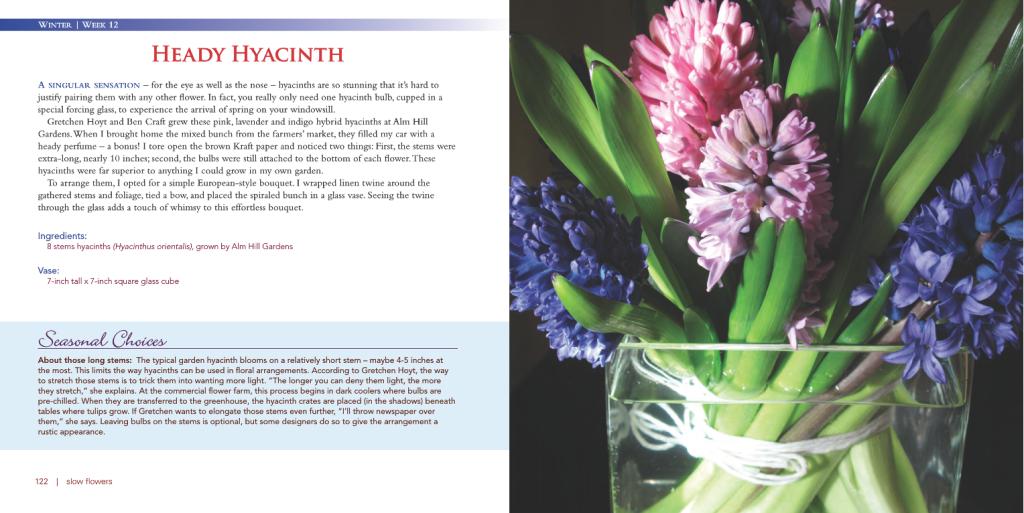 I was spoiled back then and I really didn't know it, because the folks at Alm Hill Gardens were a reliable source for Pacific Northwest bulb flowers at their Pike Place Market stall. Alas, Gretchen Hoyt, the doyenne of Alm Hill Gardens, closed operations during the pandemic. It was a huge disappointment for people like me who loved buying armloads of her tulips and hyacinths to carry home.
This time around, I picked up B.C.-grown hyacinths from the Seattle Wholesale Growers Market, which I guess we will describe as "local-ish." The stems of each 5-hyacinth bunch are incredibly long, with the stump of its bulb still holding on. I decided to group several vases together, all white and cream; and each unique and singularly sensational in form. My color choices include white, pale pink (the Market staff described them as "blush," but they are more "mauve," I think); and pinky-purple.
I love the grouped vignette, including a cornucopia-shaped McCoy vase and a vintage cream ware vase (no markings), with scalloped handles. Both are part of an amazing collection that my friend Nancy Finnerty gifted to me when she moved from her Seattle bungalow to her large (but not large enough) studio on the Upper West Side of Manhattan. I am the loyal caretaker of this collection; Nancy thrifted most of the pieces on her annual visit to a sister in Iowa.
The third vase, which holds a spray of pristine, all-white hyacinths, came from the celebrated artist and potter Frances Palmer. A gift, which I cherish. And while small, the vase opening and the proportions of this vase are just perfect.
I'm looking forward to enjoying these fragrant blooms, which are both visually pleasing and so lovely to smell.
---