Week 22, as we revisit the 10-year anniversary of the book Slow Flowers
Icelandic poppies are the theme of this "week 10" of springtime, as they were a decade ago when I created two arrangements for Slow Flowers, the book. I wrote: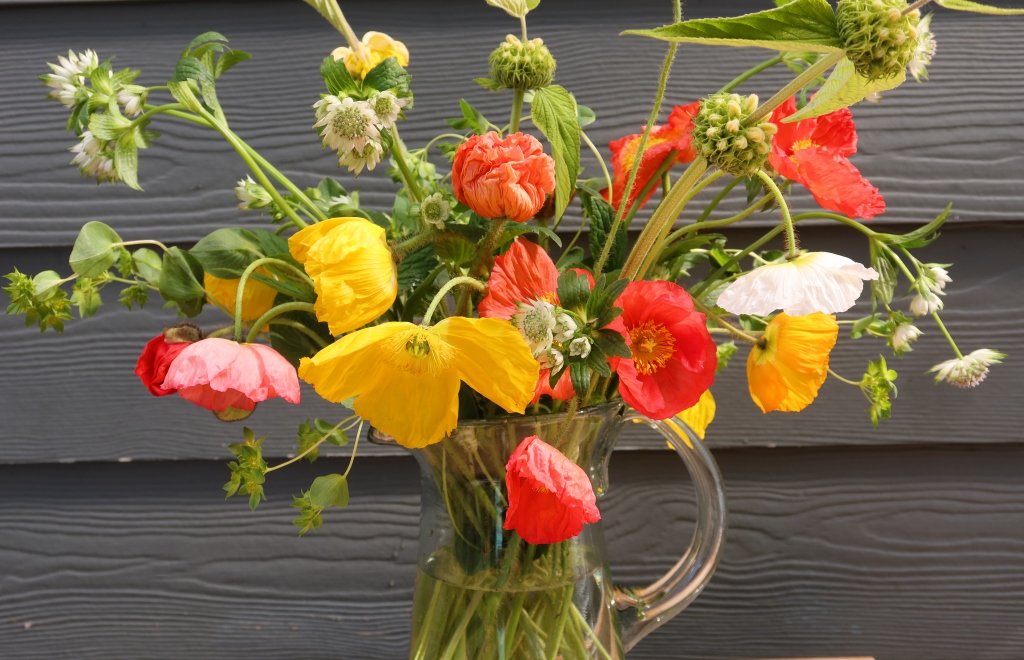 ---
Earlier this week, I purchased four bunches of local poppies at the Seattle Wholesale Growers Market. They were all "mixed" bunches, with mostly bright yellow, coral red, or white options, with a few pale apricot stems. I separated out the white ones for a second arrangement for a vintage cobalt blue pitcher.
Back in 2013, the supporting ingredients included cerinthe and rattlesnake grass. I didn't include those this time around. The clear glass pitcher is accented by astrantia, bupleurum and mint. I wanted something whimsical to pair with the playful poppies, and the tall, Dr. Seuss-like stalks of Jerusalem sage (Phlomis russeliana) in my front border had the character I sought.
In the blue pitcher with just white poppies, there's mint, a little bupleurum, and the white astrantia blooms.
By the way, have I mentioned how much I love this Slow Flowers Redux ritual? As with the first time around, it's so satisfying to set aside an hour or so each week to play, simply play, with local and seasonal flowers. Many of the ingredients are from the #slowflowerscuttinggarden, but the excuse each week to shop at the Seattle Wholesale Growers Market is equally satisfying. I love the team there – they are the true champions of the Slow Flowers Movement, as they provide an important hub for local flowers, connecting florists and the public with the story of domestic flower farming.