Week 36, as we revisit the 10-year anniversary of the book Slow Flowers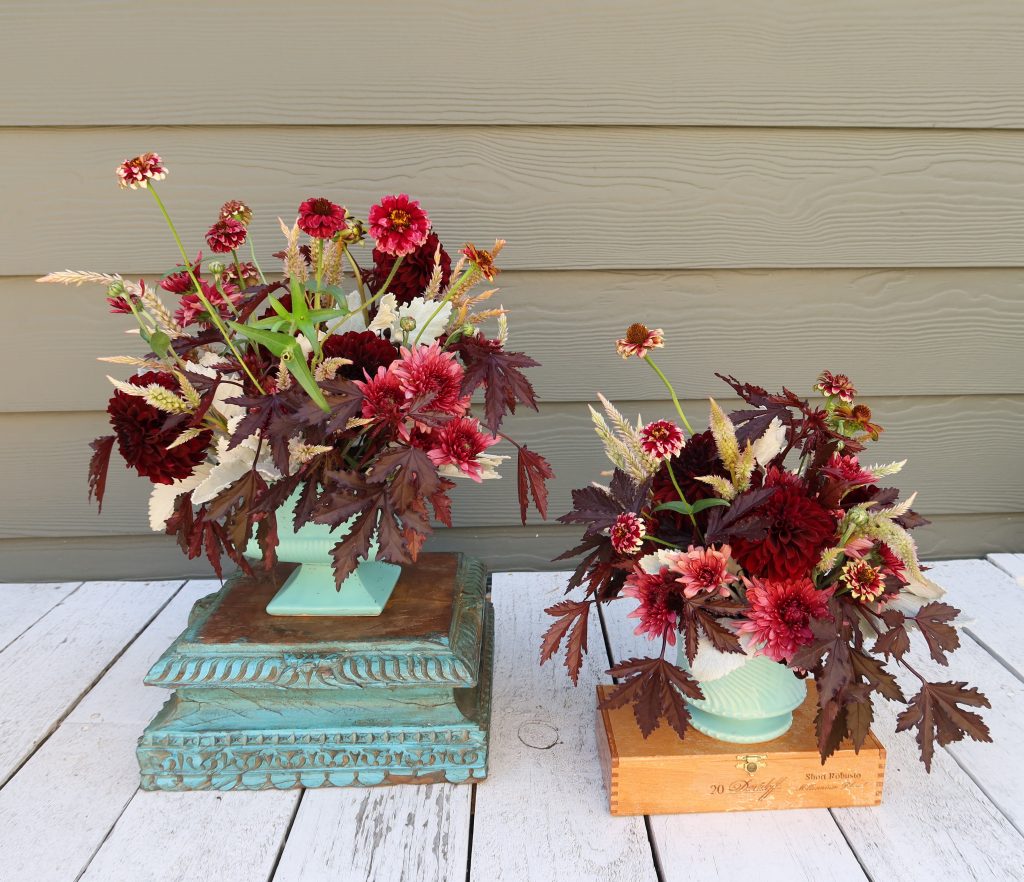 My obsession for acquiring USA-made pottery has been fueled by a few friends who are also collectors. Back in the early 2010's, when we had just moved back to Seattle from living in Los Angeles for four years (where I was introduced to the magic of vintage California-made pottery), there were some really fabulous flea market events here. I habitually went to one called "Second Saturday" at a large decomissioned airplane hangar. I usually met my friend Jean Zaputil there, but we ran into many other flower friends and collectors, including Gillian Mathews.
My McCoy and Haeger pottery collection exploded during this time, and I used two vases — one green and one turquoise — in the 2013 design. You can see that I mostly kept to a monochromatic floral palette in order to showcase the gorgeous glazes.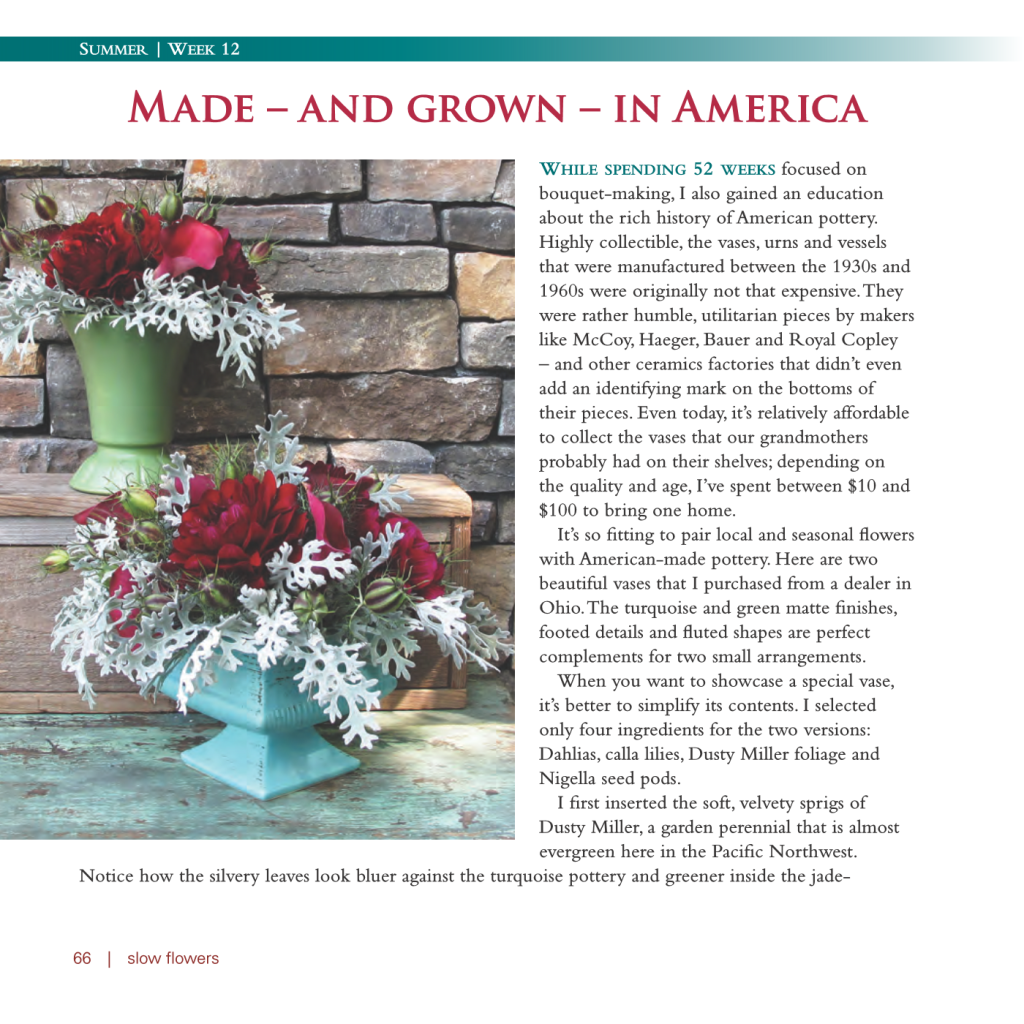 I used two turquoise McCoy vases in this 2023 version of the twin pairing, including the 5-1/4-inch tall x 5-1/2-inch square charmer with a tiny pedestal (returned from 2013) with a matte glaze, and a small circular vase with a glossier glaze and a swirl pattern.
The floral palette isn't exactly the same, but I hope you can see where I'm coming from visually, in the spirit of the original designs. Rather than the 'Hot Lips' calla lilies and 'Persian Violet' love-in-a-mist (not available this week), I started with all Seattle Wholesale Growers Market ingredients, outlined below.
I used a flower frog inside each of these sweet vases. I was inspired by my recent interview with Kristen Griffith-VanderYacht of Wild Bloom, who designs with flowers first (before foliage), so that's what I did here.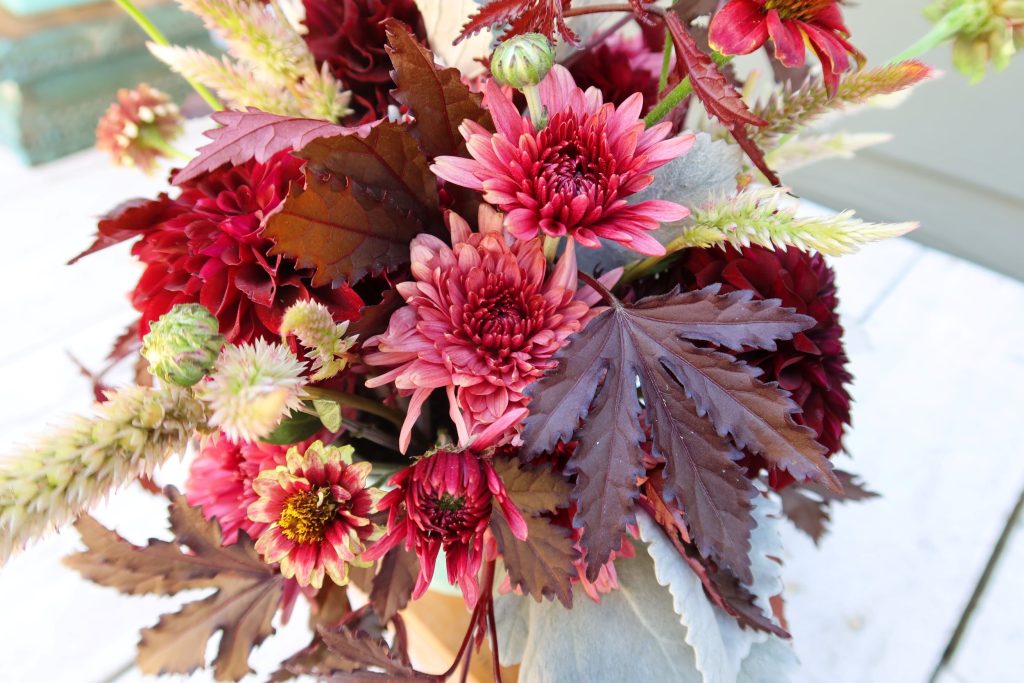 Mauve-and-burgundy chrysanthemums, grown by Ojeda Farms
Burgundy-maroon dahlias, grown by Everyday Flowers
Hibiscus 'Mahogany Splendor', grown by LaFlora Farm
Broadleaf Dusty Miller, from California
Plume celosia in pale pin, grown by Free Range Flowers
to this, I added a little sparkle, my 'Jazzy Mix' zinnias, grown by yours truly from Johnny's Selected Seeds!