Week 15, as we revisit the 10-year anniversary of the book, Slow Flowers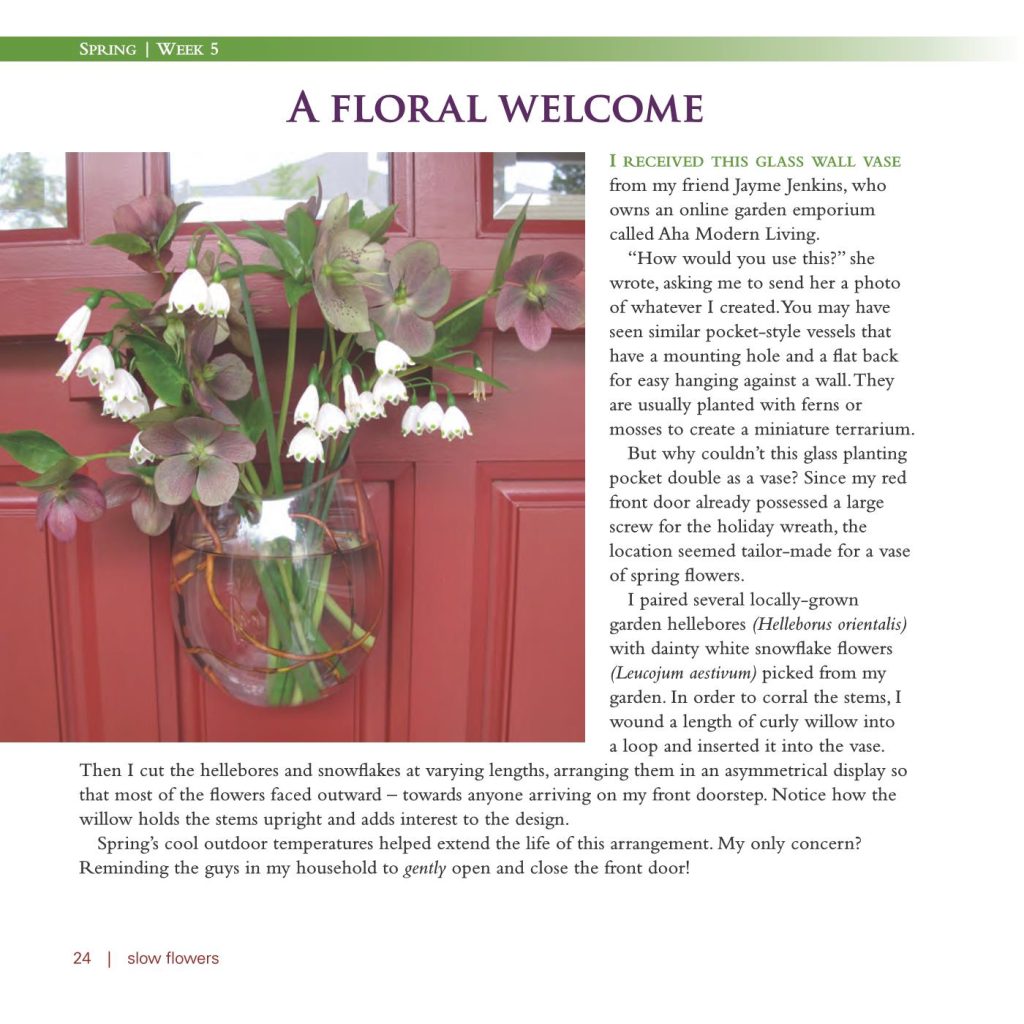 This week's arrangement is a bit of a departure from "A Floral Welcome," which I created for my Slow Flowers book project in 2013. That piece featured Jello Mold Farm-grown Helleborus orientalis and Leucojum aestivum, harvested from my Seattle Garden — arranged in a glass wall vase that I hung on the front door.
I no longer have that clear glass wall vase — it must have been sold off in a garage sale when we moved in 2015. But no worries, the shelves of my home are filled with lovely options, including this buttercup yellow vessel. The fluted, 8-inch tall x 5-inch diameter fluted vase was created by artist Frances Palmer for her Pearl Collection. That collection is no longer available, sadly, but I maintain that this is just the best shape for floral design.
I shopped the Seattle Wholesale Growers Market this week, because I knew that Jello Mold Farm's hellebores would be available — yes! I love the moody petal palette that is dark plum with notes of green. As a nod to the form of the summer snowflake (Leucojum sp.) used back in 2013, I selected two other dainty, nodding bulb flowers, both grown by Jan Roozen of Choice Bulb Farm: Fritillaria uva-vulpis (note the purple-maroon bells with yellow tips) and Tulip turkestanica (a dainty white species tulip with yellow center).
And oh, the daffodils! Nothing to do with the arrangement I created one decade ago, but they looked so vibrant in the garden and I wanted to share them with you. This variety is called Double Tahiti, from Longfield Gardens. The sunny yellow blossoms are decorated with eye-catching, red-orange ruffles — and are long-lasting in the garden and vase.
This arrangement lifts my spirits, and unlike last week's dreary atmosphere with weak sunlight, the weather cooperated with me yesterday — and I photographed the Hellebores and their companion bulb flowers in the late afternoon glow of an April day.