The Slow Flowers community joins the floral industry in raising funds and awareness to help Ukraine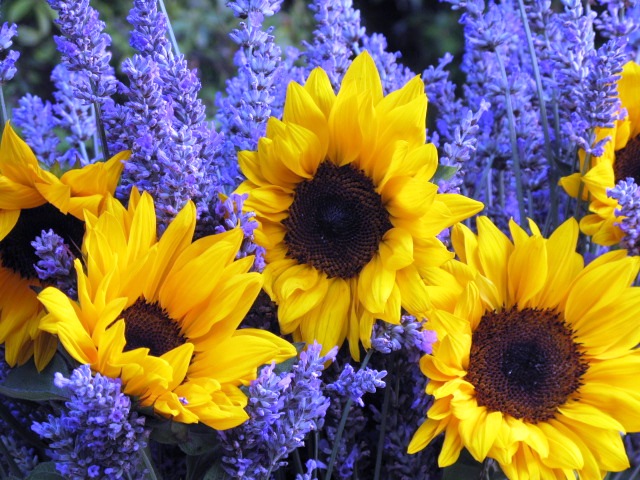 For the past month, like so many of you, we have felt horrified watching news reports about the Russian invasion of Ukraine. The humanitarian crisis calls for our response, and Slow Flowers members and others in the floral community are using their talents and creativity to help raise important funds for the relief effort.
Read on to learn about ways you can participate and bring peace and healing to our floral sisters and brothers in the Ukraine.
Shane Connolly's Virtual Floral Design with British-Grown Flowers
Floral and sustainability influencer Shane Connolly, who designed all the wedding flowers and decorated Westminster Abbey for the Royal marriage of William and Kate, is giving a one-hour demonstration using only locally grown and seasonal British flowers and sustainable mechanics. It will be available to watch on Zoom on Wednesday April 6th (11 am PT, Noon MT, 1 pm CT, 2 pm ET).
This special event is close to the hearts of the Slow Flowers Society because it is being organized in partnership with Flowers From The Farm, the organization of British flower farmers. Flowers From the Farm is donating the flowers, Shane is donating his time and the tech firm responsible for filming and distribution is donating their services for free too.
According to Gillian Hodgson of Flower from the Farm, "our aim is to get 1,000 people paying £10 [around $13] each to watch, thus raising £10,000 for the Disasters Emergency Committee's appeal."
Click the link below to donate a minimum of £10. Every cent will go to Disasters Emergency Committee's Ukraine Humanitarian Appeal. The demonstration goes out live at 19.00 BST on Wednesday 6th April (if you're unable to watch at that time it'll be available to watch later) and you'll be sent a link to watch.
---
Russian airstrike hits Ukrainian cut flower grower near Kyiv
Three weeks ago, Villa Verde Farm posted this video and message on its Instagram account @villaverde.farm:
"It's a flower farm. Not a military object! There are no words. Kyiv region. Our Flower Farm. We will rebuild, and those who remain silent will slowly roll with shame all their lives. Everything will be Ukraine."
A report in the Floral Daily, the global floriculture newsletter, shared this information on March 1, 2022:
Bullets hit a 500m2 building housing the boilers, fertigation units, machinery, and other equipment. These caught fire, burning it down completely. "Nothing is left", Yulia tells us, "we couldn't save anything. The greenhouses still stand, but these are now cut off from electricity, heating, and everything else. It's minus 4 now, we tried to cover everything with textile to protect it from frost as much as we could."
Luckily no one got wounded, but it is questionable if the crops can be saved. The cut flower grower sells its produce at the local market, mostly through florists in and around Kyiv.
For more information or help – needless to say, restoring the building and replacing all the machinery will cost a lot of money, "I estimate we will need around 200 to 300 thousand euro" – please contact Yulia through https://www.instagram.com/villaverde.farm/
Villa Verde Farm's newest post (March 16th): More than 3 million people left Ukraine since the war started. 3,000,000. Imagined that figure? It is more than poputation of Paris, France.
Now regufees are in Poland mainly, but also in Germany, the Netherlands, Spain, Portugal, Belgium, United States and many other coutries.
We want to help those who lost their homes to find peace and come back to work routine while they are abroad.
If you have a possibility to provide full or part-time job to florist from Ukraine, it will be great. Accommodation will be considered as a very generous bonus ❤️‍🩹
---
The Modest Florist's Blue and Yellow Blooms for Sunflower of Peace
Our member Libby Francis-Baxter of Baltimore-based The Modest Florist, is marketing blue and yellow arrangements in support of Sunflower of Peace.

Order "Blue and Yellow Bulbs" and "Blue and Yellow Blooms" in support of humanitarian efforts in #ukraine.
The Modest Florist will donate $10 for each floral order to Sunflower of Peace, a U.S.-based non-profit sending medical aid to Ukraine. Customers can add a Sunflower-theme Classic Chocolate Box from Charm City Chocolate (@charmcitychocolate) to their order and the chocolate company will donate $10 for each box.
---
Jill Brooke of Flower Power Daily's Report
Look what flower power can do.
We've been reporting on how floral artists around the world are supporting peace in Ukraine by creating floral arrangements – especially the national flower of the sunflower — in blue and yellow arrangements that also symbolize the Ukrainian flag.
With immense pride and tears in our eyes, we've been showcasing these arrangements for several weeks and were serendipitously contacted by Anastasia Zhmurenko, a florist in Lviv, Ukraine whose floral shop had to be abandoned while she and her two young sons sought shelter. (Thank you Instagram).
She thanked us for this flower power support and also mentioned how she was distraught at having to leave so many flowers in her shop that now would wither and die. My colleague, friend and fellow flower lover Tonnelli Gruetter suggested a Lewis Miller-inspired flower flash for Ukraine.
---
Terra Bella Flowers' "Solidarity" Arrangement (Seattle)
Terra Bella Flowers, a Slow Flowers member based in Seattle, offers support to Ukrainian efforts by presenting this custom arrangement in the spirit of the Ukrainian people, including those who are suffering and displaced in the ongoing crisis. ⁠
This design features blue and yellow blooms with striking eucalyptus foliage, representing the colors of the Ukrainian flag. Designed in a black metal vase for $150 plus delivery charge.
⁠
All proceeds of this featured floral will be donated to the Global Giving Organization. The funding will be used to offer:
– Shelter, food, and clean water for refugees
– Health and psychosocial support
– Access to education and economic assistance
---
Supporting Ukraine Print from Lorene Edwards Forkner of Seeing Color in the Garden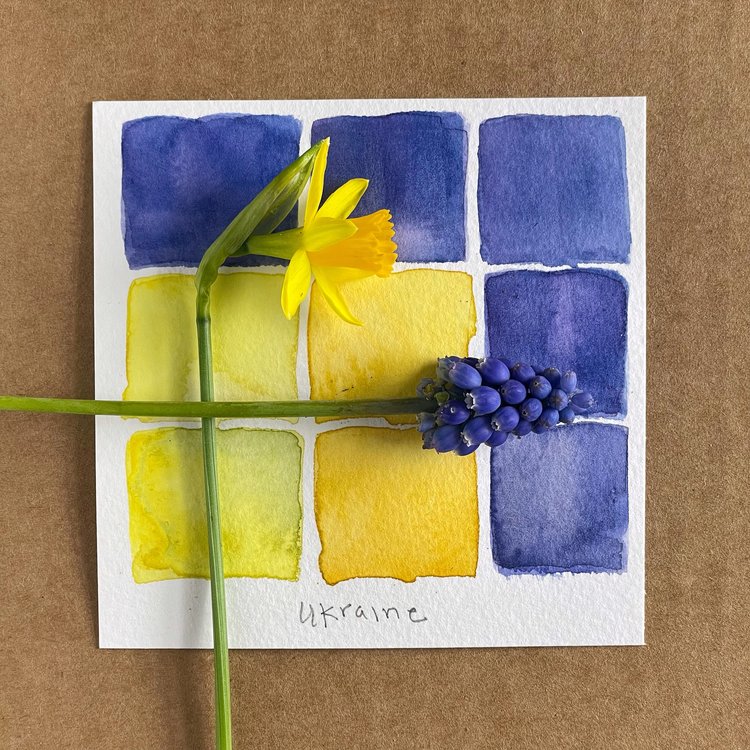 "Supporting Ukraine" is an archival giclee print based on an original piece created by Lorene Edwards Forkner as a part of her daily practice, Seeing Color in the Garden.
All proceeds will be donated to World Central Kitchen, #chefsforukaine, a community that's come together to feed and comfort a nation under siege. Thank you for supporting this effort.
The Art Print measures 8" x 8" with a one-inch border for a finished sheet size of 10" x 10". Produced on natural-white artist grade paper (21 mil, 310 gram) with a subtle textured matte finish using archival inks. $30.
---
The Floral Source's United We Stand with Ukraine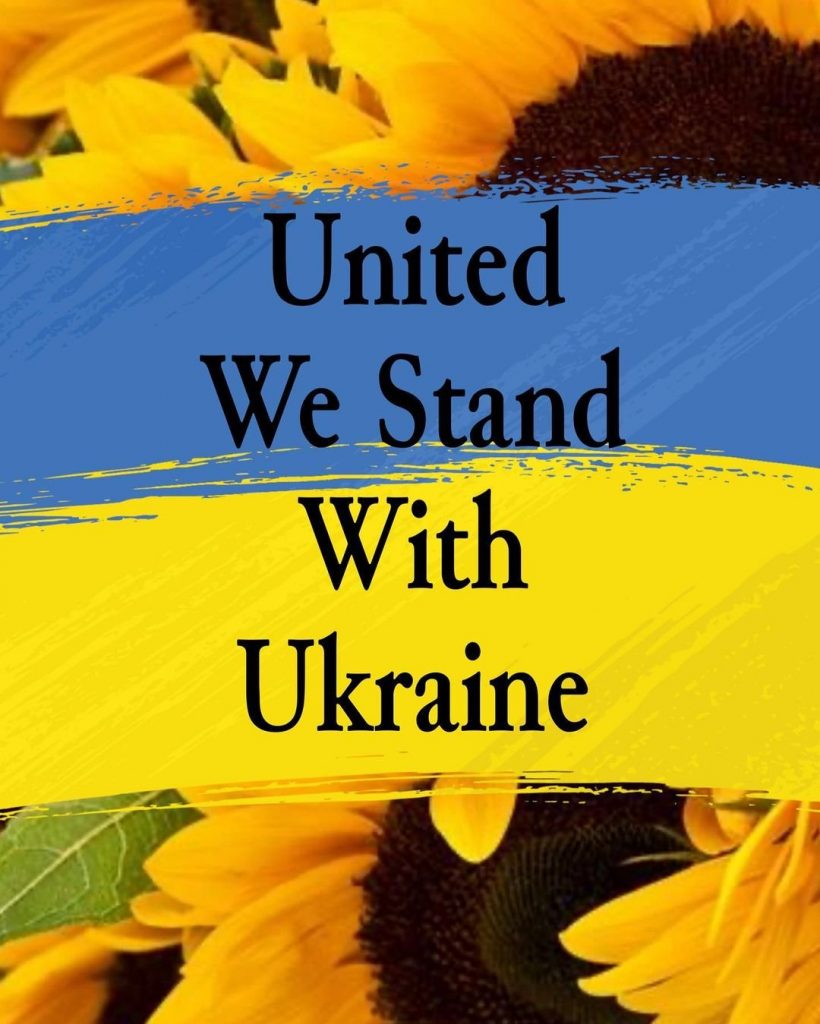 The sunflower, the Ukrainian national flower, has become a global symbol of resistance, unity and hope. These are fellow farmers, designers, artists, mothers, fathers, children, and grandparents whose lives are gravely at risk.
Kelly Shore of The Floral Source is responding to requests from other florists looking for a sunflower source to show support in their communities. She is partnering with Mellano & Co. in Southern California to supply these blooms.
"We will be donating 15% of every sunflower purchase to World Central Kitchen, which is in Poland, on the Ukrainian border, greeting the refugees and making sure they are fed. Chef Jose Andres and his team will continue to expand to all the borders of Ukraine making sure every refugee they can reach is fed. World Central Kitchen is also expanding their efforts to keep people fed in Ukraine with financial resources to cooks to help within their own communities."
May we never know what the people of Ukraine feel and may we come together to show our solidarity and support of our fellow humans.
Order an 80-stem box of sunflowers and start your own campaign of support in your communities, $235.
---
One-Day Sunflower Sale at Fleur Inc. (Chicago)
Slow Flowers member, Fleur Inc., a Chicago-based lifestyle boutique, created this simple one-day sunflower promotion took place on March 18th and sold out at $30 per bundle. We love the idea and wanted to share it to inspire others to do the same.
"As thousands are fleeing Ukraine every day, neighboring countries are offering relief and meals. Pre-order a bundle of sunflowers for pick up on March 18th, and 100% of the proceeds will be donated to World Central Kitchen. WCK is serving thousands of people both in Ukraine and those who have been forced to flee. Feed your soul with some sunflowers, and help feed those in need."
---
Share Your Support!
We will keep adding to this list, so please let us know if your floral enterprise is doing something notable to assist in the Relief Effort to Help the People of Ukraine!
Contact us at: debra@slowflowers.com