Jenny Diaz shares best practices for photographing portraits in a field of flowers
1. SAFETY FIRST!
The very first shoot I did in a flower farm, I noticed my client grimacing every time a bee flew by. Jokingly, I asked, "You aren't allergic to bees, are you?" When she replied, "Yes", my mouth dropped open.
If you're looking to photograph in a flower farm, first ask your client if they are allergic to bees. If so, ask them to bring their epi pen, which you can hold onto in case of a sting. Second, if they are not allergic or have never been stung, carry some benadryl and/or topical pain relieving ointment. Better to be prepared for a sting on your client or even yourself! Last, if your client is simply nervous about the bees, remind them that the bees care about the flowers and not how they look in the photo.
2. DRESS ACCORDINGLY
Dress like you're gardening, not like you're photographing. Not all flower farms are planted or maintained the same. This means making sure you and your client wear the appropriate shoes. If your model is wanting more of a glam look with heels or dress shoes, have them bring another pair of shoes to get to the spot where the photos are being taken. This way, their dress shoes will remain clean and less chance of a twisted ankle. If your client asks for a recommendation on clothing, tell them that a solid color would photograph better than a patterned outfit. Something that is a little more simple. This way, the client will stand out from the flowers and the flowers will not distract from the client.
You should wear pants you don't mind getting dirty so you can kneel and sit comfortably. Another fashion accessory you may want to bring for yourself are some gardening gloves. There could be dead flowers, weeds, or mounds of dirt that you have to clean up for a better shot.
3. IT'S ALL ABOUT THE ANGLES
At the right angle, you can make it look like the flower farm never ends. Make sure to get to your location early, walk around the farm with your camera, and see what spots will highlight both your model and the flowers. Getting lower with your camera, about the same height as the flowers, and shooting the rows from a 45 degree angle, really elongates the distance of the farm. Peeking through a row of taller growing blooms, creates more of a fairy tale look with flowers out of focus, framing in your client.
Alternatively, if you brought a step ladder, lined yourself perpendicular to the rows, and photograph your client from the waist up, you will have created a wall of flowers for the backdrop. Think outside of the box and you will get some great imaginative shots!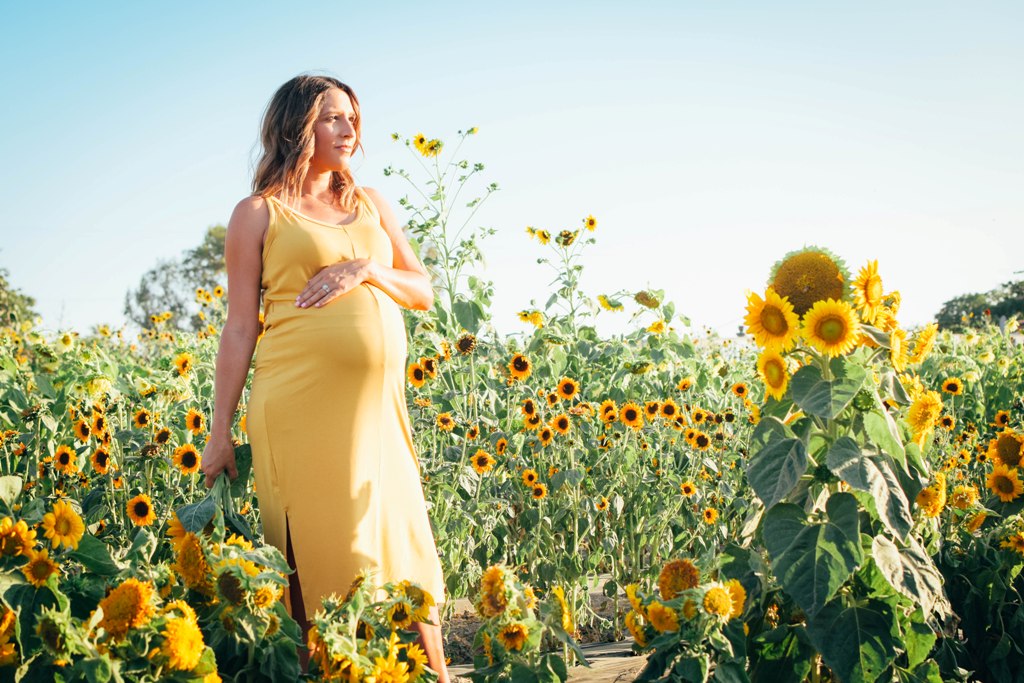 4. HORIZONTAL VS. VERTICAL
Horizontal (landscape) or Vertical (portrait) can both work in your favor while photographing your subject and the farm. Say you are shooting in a flower farm that has tall rows of flowers. To create the biggest impact, shoot vertical so that you can accentuate the height of the flowers with your model. Who doesn't like to walk through a "forest" of blooms? Also with vertical, you can create a more modern look by having the sky take up more of the background for those flower fields than with a shorter crop.
With horizontal positioning, you focus more on the model and can capture detail of an individual flower or a bouquet. The flowers become more of a soft backdrop and you can also create a floral "wall" if you shoot horizontal at just the right angle. Try offsetting your model on the right or left third of the frame. This gives the flower field more depth and allows the model to stand out – away from the field.
FINAL THOUGHTS
Remember that you and your client decided to shoot at a flower farm for a reason. The flowers and your client should compliment each other in the photos. All of you should take in the beautiful setting and have fun. Being in a flower farm really is magical in and of itself.
Follow Jenny M. Diaz: @jennymdiaz