Week 46, as we revisit the 10-year anniversary of the book Slow Flowers
This design was the very first one that I created for my "52 Weeks of Local Flowers" blog series. It was early November 2011 and at the time, I was so frustrated by the response from book editors to whom I had been pitching "The 50 Mile Bouquet" project. After a prominent NYC editor told me that the idea of local and seasonal floral design was "fringe" because one would have to live in Santa Barbara in order to enjoy year-round, locally-grown blooms, well, that was the impetus to get me started on this endeavor ultimately called "the Slow Flowers Movement."
I originally clipped mop-head hydrangeas from my former garden in south Seattle, adding stems of Dusty Miller (grown by Charles Little & Co.) and sea oats, or Chasmanthium latifolium (grown by Jello Mold Farm) to fill a weathered cast iron planter. I wrote about how these flowers went on to air dry in the container, as the water soon evaporated; I kept the urn on display for months.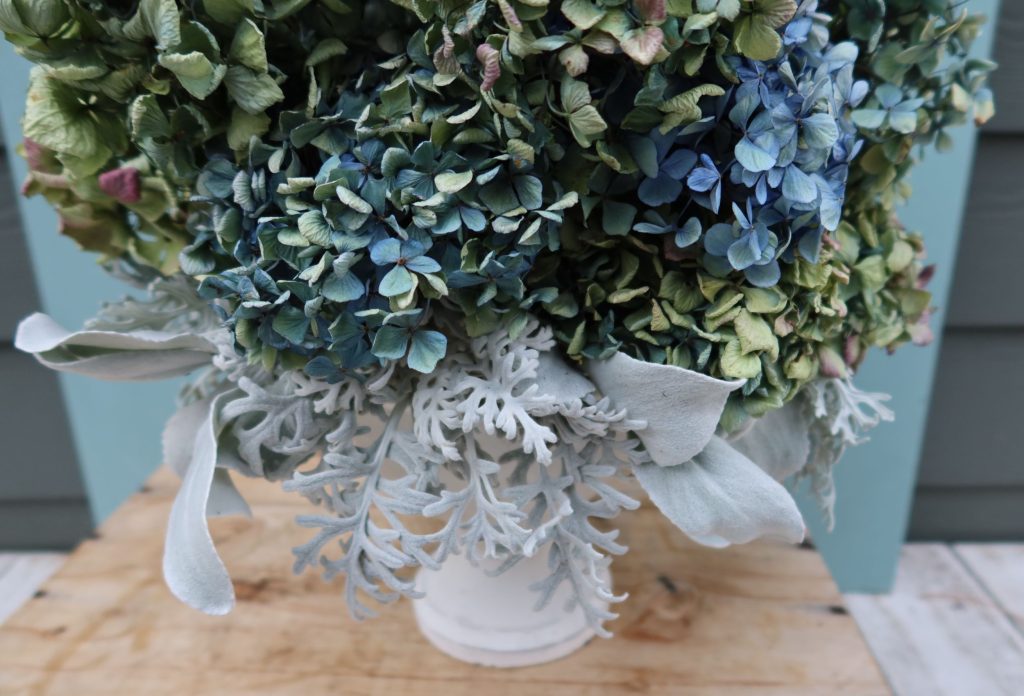 As the days approached for me to make the 2023 edition of this piece, I had a little scramble to find everything. The lacy Dusty Miller (grown by Everyday Flowers) needed a boost, so I clipped stems of my Senecio candidans 'Angel Wings', a Dusty Miller relative and beautiful container plant in the #slowflowerscuttinggarden.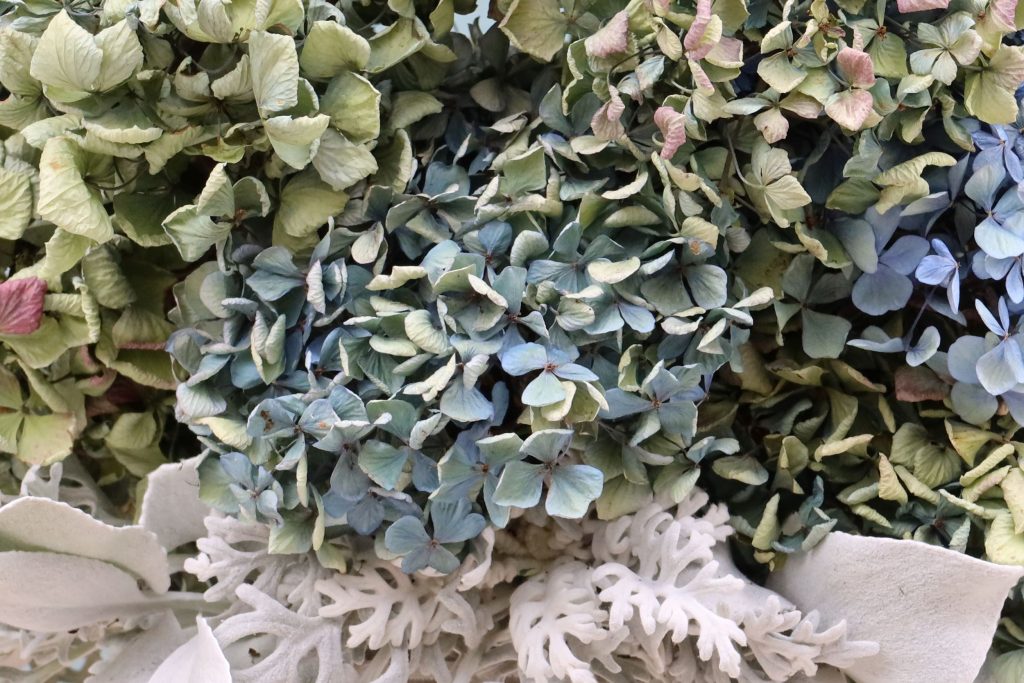 I clipped the mop head hydrangeas from a former neighbor's garden (cut with permission) and hung them to dry in my garage.
Only yesterday, was I lucky enough to grab one bunch of sea oats from Dee Swan and Valiant Poole, when I visited them at Field to Heart to record an upcoming episode of the Slow Flowers Podcast.
This new interpretation with a trio of ingredients (plus one bonus cultivar) is a little more quirky. The pile of dried hydrangeas reminds me of a bee-hive hairdo. The wind would NOT stop blowing when I tried to take the photograph, so I shot a little video to capture the lovely way the sea oats swayed today.