The June 2020 issue of Slow Flowers Journal is our 35th consecutive special section for Florists' Review, our magazine partner.
We love featuring the Slow Flowers message and our members' stories each month, with original, informative and visually compelling content to inspire you.
Showcasing the positive business models and strategies to promote local, seasonal and sustainable flowers is one beautiful way to support the community and our members.
American Flowers Week is highlighted on the cover of this issue! Inside, you'll find feature articles about all five dresses in the 2020 AFW Botanical Couture Collection, as well as a feature about Tamara Hough, the artist who we commissioned to create this year's American Flowers Week branding. Enjoy these stories about our Slow Flowers community and other emerging and important topics.
Slow Flowers Journal Issue No. 35
Back to Nature: Five Designers Showcase Botanical Couture in a Collection Celebrating the Sixth Annual American Flowers Week
Now, more than ever, florists have an important story to share with their community and customers. It's all about connecting more deeply with the mindful floral consumer, ones asking how their purchases support sustainable values.
Adaptable and resilient floral entrepreneurs are returning to basics, especially during the uncertain time caused by stay-at-home and no-contact policies. They are pivoting to what's "essential" and engaging with their customers more transparently than ever before.
It matters that we connect consumers with their flowers in new and thought-provoking ways. It matters a lot. How we communicate makes a difference between whether flowers are viewed as relevant and essential or whether they are dispensable and unnecessary.
In its sixth year, a social media campaign like American Flowers Week (June 28-July 4) is one important tool that returns the floral marketplace to its roots. At its heart, American Flowers Week focuses on the origin of each beautiful stem, where it comes from and who is the grower behind that bloom. The campaign also shines a light on floral design, promoting domestic flowers and foliage as a desired product category, inspiring professionals and consumers alike with a new aesthetic connected to locality, seasonality and sustainability.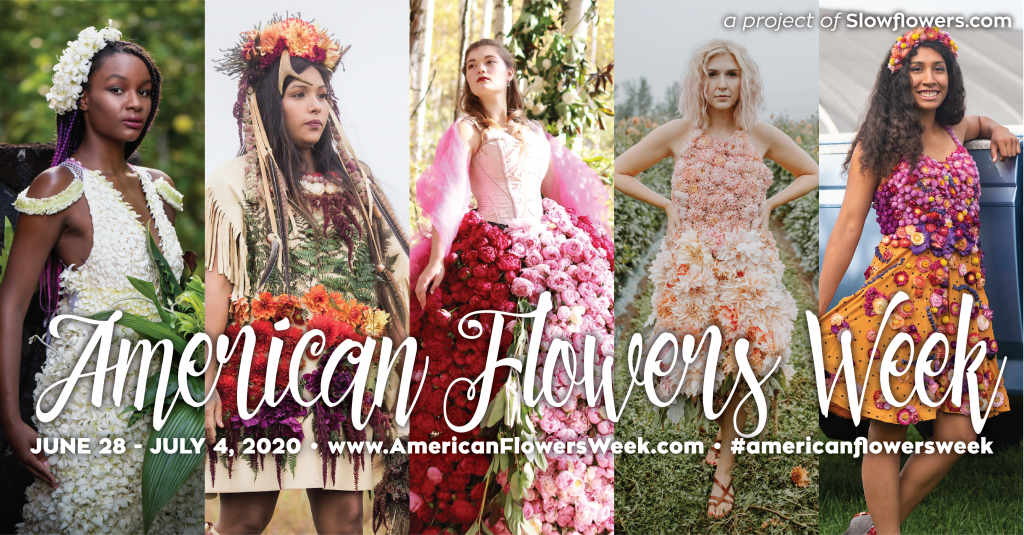 Created by members of the Slow Flowers Society, the 2020 botanical couture collection for American Flowers Week presents cut flowers re-imagined as a wearable art. These designs combine fantasy with reality, imagination with technique, inventiveness with grit. Flowers are fleeting, yet sensory and evocative, inviting us to view the natural world as a true art form. American Flowers Week captures imaginations and sparks curiosity. It is a true celebration of the artists who grow flowers and the artists who design with them.
Read about our Designers & their Botanical Couture: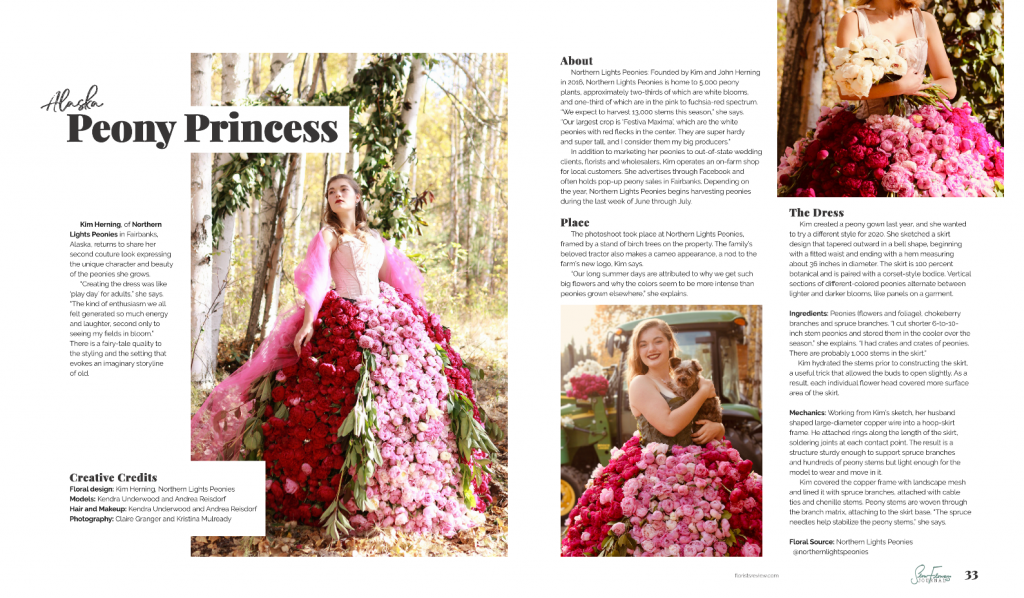 Alaska Peony Princess
Kim Herning of Northern Lights Peonies, based in Fairbanks, Alaska, returns to share her second couture look expressing the unique character and beauty of the peonies she grows. "Creating the dress was like 'play day' for adults," she says. "The kind of enthusiasm we all felt generated so much energy and laughter, second only to seeing my fields in bloom." There is a fairy-tale quality to the styling and the setting that evokes an imaginary storyline of old.
Hawaii Orchid Opulence
In 2018, Alison Grace Higgins of Grace Flowers Hawaii in Honokaa, Hawaii, and her team created stunning male and female garments for American Flowers Week to highlight the vibrant diversity of Hawaii-grown flowers and foliages. For 2020, the designer chose a quieter botanical palette of all white petals. Her look is highly feminine, reflecting the deep attachment between Hawaii's landscapes and orchid breeding and production. "We often use dendrobium orchids for lei-making but also for petal scatters instead of roses, because they are local," Alison says. "I don't know what I did wrong with the math, but this dress happened because I over-ordered for an event by tens of thousands of stems of dendrobium blossom heads."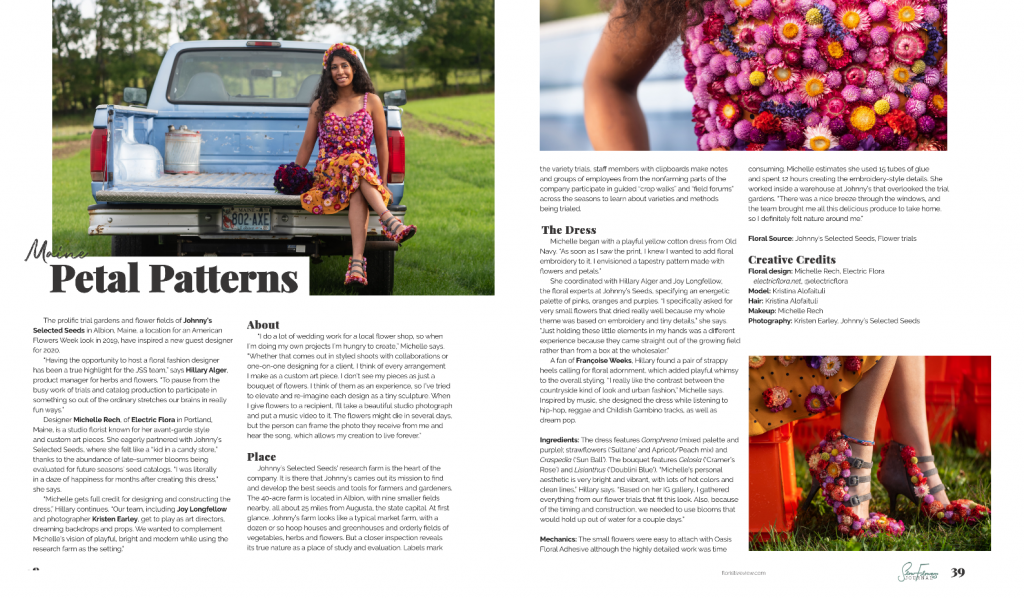 Maine Petal Patterns
The prolific trial gardens and flower fields of Johnny's Selected Seeds in Albion, Maine, a location for an American Flowers Week look in 2019 have inspired a new guest designer for 2020. "Having the opportunity to host a floral fashion designer has been a true highlight for the JSS team," says Hillary Alger, product manager for herbs and flowers. "To pause from the busy work of trials and catalog production to participate in something so out of the ordinary stretches our brains in really fun ways."
Designer Michelle Rech of Electric Flora, based in Portland, is a studio florist known for her avant garde style and custom art pieces. She eagerly partnered with Johnny's Seeds, where she felt like a "kid in a candy store," thanks to the abundance of late-summer blooms being evaluated for future seasons' seed catalogs. "I was literally in a daze of happiness for months after creating this dress," she says.
"Michelle gets full credit for designing and constructing the dress," Hillary continues. "Our team, including Joy Longfellow and photographer Kristen Earley, get to play as art directors, dreaming backdrops and props. We wanted to compliment Michelle's vision of playful, bright and modern, while using the research farm as the setting."
South Dakota – A Prairie Gathering
A first for the American Flowers Week botanical couture series, with a new state and a new look: A prairie-inspired creation from Moníca Pugh of Floras & Bouquets LLC, based in Sioux Falls, South Dakota. A farmer-florist, Moníca also teaches floral design through the local school district and she is a regular floral guest appearing on local television. "Flower farming is new to South Dakota," Monica says. "I'm really hoping that (my participation in) American Flowers week will help get the word out about what's happening with local flowers."
Washington Designer Dahlias
Sarah Pabody of Triple Wren Farms lives and breathes dahlias at the farm she operates with her husband Steve Pabody in the Northwest corner of Washington State. As a farmer-florist, she also runs Triple Wren Weddings, a wedding and event design studio. After seeing how popular the farm's dahlia fields were with local photographers and their portrait clients, Sarah fantasized about what it would look like if the people having their photos taken wore dahlias rather than only standing among the flowers. Her idea took hold and now Sarah teaches Dahlia Dress Master Classes for designers and floral enthusiasts who want to create, wear and be photographed in dahlia couture (details at triplewrenfarms.com). Beyond fantasy, the garments are thoroughly alluring, but also accessible, prompting others to imagine themselves wearing a dahlia dress of her own.
You could be our 2021 American Flowers Week Botanical Couture Creator!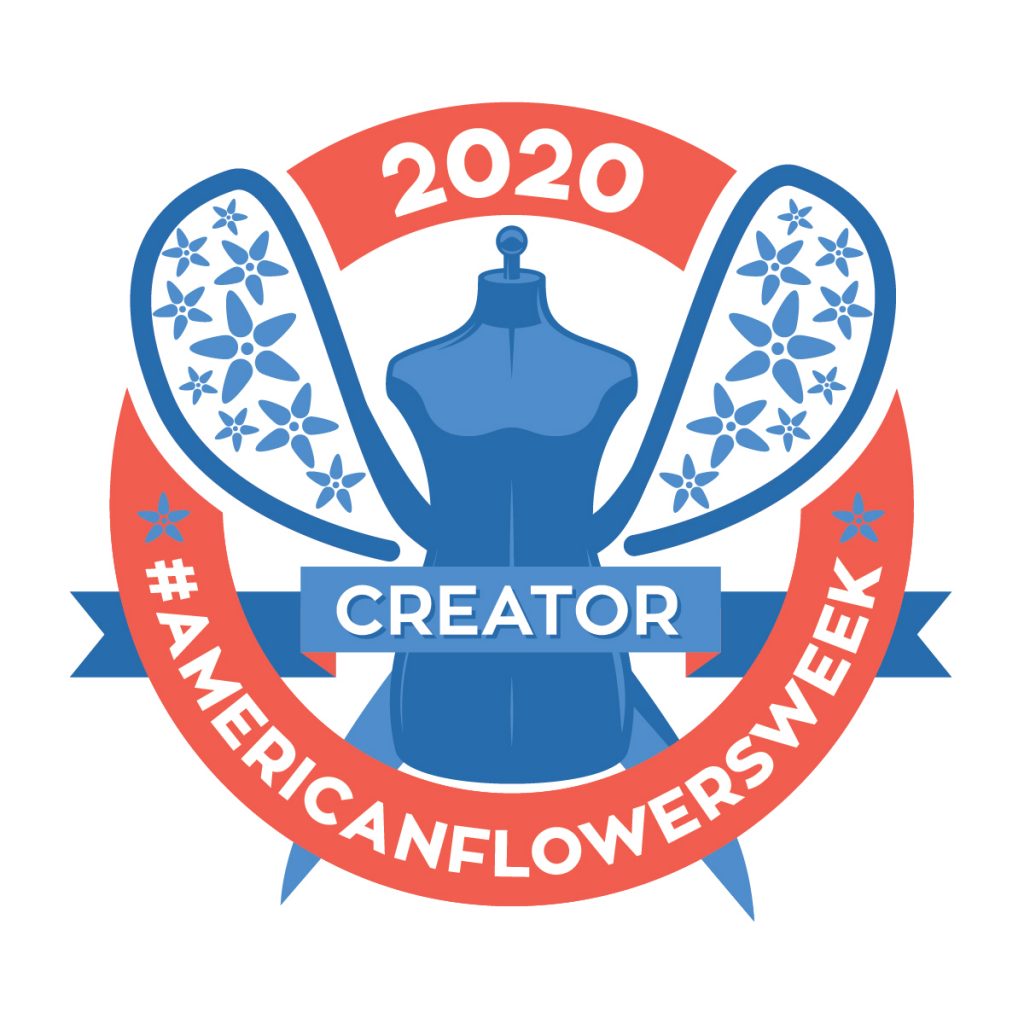 Slow Flowers will Commission at least FIVE Floral Couture Looks for our 2021 American Flowers Week Collection. We're soliciting proposals from farmer-florist creative teams for this campaign. Those submitting must be active Slow Flowers members. Consideration will be made for geographic diversity, and for botanical elements not previously featured.
Click here to read more details
About American Flowers Week: June 28-July 4
American Flowers Week is the advocacy, education and outreach campaign produced by Slow Flowers Society and Slowflowers.com. Learn more at americanflowersweek.com, where you can download free graphics, social media badges, coloring sheets, photography, fact-sheets, and more resources.
I created the original domestic flower promotion campaign in 2015, choosing to launch during America's Independence Day. Like everyone in the Slow Flowers Movement, I believe that we should be celebrating American-grown flowers all 52 weeks of the year. But by choosing to devote one full week to an awareness campaign, we can heighten the attention of this cause – both in the media and in the public. In its sixth year, American Flowers Week has gained significant momentum generating more than 14.5 million impressions across social media platforms since its launch.
I encourage everyone involved in flower farming and floral design to use the #americanflowersweek hashtag to draw attention to the campaign.
— Debra Prinzing