Week 24, as we revisit the 10-year anniversary of the book Slow Flowers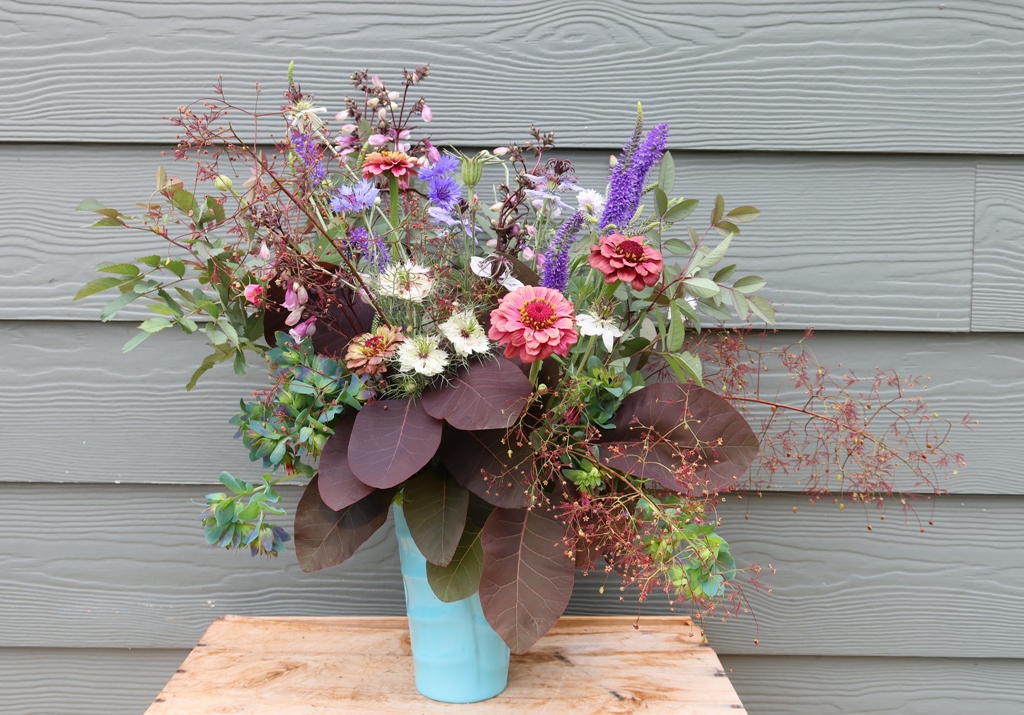 I called the 2013 arrangement for this week of the year "A Bit of Purple Heaven," but so much is different this time around. The citrus-green glazed vase is no longer in my collection (I wonder where it went?) and many of the ingredients simply weren't available to me.
I took the purple floral palette as a point of departure, and here's something amazing. In the pages of Slow Flowers, I featured a collection of mostly purple annuals that I had brought back to Seattle with me after a trip to Eastern Washington, where I visited a flower farm with my friends Lorene Edwards Forkner and Mary Ann Newcomer. We were in Pullman to speak at Living in the Garden, a nursery owned by our friends Suzanne St. Pierre and Scotty Thompson, and they had sent us down their country road to check out a local U-Pick Flower Farm called Sunshine Crafts and Flowers. Ironically, I just heard from someone that this farm is still in business! Owner Jane Stratton supplied me with a bucket filled with lilacs, bachelor's buttons and columbine. I paired them with other plum, purple, and blue ingredients, including ornamental alliums and burnet (Sanguisorba menziesii), from Jello Mold Farm.
---
This past week, I was in Eastern Washington to spend 48 hours in Walla Walla, as I tagged along on one of my husband's work trips. I wanted to visit our two Slow Flowers members there, including Gholson Gardens' Elaine Vandiver, and new member Anne Sumner of Walla Walla Flower Co. It was gorgeous weather and I spent a lovely morning touring both farms and interviewing their owners. When I was at Gholson Gardens, I told Elaine that I needed to design my arrangement this weekend and hadn't planned ahead to get the ingredients I needed to reinterpret my 2013 design. "I need purple and blue," I told her.
Elaine took me into her cooler where all the pretty CSA bouquets were prepped and ready for delivery the following day. Her buckets of extras were just what I needed: Veronica and Penstemon matched the blue-to-plum spectrum I needed. Then, we went out to the rows of annuals, and she harvested bachelor's buttons, zinnias, and nigella for me.
My deepest appreciation to Elaine and the flowers from Gholson Gardens (and not to overlook Anne, she also gifted me lots of flowers, including a pink arrangement for our hotel room, and enough annuals for me to make a market bouquet to drop off at the home of one of my husband's former work colleagues who lives in Walla Walla). These two generous women took great care of me this week!
When I started to design this morning, I chose a vase that was similar in size to the one I used in 2013. This aqua Bauer Pottery Co. Madagascar vase is a cherished item that always reminds me of my years living in Southern California, 2006-2010. In 2007, Bauer Pottery Company of Los Angeles purchased a 35,000 square foot ceramics factory in Highland, California, named Cactus Ceramics. For the first time since Janek Boniecki revived the Bauer Line, it enabled the company to bring all of the products together under one roof. I was fortunate to tour the factory and profile Janek when I still lived there.
Adding coordinating foliage from the #slowflowerscuttinggarden pulled this arrangement together. I used purple smokebush (Cotinus coggygria 'Royal Purple'), Rosa glauca, and cerinthe to accent the flowers from Gholson Gardens.
This design isn't much like the one from a decade ago, but the connecting threads are there, especially the floral bounty of the Pacific Northwest.