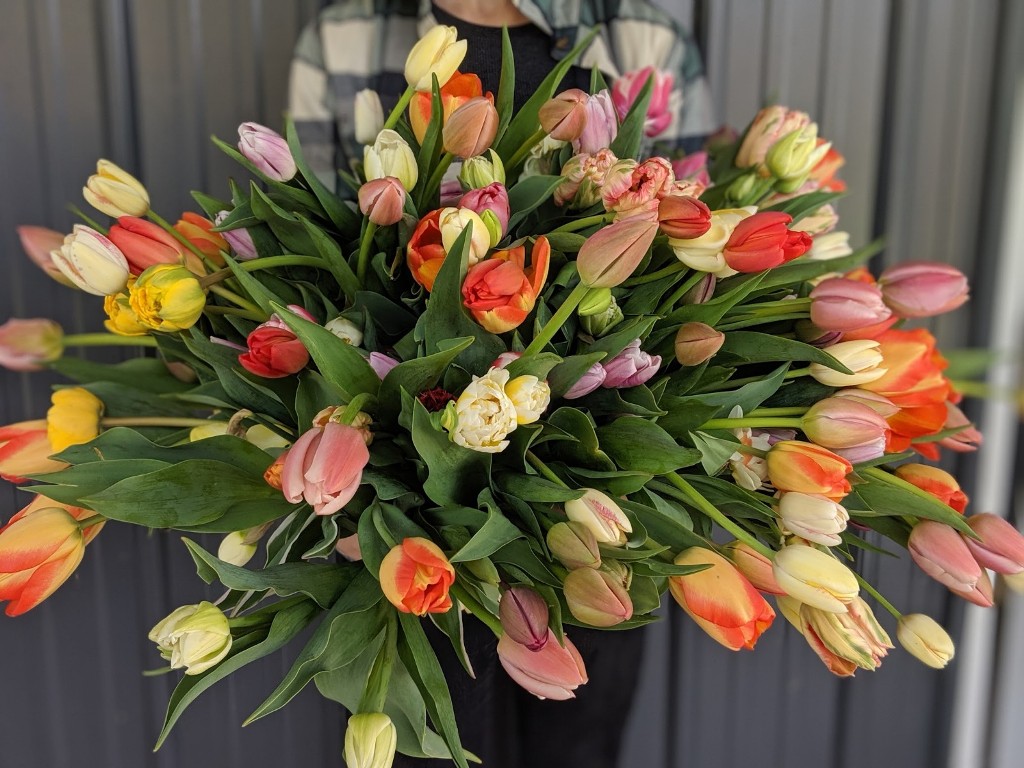 Planting spring-flowering bulbs now is a garden task with a big payoff come springtime.
The Slow Flowers member-growers I've been speaking with are 100% passionate about growing tulips and daffodils to bring seasonal beauty to customers who are hungry for flowers in late winter and early springtime. Increasingly, it's that early demand for premium-quality spring blooms that jump-starts a year in flowers for farmers, florists and flower-lovers alike.
Fulfilling early demand for locally-grown tulips and daffodils kicks off a full year's worth of momentum in the floral marketplace. Bunches of just-picked bulb flowers — most often the first featured crops of the year — can be a magnet to bring in flower buyers early and keep them coming back for more. They'll ask: "What's growing next?" "What flowers will you have next month?"

Four flower farmers share their bulb stories here. There's a lot of love and joy packed into each tiny package that is planted in October and November in most parts of North America . . . and there's much anticipation for their elegant forms, vivid or subtle petal colors and in some cases, surprisingly lovely fragrances that arrive just a few months later. Enjoy their tips and favorite varieties, because it's not too late to get your own bulbs in the ground right now!
RED TWIG FARMS, New Albany, Ohio
redtwigfarms.com, @redtwigfarms
Like the name suggests Red Twig Farms began with woody plants like red twig dogwood, willow and winterberry shrubs, all harvested in the fall, and peonies, harvested in early summer.
Several years later Lindsey and Josh McCullough added in an extra cut flower season. "Tulips just came naturally to us — it's a flower that everyone in our area loves. In Ohio, people are craving color and tulips are the sign that spring is here."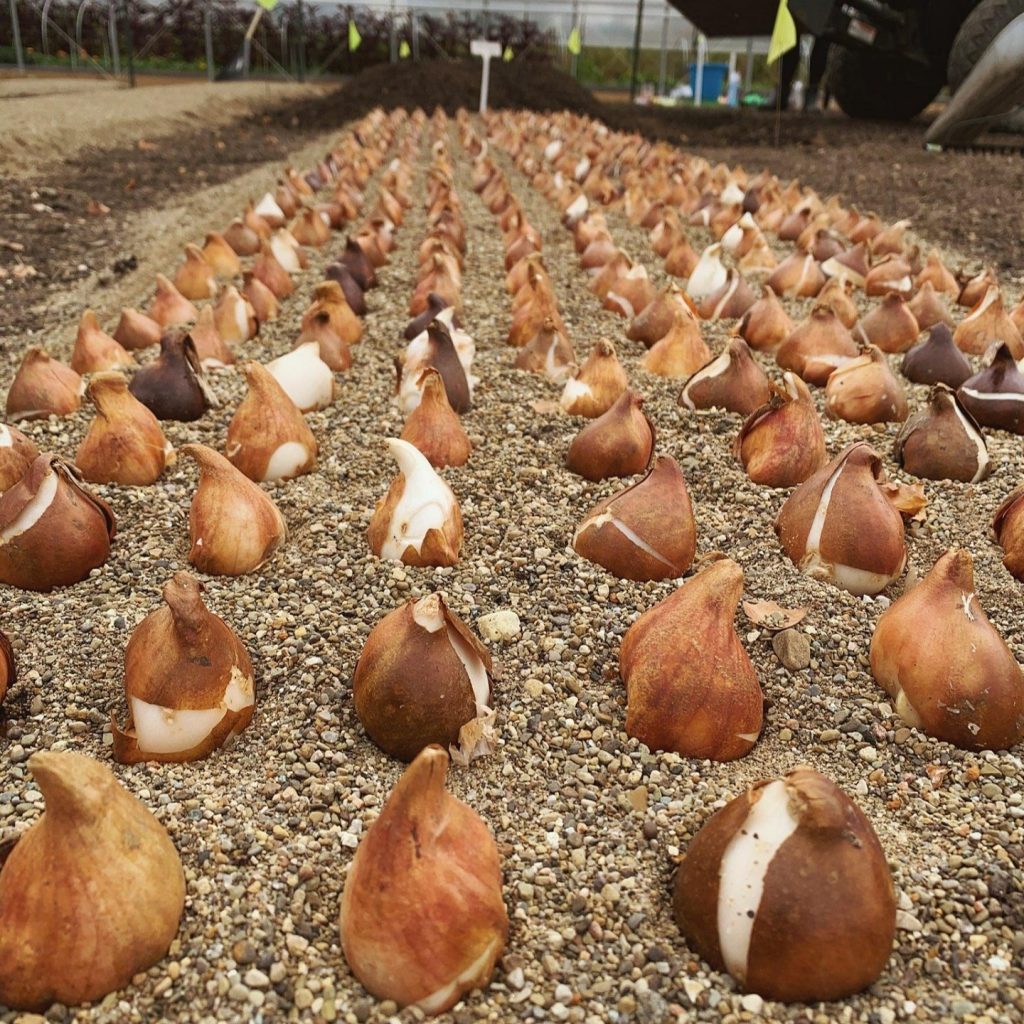 Red Twig now grows 15,000 tulips annually to supply mixed bouquets to CSA customers and mail order fans in all 50 states. When choosing varieties, Lindsey prefers early- and mid-blooming options, mainly to wrap up tulip season before the start of peony season, another huge crop for Red Twig Farms.
"We've tried to grow all different varieties," Lindsey says. " From single, early, lates, the doubles, the fringes, the parrots, and the Darwins. No matter what, we always go back to those Darwin hybrids. I don't know if it's our soil conditions or how we grow them, but Darwin hybrids are our favorites."
A Darwin hybrid tulip is a cross between a single late tulip and an early emperor tulip, according to Longfield Gardens' website: This parentage is what gives them their large, shapely blossoms and relatively early bloom time, usually between mid-April and mid-May, depending on the location.
"Darwins have a 20 to 24-inch-long stem. The bloom is single, but it's large! It could be up to four-inches — and the colors are so vibrant." Red Twig plants a range of tulip colors, with favorites like Pink Impression, Apricot Impression and White Cloud as part of their "grower's choice" sold in 10- and 20-stem bunches.
Mail-order tulips are packaged in Eco Fresh Bouquet wraps and shipped in boxes with a foil insulation and an ice pack. Most of Red Twig's tulips are sold at retail, ranging from $16 to $18 for a 10-stem grower's choice bunch.
As brand awareness has increased, local florists are asking to buy Red Twig's tulips, even though the farm doesn't do too much on the wholesale side. "We've realized people want quality and our brand we strive for just that. 2022, we will be offering florists and designers a pricing program to sell our tulips as a locally-grown option," Lindsey adds.
---
---
ALASKA STEMS, Homer, Alaska
alaskastems.com, @alaskastems
While most people associate flowers from the state of Alaska with peonies, Rachel Lord has been supplying Alaska-grown tulips since 2013, grown at Alaska Stems, her flower farm in Homer.
"To my knowledge, back then, no one else was growing commercial tulips anywhere in our state. For us, it was just a no-brainer after that first year. There is something really nice about having one big crop that comes in early."
Like people everywhere who endure a snow-covered winter season, Alaskans "are really into tulips," Rachel says. "There's an energy associated with our tulips and an enthusiasm for their color as they come out of our high tunnel. It's just awesome." Increasingly, other cut flower farms in Alaska and around North America provide encouragement and inspiration — including Rachel's brother and sister-in-law, who grow more than 20,000 tulips each year at Swell Farm in Rockland, Maine.
Alaska Stems' tulips spread cheer far and wide, not just in Homer, but also for customers in Anchorage, the state's largest market 220 miles to the north. But her flowers are also a profit center, Rachel explains. "It works because I can store the cuts for so long."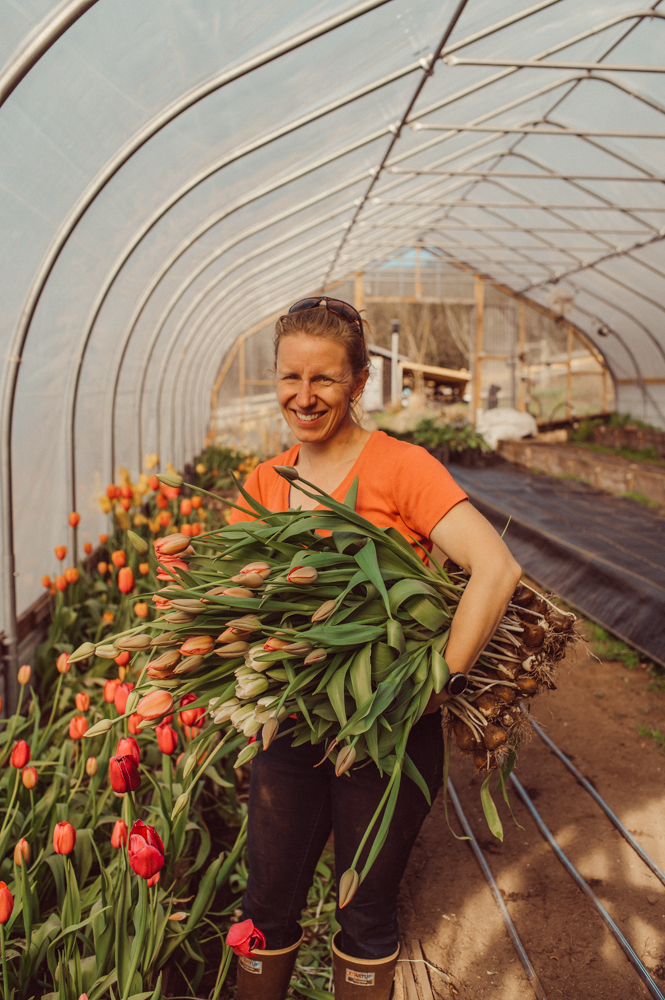 Rachel plants between 16,000 and 18,000 tulips bulbs by the second week of October. There are usually about 60 to 70 percent Darwin hybrids, with the balance devoted to a mix of fringed, parrot and triumph varieties. "They go into one of our high tunnels," she says. "And I plant them close together. We harvest them by the bulb, so when they come out, the beds are pretty much ready for planting tender summer crops in mid-May. It's pretty good timing."
As a farmer-florist who also offers wedding design services, Rachel keeps palette and form in mind as she selects varieties. Harvest usually begins between April 17-22th each spring.
"I try for a broad mix of colors and a mix of maturation time — from extra-early to extra-late with everything between. That way, I can have tulips for our weekly CSA subscribers, plus I sell them for Mother's Day and to our local grocery store. By choosing my varieties across that seasonality, it allows for a five- to six-week tulips season."
A favorite of hers is Lambada, an orange-streaked fringed tulip. "But I also love the doubles and I love the parrots," she laughs. "I love Apricot Impression and Red Impression, which is my first bloom every year. It is tall and strong and reliable — just a simple red flower."
Alaska Stems sells most of its tulips in 15-16 stem bunches for CSA subscribers and on-farm sales. Rachel offers grocery stores a seven-stem tulip bunch. "I sell tulips to grocery at retail prices. They just mark them up and they still can't keep the tulips on their shelves."
---
SARAH'S COTTAGE CREATIONS, Stillwater, Minnesota
sarahscottagecreations.com, @sarahbuerkley
Sarah Buerkley has operated an award-winning garden design business in the Twin Cities for two decades. With the acquisition of more property, Sarah started growing flowers a five years ago. "I grow flowers all the time for my landscaping customers so it was easy to start cut flowers." She now operates a separate flower farm division of her company Sarah's Cottage Creations.
Sarah and her team planted 10,000 tulip bulbs last fall and they plan to double that amount when they plant this fall. To extend tulip season, Sarah plants half of her bulbs in high tunnels and half in the field. "The outside ones take a little longer to bloom than the ones inside the tunnels. It really warms up in those tunnels, which is why we're getting tulips in April – in Minnesota. And by the way, I'm not using a fancy greenhouse; just a cheap, caterpillar tunnel."
In the tunnels, Sarah mostly grows the mid-blooming varieties, preferring their longer stems. Outside, she mixes it up — planting everything from early to late. "The florists might not want tulips later in the spring, but my CSA people want them."
Sarah's message to customers: "These are not your grocery store tulips! and I post a lot of photos to help them understand!" She sells to subscribers who order a spring bouquet CSA or a special six-week mixed-tulip package during April and May, which features a 15-20 stem blend of solids, parrots and doubles.
Twin Cities Flower Exchange, a St. Paul-based local flower hub and Slow Flowers member, also supplies Sarah's Cottage Creation tulips to florists and designers at wholesale prices. The wholesale business has been booming, especially with florists who want locally-grown botanicals in Minnesota's short growing season. "Every double-white tulip we grow, the florists buy for weddings," she says. Mondial (early double) and Mount Tacoma (late double) are popular white options and another new favorite is Carnaval, a single, mid-season white tulip with red veining. "It turned out to be a popular winner, with a nice, long, thick stem," she says.
Unlike the standard and Darwin types, though, holding in a cooler is not recommended for doubles, she says. "We have to harvest as they are ready, but between our CSAs and the TCFE, we've been selling everything."
Most flower farmers treat tulips as annuals, but daffodils have a longer lifespan in the field. A few years ago, Sarah sourced specialty daffodil bulbs from her perennial supplier who had too many on hand, including Cheerfulness and Bridal Veil. "I bought them all and planted them in our fields. And now, they're just thick as thieves and I have so many! They're mostly doubles and they're growing back every year."
---
EVERYDAY FLOWERS, Stanwood, Washington
@everydayflowers_farmer
A founding member of the Seattle Wholesale Growers Market, a farmer-owned cooperative that sells high-quality specialty cut flowers to the floral trade, Vivian Larson is known as one of the resident plant fanatics whose farm, Everyday Flowers, produces premium blooms.
When it comes to flowering bulbs, she selects unique and uncommon forms of both tulips and daffodils — varieties that appeal to the professional florists who shop the Market.
"I want to start early in the spring when people are really hungry for flowers. Right after pussy willows, I bring in the daffodils to have something that lures in the florists and they get used to locally-grown flowers," she explains. "And right after daffodils, it's time for tulips, then anemones and ranunculus . . . and more."
Standard trumpet-style daffodils like King Alfred don't command top dollar, so Vivian's strategy is to skip the ho-hum options and instead focus on growing doubles and novelty forms. "People don't even know they're daffodils," she enthuses. "They are amazing and come in peachy colors, pale yellows and creamy whites, all thanks to great breeding."
At a time of the year when it's hard to find other locally-grown "focal flower" options for weddings and events, the fully double daffodils are unparalleled, she says. "They're big fluffy things and if they are picked at the right stage, it's crazy how long they hold. These are great event flowers, but also I've been selling lots to grocery and they have happy customers, too."
Daffodils can be the gift that keeps on giving, multiplying and re-blooming year after year. Vivian recommends that after three or four seasons, it's a good idea to dig and divide the bulb clumps to avoid crowding. "During the first year, you're going to break even on the cost of the bulbs, but after that — they pay for themselves. It's gravy."
Earlier this spring, I visited Everyday Flowers and saw Vivian's pristine rows of field-grown daffodils. She pointed out a number of favorites, including Art Design, Petit Four and Paradise Mountain. "These have big, tall stems and great big flowers that hold really well," she raves.