Week 17, as we revisit the 10-year anniversary of the book, Slow Flowers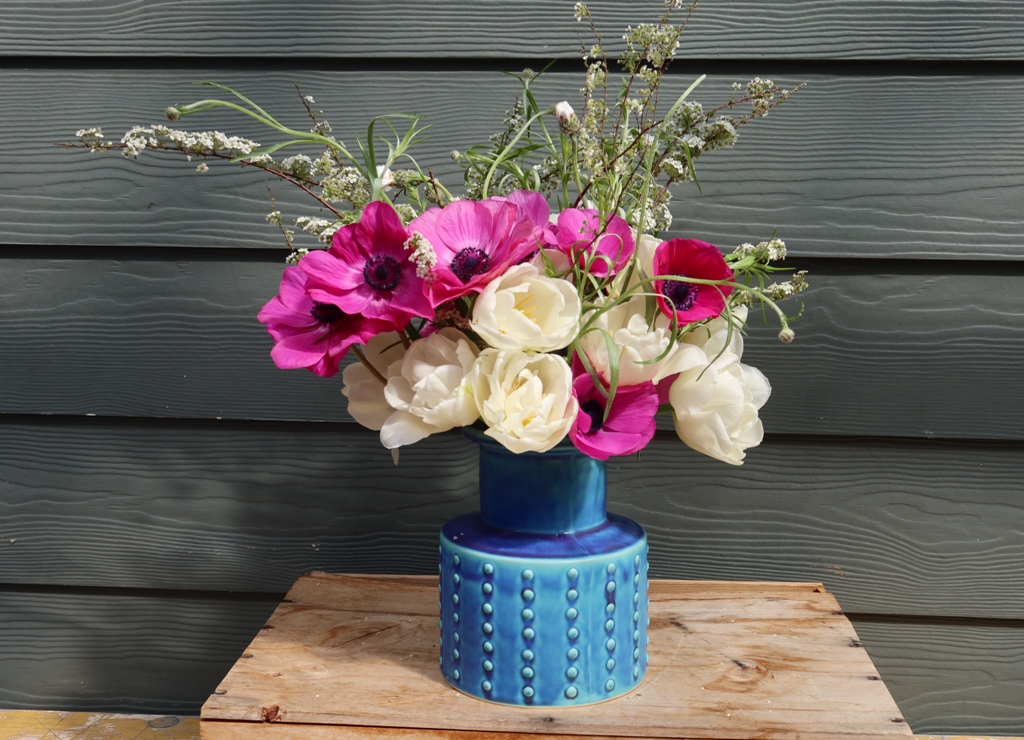 Amazingly, I still have this indigo blue vase that I featured in Slow Flowers (2013) for a design called "Jewel Tones."
Not much has changed in my 2023 approach to a new bouquet in the same vase. The neck of the vase is just 5-inches in diameter, so in order to keep stems from looking tight and erect, I cut the anemone stems a little longer to be coaxed to spill to the sides. We all know that tulips continue to "grow" once cut; as this double variety opened, it helped add a fuller look. To me, the cool-toned flowers are so compatible with the glaze, which reminds me of a chambray shirt or faded denim jeans.
I am delighted that I could source fuchsia anemones from Vivian Larson of Everyday Flowers, the same flower farm that provide my earlier design. White tulips are from Gonzalo Ojeda of Ojeda Farms. Rather than the purple bachelor's buttons, I sourced one bunch of California-grown bachelor's buttons; the only ones available are small and white, but the texture they provide is a plus.
In 2013, I also used flowering branches. I mislabeled the variety as mock orange (Philadelphus coronarius), and later realized the branches were from a pearl bush (Exochorda racemosa). This time around, I sourced garland spiraea (Spiraea x cinerea 'Grefsheim'), from Oregon Flower Growers.
---
Design 101: In the book's sidebar, I wrote about this floral and vase combination as an illustration of an analogous color palette. "Fuchsia, purple and indigo are pleasing when viewed together because they each share varying quantities of the primary color blue," I wrote. "White floral accents offset the black centers of the anemones, adding a grpahic punch to this composiiton."