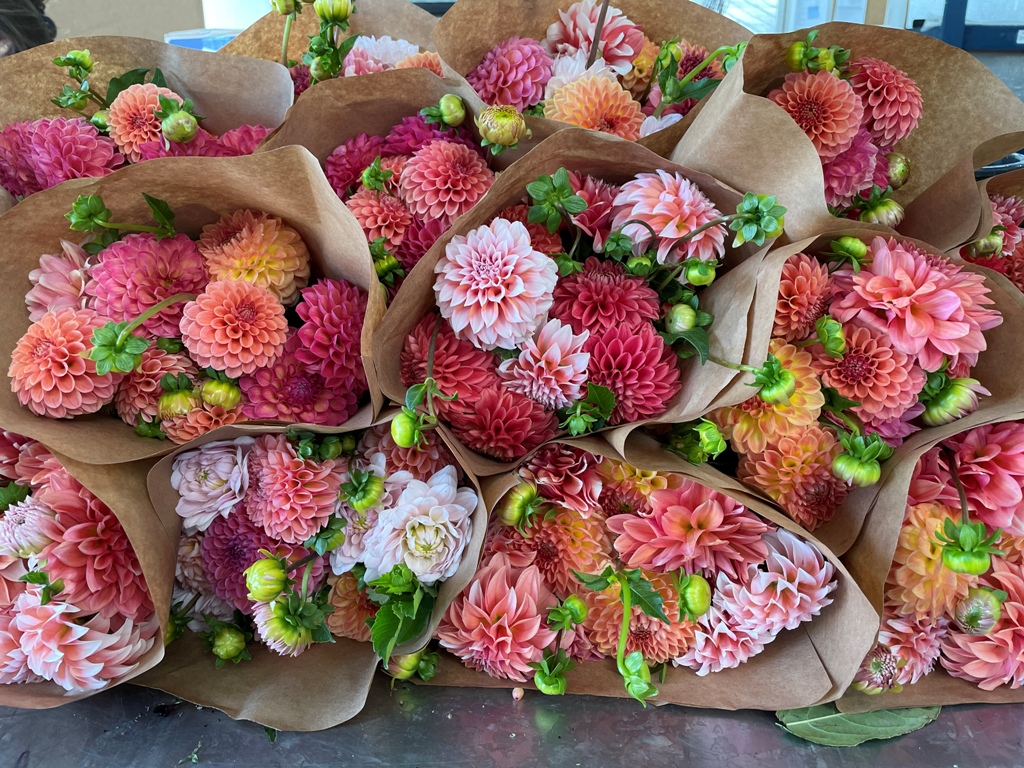 In 2017, Sunny Meadows Flower Farm launched a direct-shipping program for florists as a way to build the domestic flower market and increase access to more farm-direct blooms. We started small with florists within the state of Ohio but beyond our normal delivery area as a test run for our first year, and shipped to a couple wholesalers so we could learn the ropes.
Now the program has expanded to anywhere in the U.S., shipping our flowers via FedEx, Southwest Cargo, and Alaska Airlines. Florist sales have become our focus as we dropped selling to wholesalers and at farmers' markets; and we are officially out of the wedding business after we fulfill our commitments in 2022. Each decision to drop a subsequent sales outlet allows us to put more focus on our farm-to-florist direct program. We have also started bringing in flowers from other grower friends to supplement our offerings, creating more of a one-stop shop and potentially becoming the wholesaler ourselves, while still limiting our offerings to things that we would grow or use in our designs.
For market research and to help supplement for weddings, we had been ordering in flowers, so we had an idea of what was available dry-shipped or what needed extra care, but there was a lot of "learning by doing." Since we do not sell items by the case size, we don't have a set number of bunches that fit in a box. There was no local cardboard provider used to making flower boxes or knew the sizes that we needed. The standard size box that we landed on was 44x10x8 inches, which is a long skinny container and depending on the crop, can fit anywhere from 10-30 bunches in a box. From there we determined we needed a smaller one for shipping our popular ranunculus collection and a larger one for bigger and mixed orders. These box sizes may not be perfect, but they have worked for us. If you are considering shipping, know that you will need space for all these boxes. We have had to buy three shipping containers to make space for both box storage and box packaging since we did not have space for them in the Flower Barn where all the processing happens.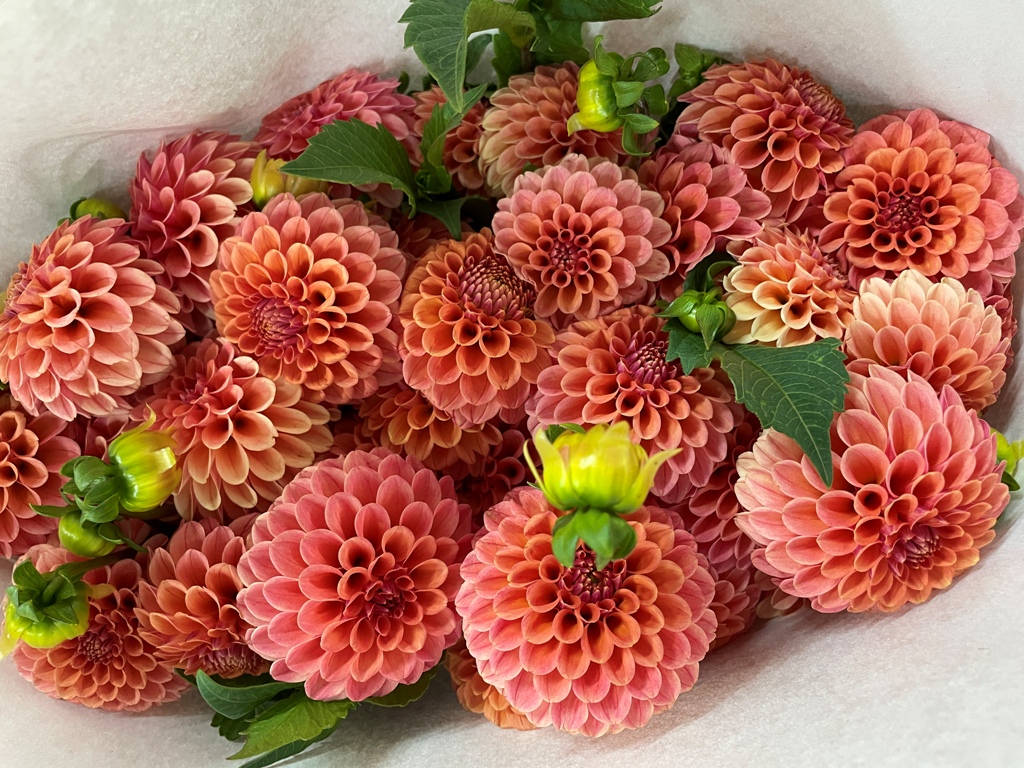 Another piece of the puzzle was figuring out packaging material. We decided not to use plastic and opted for a more sustainable paper wrap, an important step for us as we realized the environmental impact that our shipping could have. Note that most flowers are imported from outside the U.S., so they travel much further than our flowers do, but when you've been talking local for so long, it felt like we still needed to take more sustainable steps in the process. We started using paper tape, as well, which makes the cardboard more recyclable. And we put a flyer in our packages that explains to florists that the EcoFresh Wraps we use for stems needing hydration in transit are reusable for installations without foam or gifting a bouquet that needs to be left out of water. We use ice packs that are reusable, and we have had a couple customers send them back to us if they feel they can't use them. We are currently in the process of having an add-on at checkout to allow customers to offset their carbon footprint; we'll be sure to announce it to our newsletter folks once we get it added to our Shopify site.
Through building this shipping program, we are focusing on building the DOMESTIC flower market. If folks know about us and become our customers, we hope that opens them up to thinking about seasonal flowers and finding a flower farmer near them. It takes a change in the industry as together we can help brides, couples and other customers think about local and seasonal flowers for their weddings and help florists executing that vision to demonstrate that you don't need imports to make a wedding beautiful. While coping with its most recent rose shortages, we hope the industry realized that selling a color palette rather than a specific recipe is helpful to everyone throughout the whole process. As a result, we're seeing freedom for the designer to creatively work with what they have access to, less stress for the couple as far as micro-managing the vision, and more business for the local flower farmer who is growing some really beautiful products that are accessible to more buyers. However we can help make domestic blooms more available, our goal is frictionless sales as often as possible. That is why we have built our online store, so buyers can shop anytime that is convenient for them and know at-a-glance what inventory is available.
The flower farming industry is growing so there are a lot more farmers near you, check out the ASCFG's listing of local growers or Slow Flowers Directory!
We have found that a lot of our other grower friends are utilizing our blooms to help supplement wedding orders when they don't have enough quantity in their own fields, or who need help during the shoulder seasons, and we're here for it! We are active in teaching other growers and talking about scaling up the flower farm, from having employees and getting the right equipment to setting up systems and standardization. We are trying to help other growers have the knowledge to provide the best quality flowers with great customer service.
If you want to get into the shipping game, our advice is to sell to florists in your area and be very open to feedback for at least 5 years before you ship. Learn what bunch sizes and stem lengths are preferred so you can present yourself professionally. Join a wholesaler's list and order some flowers from other growers so you can learn more about pricing in your region, as well as pack size and bunch/stem count. It takes having some knowledge of what florists expect and knowing you are harvesting flowers at the correct stage to ensure success as your flowers move through the shipping process. As we figured out all of these systems, not to mention our market research, we considered the money we spent our "tuition" in the learning process.
We've hired another person in the office just to have the time to get labels made and deal with FedEx mishaps as flowers are supposed to be overnighted. We check first thing in the morning to make sure all packages are on schedule for delivery, and if they are still at the sorting facility by lunch, we plan to reship the box to the customer. We reship at no cost to the customer but try to file a claim with FedEx if we were promised overnight and our flowers don't make it. In 2020, the FedEx guarantee was voided since they were understaffed and overwhelmed with everyone shipping items during COVID times, so none of our claims were granted. Thank goodness, they brought back the guarantee late spring of 2021. Still, FedEx has been kind of a hot mess this year, especially in Memphis and Indianapolis — our shipping hubs. These problems highlight the challenges with a shipping program. Once flowers leaves the farm, they are no longer under your control. We've learned that all we can do on our end is try and provide the best customer service, especially if our customers are dealing with FedEx frustrations. We will offer a refund or reship if there are any issues with product. This can get expensive, but we considered it the cost of business for using a 3rd party shipper while we build this farm-direct-to-florist part of our business. We just try to recoup as much of that as possible from FedEx, but about 25% of our claims in 2021 have not been honored.
We hope that during the most recent rose shortages, more florists reached out to local growers and that those new relationships will continue to flourish. We added a lot of new customers ourselves!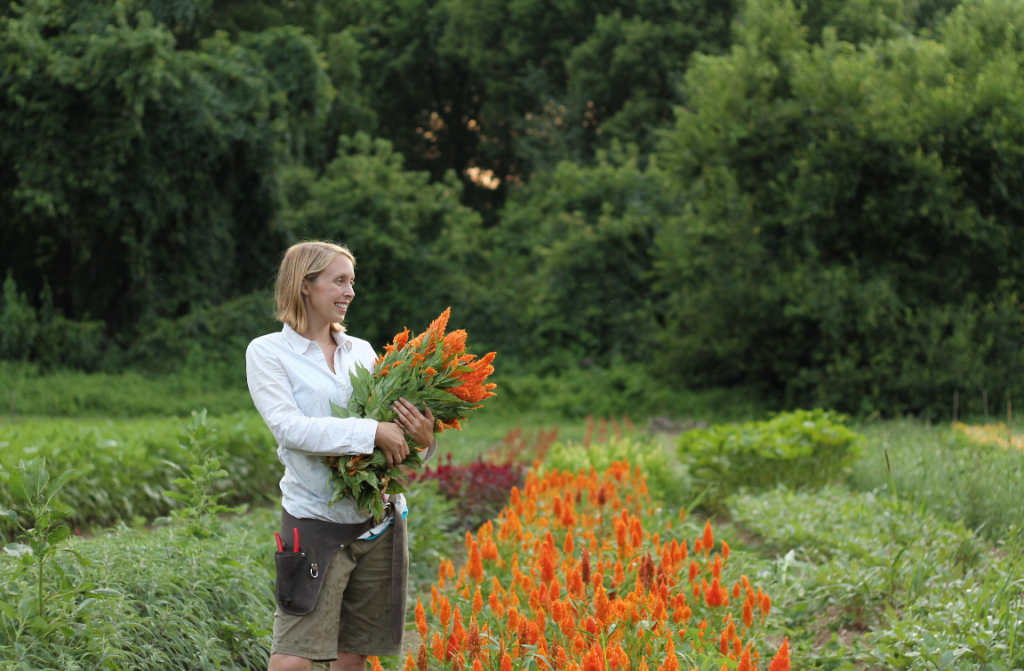 During these past few weeks we have been doing all we can to fill as many orders as possible, and our team is exhausted, so post-frost we plan to hold a full team meeting to reflect on ways that we can make next season even better. With two farm locations (soon to be 3), harvesters are spread out from the home farm and items are picked fresh so we don't always have everything in the cooler, which leads to emergency harvesting in multiple locations. We'll be sure to announce any new boundaries, enforcing only ordering from available inventory in our online Shopify store, rather than us overcommitting to fulfilling orders we don't have flowers for. We want to be able to best serve florists and we appreciate the feedback they share as we help change the industry. Together we can blaze the trail and get more domestic flowers into more customers' hands!
Growers, are you interested in learning more from Steve & Gretel? They are teaching Growing Cut-Flower Crops in Hoop & Greenhouses this winter — Enrollment takes place November 19-23, 2021.
Sign up for the Course Waitlist at The Gardener's Workshop. Plus, they'll send out their growing tips and tricks to newsletter subscribers.